Writing
Ink - Quotes about writing by writers presented by The Fontayne Group
Words I Never Want to See in Your Novel. Please.
10000-hour-rule-gladwell-outliers1.png (PNG Image, 975 × 2790 pixels) - Scaled (21%)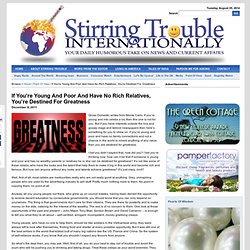 Alexander Nekrassov writes from Monte Carlo: If you're young and into celebs a lot, then this one is not for you. But if you have interests outside the box and gossip mags and tabloid newspapers then here's something for you to chew on: if you're young and poor and have no family connections and not a chance in the world to inherit anything of any value, then you are destined for greatness.
If You're Young And Poor And Have No Rich Relatives, You're Destined For Greatness | Stirring Trouble Internationally - A humorous take on news and current affairs | Stirring Trouble Internationally provides an witty, alternative viewpoint on todays news
Many of us think of university as the great opening-up of our lives – a time to explore new ideas and new ways of thinking.
Seven books you HAVE to read before you finish university » GoodbyeBoredom.com
Plague Words and Phrases
Bringing multimedia into the classroom is a great way to engage students in learning.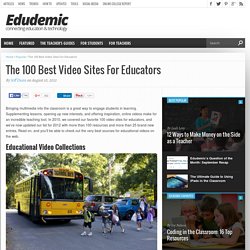 The 100 Best Video Sites For Educators
8 tips on writing
Guide for Writers: Latin Phrases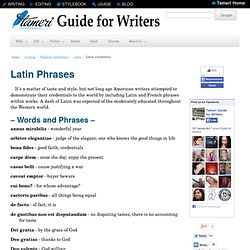 It's a matter of taste and style, but not long ago American writers attempted to demonstrate their credentials to the world by including Latin and French phrases within works. A dash of Latin was expected of the moderately educated throughout the Western world. annus mirabilis - wonderful year arbiter elegantiae - judge of the elegant; one who knows the good things in life bona fides - good faith; credentials carpe diem - sieze the day; enjoy the present
The Ultimate Guide to Writing Better Than You Normally Do.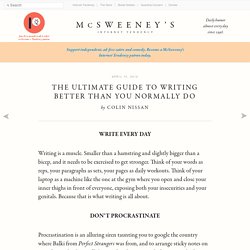 Writing is a muscle.
Word Dynamo - Free Study Guides, Quizzes, Games, and Flashcards
Riding the Waves of Personal Development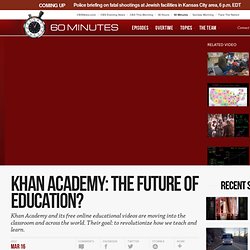 (CBS News) Sal Khan is a math, science, and history teacher to millions of students, yet none have ever seen his face.
Khan Academy: The future of education?
If there is one thing college kids neglect the most, besides basic diet and hygiene, it's the homework assignment essay. Hastily written and utterly unedited the night before it's due, the modern essay has become something of a nightmare for lackadaisical college students. But writing an essay that seems like it was written by someone with more than a double-digit IQ is not nearly as difficult as it seems, I assure you. Even the laziest Guitar Hero II god can whiz through an essay that reads like it was written by F. Scott Motherfucking Fitzgerald.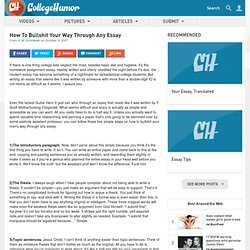 "How To Bullshit Your Way Through Any Essay" by K W Schroeder - CollegeHumor Article
PHILOSOPHY POSTERS by Max Temkin | News | Design | Arts | Tech | Entertainment | Latest News | The Skunk Pot
Philosophy is the study of general and fundamental problems, such as those connected with existence, knowledge, values, reason, mind, and language.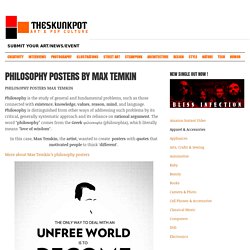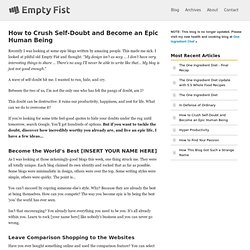 How to Crush Self-Doubt and Become an Epic Human Being
Recently I was looking at some epic blogs written by amazing people. This made me sick. I looked at pitiful old Empty Fist and thought: "My design isn't as sexy … I don't have very interesting things to share … There's no way I'll never be able to write like that… My blog is just not good enough
Questionnaires for Writing Character Profiles - Creative Writing Help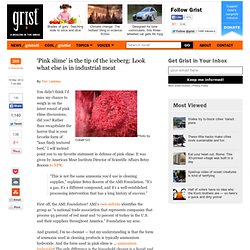 Photo by Cobalt123. You didn't think I'd miss my chance to weigh in on the latest round of pink slime discussions, did you?
'Pink slime' is the tip of the iceberg: Look what else is in industrial meat
One of the biggest con games going on at the moment is the sustained attack on the U.S. public school system.
The Campaign to Privatize the World
33 Ways To Stay Creative
by WriteExpress Staff Writers
Narrative Essay
13 sites to get your creative juices flowing | dreambeaker
Today I thought I'd share something a little different, and hopefully useful for all you fellow dreamers- a list of some of the websites I've found that exude creative coolness or spark inspiration in some way. Some are well known and fun, others may be helpful or quietly inspiring. I hope these suggestions spark your creativity as they do mine!
Seen a lot of folks giving advice to so-called "aspiring" writers these days, so, I figured what the hell? Might as well throw my dubious nuggets of wisdom into the stew. See if any of this tastes right to you.
25 Things I Want To Say To So-Called "Aspiring" Writers