Música
John Lennon - Watching The Wheels. The Beatles vs LCD Soundsystem vs The Kinks - Mashup by FAROFF.
Pearltrees videos
Datos Curiosos y Muy Interesantes Anecdotas de THE BEATLES. La letra y el concepto de la canción IMAGINE pertenecía a Yoko, lo cual John ocultó en su momento : "...por el maldito machismo que me invadía en ese tiempo...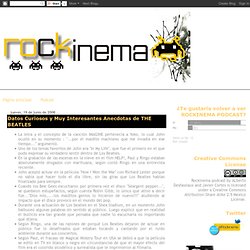 " argumentó.Uno de los temas favoritos de John era "In My Life", que fue el primero en el que pudo expresar su verdadero sentir dentro de Los Beatles.En la grabación de las escenas en la nieve en el film HELP! , Paul y Ringo estaban absolutamente drogados con marihuana, según contó Ringo en una entrevista reciente.John aceptó actuar en la película "How I Won the War" con Richard Lester porque no sabía qué hacer todo el día libre, sin las giras que Los Beatles habían finalizado para siempre.Cuando los Bee Gees escucharon por primera vez el disco "Seargent pepper.
---