Business Tools
Diagrams & charts tools. Business process management. BPM or Business Process Management is often referred to[by whom?]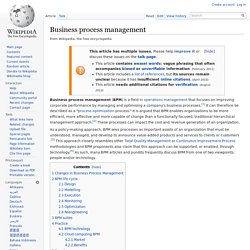 As 'Management by Business Processes'. The term "business" can be confusing as it is often linked with a hierarchical view (by function) of a company. It is therefore preferable to define BPM as "corporate management through processes". By adding to BPM the second meaning of 'Business Performance Management' used by August-Wilhelm Scheer in his article "Advanced BPM Assessment",[4] BPM can therefore be defined as "company performance management through processes". ERP Software Comparison | Compare Manufacturing Systems By Industry - Discrete Manufacturing.
A comprehensive independent review of the top Discrete Manufacturing ERP software vendors.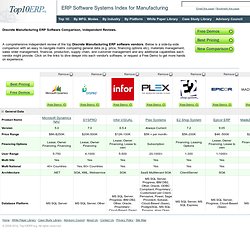 Below is a side-by-side comparison with an easy to navigate matrix comparing general data (e.g. price, financing options etc), materials management, sales order management, financial, production, supply chain, and customer management and any additional capabilities each vendor might provide. Click on the links to dive deeper into each vendor's software, or request a Free Demo to get more hands on experience. Rise Above the Information Deluge. Business process management.
---