Louisiana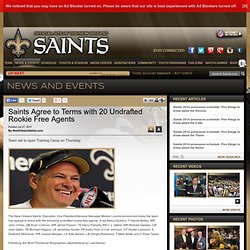 The New Orleans Saints' Executive Vice President/General Manager Mickey Loomis announced today the team has agreed to terms with the following undrafted rookie free agents: S Isa Abdul-Quddus, T Harold Beilby, WR John Chiles, QB Ryan Colburn, WR Jarred Fayson, TE Harry Flaherty, RB C.J. Gable, WR Michael Galatas, CB Josh Gatlin, TE Michael Higgins, LB Jeremiha Hunter, FB Kolby Hurt, G Carl Johnson, DT Dexter Larimore, S DeAndre McDaniel, WR Joseph Morgan, LS Kyle Nelson, LB Dwight Roberson, T Mike Smith and C Ryan Taylor.
Saints Agree to Terms with 20 Undrafted Rookie Free Agents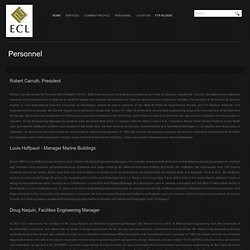 ECL: Engineering Corporation - Personnel
Robert Carruth, President
ARDOIN'S FUNERAL HOME
American Routes ~ Home
A variety of New Orleans accents from YEAH YOU RITE!
Home - Le Comité des Archives de la Louisiane, Inc.
Home - Le Comité des Archives de la Louisiane, Inc.
La Cajun Stuff, A real Cajun store brought to you by real Louisiana Cajuns
Department of French Studies: Cajun French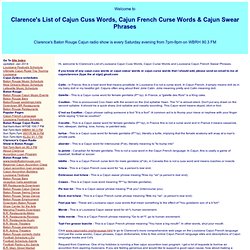 Hi, welcome to Clarence's List of Louisiana Cajun Cuss Words, Cajun Curse Words and Louisiana Cajun French Swear Phrases.
Clarence's List of Cajun Cuss Words, Cajun French Curse Words & Cajun Swear Phrases