Health
NetBenefits
New Atrial Fibrillation Drug Pradaxa Approved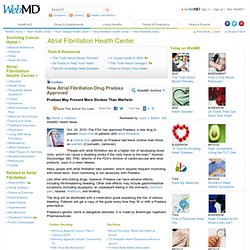 Pradaxa May Prevent More Strokes Than Warfarin Why do I need to register or sign in for WebMD to save? We will provide you with a dropdown of all your saved articles when you are registered and signed in. Oct. 20, 2010 -The FDA has approved Pradaxa, a new drug to prevent blood clots in patients with atrial fibrillation.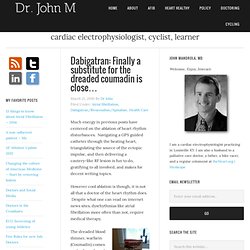 Much energy in previous posts have centered on the ablation of heart rhythm disturbances. Navigating a GPS guided catheter through the beating heart, triangulating the source of the ectopic impulse, and then delivering a cautery-like RF lesion is fun to do, gratifying to all involved, and makes for decent writing topics. However cool ablation is though, it is not all that a doctor of the heart rhythm does. Despite what one can read on internet news sites, dysrhythmias like atrial fibrillation more often than not, require medical therapy. The dreaded blood thinner, warfarin (Coumadin) comes to the fore often. In aggregate, I have likely spent months of my life discussing the risks and benefits of this much maligned drug.
Dabigatran: Finally a substitute for the dreaded coumadin is close…
PRADAXA -- For Reducing the Risk of Stroke Associated With AFib That's Not Caused by a Heart Valve Problem | PRADAXA® (dabigatran etexilate) 150 mg capsules
What is Pradaxa? Pradaxa® (dabigatran etexilate mesylate) capsules is a prescription blood-thinning medicine used to reduce the risk of stroke and blood clots in people with atrial fibrillation not caused by a heart valve problem. PRADAXA is not for use in people with artificial (prosthetic) heart valves. Do not stop taking PRADAXA without talking to the doctor who prescribes it for you.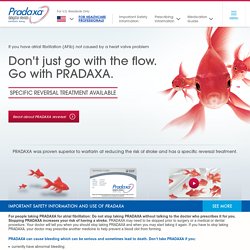 Newletter : Most Young Kids Don't Get Enough Exercise
Welcome to myuhc.com
myuhc.com
Newletter : Best Diet Plan: 6 Mini Meals or 3 Squares a Day?
You are about to exit the Heart Rhythm Society (HRS) website. Upon clicking the Continue button, you will be redirected to an external website. You are about to exit the Heart Rhythm Society (HRS) website. Upon clicking the Continue button, you will be redirected to the HeartRhythm Journal website.
HRS Online, home of the Heart Rhythm Society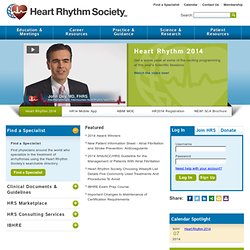 Mozilla Firefox
This web site serves people with "chronic" conditions, diseases which have no medical cure. It's also for the people who care about us and for us, either personally or professionally. In my classes, workshops and books, I put health and illness in a larger social context. I show how health and illness come from our lives and our environment. We need to commit to self-care, and we need to come together to support each other and change our environment. The role of health professionals should be to support people in making life-giving changes.
Health Beat
Probably you have seen headlines like this one: "O-Care premiums to skyrocket." The warning, which was posted on The Hill, seemed designed to cheer conservatives distraught by Obamcare's enrollment numbers. It began by announcing that next year, "premiums will double in some parts of the country. The sticker shock will likely bolster the GOP's prospects in November and hamper ObamaCare insurance enrollment efforts in 2015." Where did the reporter get her information?