Health
NetBenefits
New Atrial Fibrillation Drug Pradaxa Approved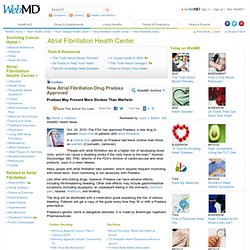 Pradaxa May Prevent More Strokes Than Warfarin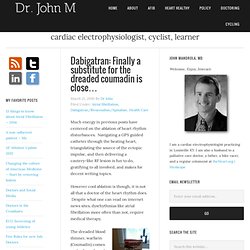 Much energy in previous posts have centered on the ablation of heart rhythm disturbances. Navigating a GPS guided catheter through the beating heart, triangulating the source of the ectopic impulse, and then delivering a cautery-like RF lesion is fun to do, gratifying to all involved, and makes for decent writing topics.
Dabigatran: Finally a substitute for the dreaded coumadin is close…
PRADAXA -- For Reducing the Risk of Stroke Associated With AFib That's Not Caused by a Heart Valve Problem | PRADAXA® (dabigatran etexilate) 150 mg capsules
Newletter : Most Young Kids Don't Get Enough Exercise
Welcome to myuhc.com
myuhc.com
Newletter : Best Diet Plan: 6 Mini Meals or 3 Squares a Day?
HRS Online, home of the Heart Rhythm Society
Mozilla Firefox
Health Beat