US Relations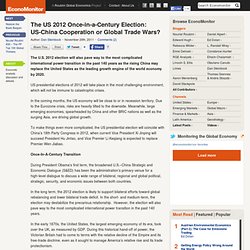 The US 2012 Once-in-a-Century Election: US-China Cooperation or Global Trade Wars?
The U.S. 2012 election will also pave way to the most complicated international power transition in the past 140 years as the rising China may replace the United States as the leading growth engine of the world economy by 2020. US presidential elections of 2012 will take place in the most challenging environment, which will not be immune to catastrophic crises.
Rob Johnson of INET sends me to an interesting paper by Autor, Dorn and Hanson (pdf) that uses regional data to estimate the impact of China imports on manufacturing employment.
More On China And Jobs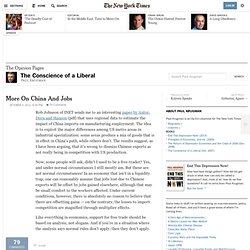 Exit from comment view mode. Click to hide this space WASHINGTON, DC – According to Voltaire, the Roman Empire fell "because all things fall." It is hard to argue with this as a general statement about decline: nothing lasts forever. But it is also not very useful. In thinking, for example, about American predominance in the world today, it would be nice to know when it will decline, and whether the United States can do anything to postpone the inevitable.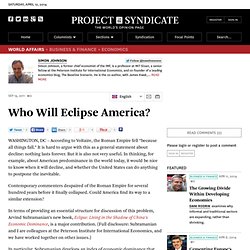 Who Will Eclipse America? - Simon Johnson - Project Syndicate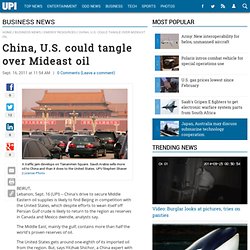 BEIRUT, Lebanon, Sept. 16 (UPI) -- China's drive to secure Middle Eastern oil supplies is likely to find Beijing in competition with the United States, which despite efforts to wean itself off Persian Gulf crude is likely to return to the region as reserves in Canada and Mexico dwindle, analysts say. The Middle East, mainly the gulf, contains more than half the world's proven reserves of oil. The United States gets around one-eighth of its imported oil from the region.
China, U.S. could tangle over Mideast oil
Speaking of busting China myths, Arthur Kroeber does a nice job with one persistent meme: China is not in any practical sense "America's banker."
China Is Not America's Banker, RealClearWorld - The Compass Blog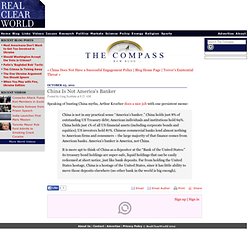 Henry Kissinger is a former US secretary of state.
Nathan Gardels: Kissinger: G-20 Is the Key Forum for Adjusting Global Power Shift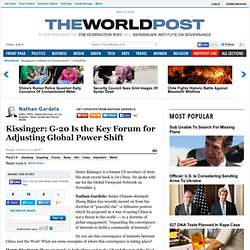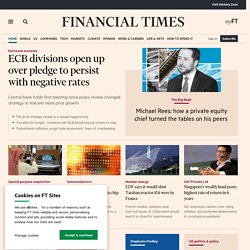 No easy start for Chile's Michelle Bachelet Michelle Bachelet, Chile's president elect, might well be excused for thinking she's under fire from a new Triple Alliance. In the next few days she can expect a binding court ruling that threatens to extend Peru's maritime border into Chilean territorial waters.
beyondbrics | News and views on emerging markets from the Financial Times
China and Russia Are Snubbing American Chicken
For years, the U.S. chicken industry has boosted profits by selling white meat to Americans, who eschew darker cuts, and exporting tons of thighs, legs, and feet to China, Russia, and Mexico, where consumers are less fussy.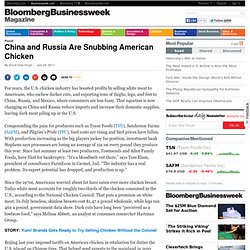 Exit from comment view mode. Click to hide this space NEW HAVEN – The Chinese have long admired America's economic dynamism.
Read China's Lips - Stephen S. Roach - Project Syndicate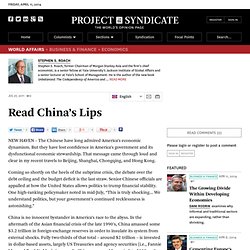 China has begun stepping in to buy up European sovereign bonds because allowing a default in Europe will trigger a global systemic collapse that will destroy China's economy.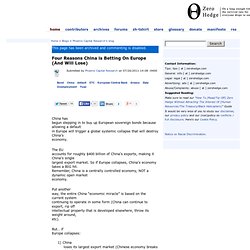 Four Reasons China is Betting On Europe (And Will Lose) | zero hedge
Slip-Up in Chinese Military TV Show Reveals More Than Intended | China News
By Matthew Robertson & Helena ZhuEpoch Times Staff Created: August 21, 2011 Last Updated: April 7, 2012
Outside of the market madness, the biggest global news this week might be China sending its first aircraft carrier to sea. The launch was not unexpected and China sought to downplay its significance, saying "it will not pose a threat to other countries." Still, "it is the most potent symbol yet of China's desire to develop the power both to deny U.S. naval access to Asian waters and to protect its global economic interests, including shipping lanes," The WSJ reports.
U.S. War with China "Inevitable," Author Glain Says | Daily Ticker
A U.S. Sovereign Credit Downgrade Is No Laughing Matter
By EconMatters
welcome to Center for America-China Partnership !
By Maggie McMillan, guest blogger When economists talk about structural transformation, they typically have in mind developing countries and the dual economy models à la W. Arthur Lewis that emphasize productivity differentials between broad sectors of the economy, such as agriculture and manufacturing.
Is China driving the wrong kind of structural change in the U.S.?