US Relations
The US 2012 Once-in-a-Century Election: US-China Cooperation or Global Trade Wars? The U.S. 2012 election will also pave way to the most complicated international power transition in the past 140 years as the rising China may replace the United States as the leading growth engine of the world economy by 2020.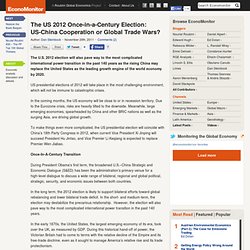 US presidential elections of 2012 will take place in the most challenging environment, which will not be immune to catastrophic crises. In the coming months, the US economy will be close to or in recession territory. Due to the Eurozone crisis, risks are heavily tilted to the downside. Meanwhile, large emerging economies, spearheaded by China and other BRIC nations as well as the surging Asia, are driving global growth. To make things even more complicated, the US presidential election will coincide with China's 18th Party Congress in 2012, when current Vice President Xi Jinping will succeed President Hu Jintao, and Vice Premier Li Keqiang is expected to replace Premier Wen Jiabao. More On China And Jobs. Rob Johnson of INET sends me to an interesting paper by Autor, Dorn and Hanson (pdf) that uses regional data to estimate the impact of China imports on manufacturing employment.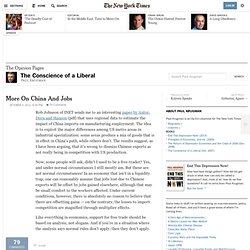 The idea is to exploit the major differences among US metro areas in industrial specialization: some areas produce a mix of goods that is in effect in China's path, while others don't. The results suggest, as I have been arguing, that it's wrong to dismiss Chinese exports as not really being in competition with US production. Now, some people will ask, didn't I used to be a free-trader? Who Will Eclipse America? - Simon Johnson.
Exit from comment view mode.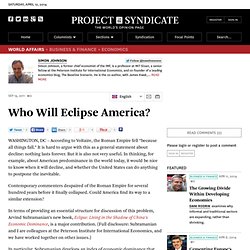 Click to hide this space WASHINGTON, DC – According to Voltaire, the Roman Empire fell "because all things fall." It is hard to argue with this as a general statement about decline: nothing lasts forever. But it is also not very useful. In thinking, for example, about American predominance in the world today, it would be nice to know when it will decline, and whether the United States can do anything to postpone the inevitable. China, U.S. could tangle over Mideast oil.
China Is Not America's Banker, RealClearWorld - The Compass Blog. Speaking of busting China myths, Arthur Kroeber does a nice job with one persistent meme: China is not in any practical sense "America's banker."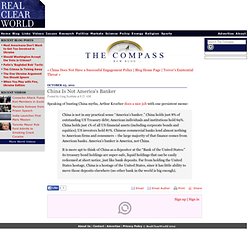 China holds just 8% of outstanding US Treasury debt; American individuals and institutions hold 69%. China holds just 1% of all US financial assets (including corporate bonds and equities); US investors hold 87%. Chinese commercial banks lend almost nothing to American firms and consumers – the large majority of that finance comes from American banks. America's banker is America, not China. Nathan Gardels: Kissinger: G-20 Is the Key Forum for Adjusting Global Power Shift. Henry Kissinger is a former US secretary of state.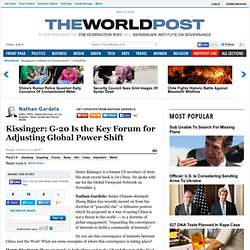 His most recent book is On China. He spoke with me for the Global Viewpoint Network on November 3. Nathan Gardels: Senior Chinese strategist Zheng Bijian has recently moved on from his doctrine of "peaceful rise" -a defensive posture which he proposed as a way of saying China is not a threat to the world --- to a doctrine of global engagement: "expanding the convergence of interests to build a community of interests. " Do you see this convergence of interests between China and the West? Beyondbrics | News and views on emerging markets from the Financial Times. Guest post: don't discount risks of trade protectionism By William R.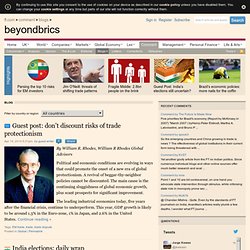 Rhodes, William R Rhodes Global Advisors. China and Russia Are Snubbing American Chicken. For years, the U.S. chicken industry has boosted profits by selling white meat to Americans, who eschew darker cuts, and exporting tons of thighs, legs, and feet to China, Russia, and Mexico, where consumers are less fussy.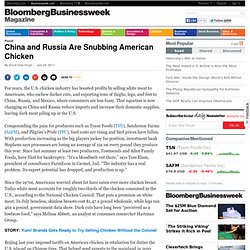 That equation is now changing as China and Russia reduce imports and increase their domestic supplies, leaving dark meat piling up in the U.S. Compounding the pain for producers such as Tyson Foods (TSN), Sanderson Farms (SAFM), and Pilgrim's Pride (PPC), feed costs are rising and bird prices have fallen. With production increasing as the big players jockey for position, investment bank Stephens says processors are losing an average of 12¢ on every pound they produce this year. Since last summer at least two producers, Townsends and Allen Family Foods, have filed for bankruptcy. Read China's Lips - Stephen S. Roach. Exit from comment view mode.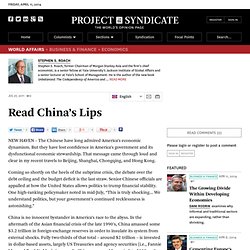 Click to hide this space NEW HAVEN – The Chinese have long admired America's economic dynamism. Four Reasons China is Betting On Europe (And Will Lose) | zero hedge. China has begun stepping in to buy up European sovereign bonds because allowing a default in Europe will trigger a global systemic collapse that will destroy China's economy.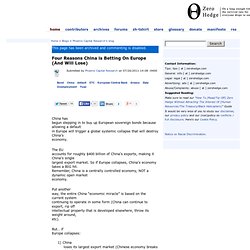 The EU accounts for roughly $400 billion of China's exports, making it China's single largest export market. So if Europe collapses, China's economy takes a BIG hit. Remember, China is a centrally controlled economy, NOT a dynamic open market economy. Slip-Up in Chinese Military TV Show Reveals More Than Intended | China News. By Matthew Robertson & Helena ZhuEpoch Times Staff Created: August 21, 2011 Last Updated: April 7, 2012 EXPOSED: A picture of the hacking software shown during the Chinese military program.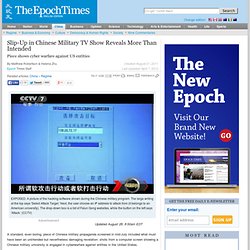 The large writing at the top says 'Select Attack Target.' Next, the user choose an IP address to attack from (it belongs to an American university). The drop-down box is a list of Falun Gong websites, while the button on the left says 'Attack.' U.S. War with China "Inevitable," Author Glain Says | Daily Ticker. Outside of the market madness, the biggest global news this week might be China sending its first aircraft carrier to sea. The launch was not unexpected and China sought to downplay its significance, saying "it will not pose a threat to other countries. " Still, "it is the most potent symbol yet of China's desire to develop the power both to deny U.S. naval access to Asian waters and to protect its global economic interests, including shipping lanes," The WSJ reports.
A U.S. Sovereign Credit Downgrade Is No Laughing Matter. By EconMatters With a stalemate heading into the weekend, the debt drama of the United States is going down to the wire, and when the clock strikes twelve midnight on August 2 (countdown clock at our homepage), the world's largest economy could be looking at an unprecedented technical default. The current consensus suggests that although a total default is nothing but a remote possibility, the damage is already done to the dollar, and a sovereign debt downgrade could be inevitable even after the debt ceiling deadlock is resolved. China, as the largest foreign holder of the U.S. debt, is totally freaking out. as NPR reported, "State Department officials now admit that China has been using diplomatic channels to express its concern. Welcome to Center for America-China Partnership !
Is China driving the wrong kind of structural change in the U.S.? By Maggie McMillan, guest blogger When economists talk about structural transformation, they typically have in mind developing countries and the dual economy models à la W. Arthur Lewis that emphasize productivity differentials between broad sectors of the economy, such as agriculture and manufacturing.
---