Manufacturing-SupplyChain
Chart of the Day: International Manufacturing Compensation Costs Compared. In-depth analysis on Credit Writedowns Pro.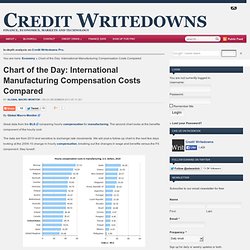 You are here: Economy » Chart of the Day: International Manufacturing Compensation Costs Compared By Global Macro Monitor Great data from the BLS comparing hourly compensation for manufacturing. Enterprise Resilience Management Blog: IBM Recommends New Rules for Supply Chain Management. IBM analyst Karen Butner writes, "The complexities of today's economic environment and ever-expanding global supply chains mandate new guidelines for peak performance.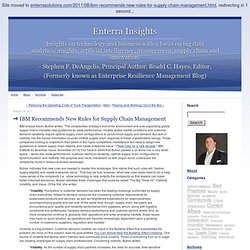 Volatile global market conditions and customer demand variability require optimal supply chain configurations to synchronize supply and demand. But lack of visibility into the myriad information sources inhibits supply chain response to these unpredictable swings. Those companies looking to outperform their peers in the hyper-competitive marketplace will need to adopt new guidelines to restore supply chain stability and create enterprise value.
" ["New rules for a new decade," IBM Institute for Business Value, November 2010] You have to admit that Butner packed a lot terms into a very small space -- terms like: peak performance; customer demand variability; optimal supply chain configurations; synchronization; and visibility. Reader (1000+) Enterprise Resilience Management Blog: Globalization, Trust, and the Supply Chain. Charles Mann, author of the new book 1493: Uncovering the New World Columbus Created, recently wrote an op-ed piece in the Wall Street Journal about globalization.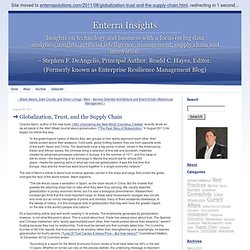 ["The Real Story of Globalization," 6 August 2011] He began his article this way: "In the great tropical harbor of Manila Bay, two groups of men warily approach each other, their hands poised above their weapons. Cold-eyed, globe-trotting traders, they are from opposite ends of the earth: Spain and China. The Spaniards have a big cache of silver, mined in the Americas by Indian and African slaves; the Chinese bring a selection of fine silk and porcelain, materials created by advanced processes unknown in Europe.
Why Design Cannot Remain Exclusive: a milestone book on open design. The Open Design experiments you will read about in this book — such as the 400 fab labs now in operation — are nodes within an alternative industrial system that is now emerging.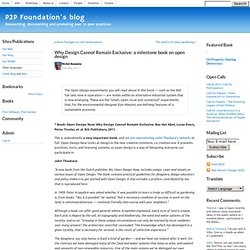 These are the "small, open, local and connected" experiments that, for the environmental designer Ezio Manzini, are defining features of a sustainable economy. * Book: Open Design Now: Why Design Cannot Remain Exclusive. Bas Van Abel, Lucas Evers, Peter Troxler, et al. About Time, Not Inventory. By BILL WADDELL A volcano erupts in Iceland, the European air freight system slams to a halt, stores run out of products and manufacturers run out of parts - and its lean manufacturing's fault.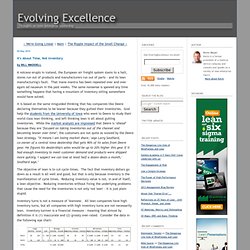 That inane mantra has been repeated over and over again ad nauseum in the past weeks. Beyond Mass Customization - B. Joseph Pine II - The Conversation. By B.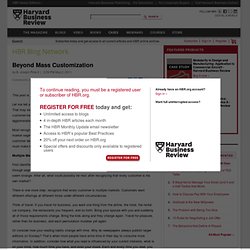 Joseph Pine II | 2:29 PM May 2, 2011 This post is part of Creating a Customer-Centered Organization. Let me tell you a secret for creating the customer-focused organization: focus on the customer! OpenKollab. Digital » Blog Archive » Study: Tribalization of Business 2009. Organizations are not yet tapping social media's full potential.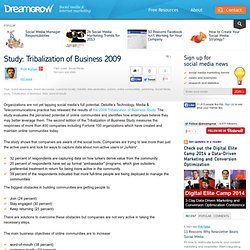 Deloitte's Technology, Media & Telecommunications practice has released the results of the 2009 Tribalization of Business Study. The study evaluates the perceived potential of online communities and identifies how enterprises believe they may better leverage them. Results from the 2009 Tribalization of Business Study | IMSPIKE.COM.
The Hourglass. The Future of Design: A U.S. Cell Phone Designed by Kenyans?
DIY
Revealed: The ghost fleet of the recession. Revealed: The ghost fleet of the recession anchored just east of Singapore By Simon Parry Created 4:09 PM on 8th September 2009 The biggest and most secretive gathering of ships in maritime history lies at anchor east of Singapore.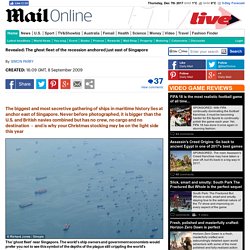 Never before photographed, it is bigger than the U.S. and British navies combined but has no crew, no cargo and no destination - and is why your Christmas stocking may be on the light side this year The 'ghost fleet' near Singapore.
Supply Chains/Webs
Open Process: the core of peer production, the core of the new society. Excerpted from a two-part series by Toni Prug: * Toni Prug.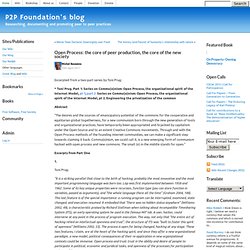 Part 1: Series on Commu(o)nism: Open Process, the organizational spirit of the Internet Model, pt 1; part 2: Series on Commu(o)nism: Open Process, the organizational spirit of the Internet Model, pt 2. Prosumer studies working group. MTTR is more important than MTBF (for most types of F) This week I gave a talk at QCon SF about development and operations cooperation at Etsy and Flickr.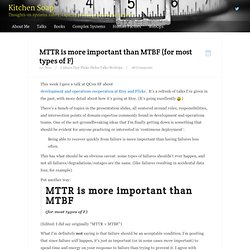 It's a refresh of talks I've given in the past, with more detail about how it's going at Etsy. (It's going excellently There's a bunch of topics in the presentation slides, all centered around roles, responsibilities, and intersection points of domain expertise commonly found in development and operations teams. One of the not-groundbreaking ideas that I'm finally getting down is something that should be evident for anyone practicing or interested in 'continuous deployment': Being able to recover quickly from failure is more important than having failures less often.
---