Management
No More Corporate Dodgeball 101509. Leading Outside the Lines. Ed Carolan knows a lot about making soup.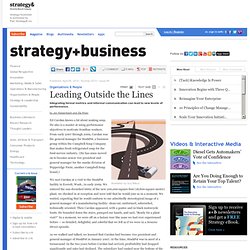 He also is a master at using performance objectives to motivate frontline workers. From early 2007 through 2009, Carolan was the general manager for StockPot, a business group within the Campbell Soup Company that makes fresh refrigerated soup for the food-service industry. (He has since moved on to become senior vice president and general manager for the snacks division of Pepperidge Farm, another Campbell Soup brand.) We met Carolan at a visit to the StockPot facility in Everett, Wash., in early 2009. John Baldoni. Jan Birchfield, Ph.D: Dialogue on Leadership in Uncertain Times: Session 5. Nine months ago my client, JFM, was fired from her job as President of a medium-sized company.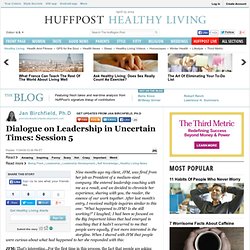 She entered leadership coaching with me as a result, and we decided to chronicle her experience, sharing with you, the reader, the essence of our work together. After last month's entry, I received multiple inquiries similar to this one: "What happened to JFM? Is she still working? " I laughed; I had been so focused on the Big Important Ideas that had emerged in coaching that it hadn't occurred to me that people were equally, if not more interested in the storyline. When I shared with JFM that people were curious about what had happened to her she responded with this: Leading Outside the Lines. Leading Outside the LinesHow to Mobilize the Informal Organization, Energize Your Team, and Get Better Results Every enterprise has an informal as well as a formal organization.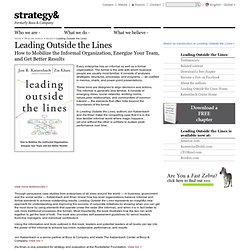 The formal is the side with which business people are usually most familiar. Solitude and Leadership. Solitude and Leadership, by William Deresiewicz, is an essay based on a lecture on leadership that he delivered to last year's West Point plebe class.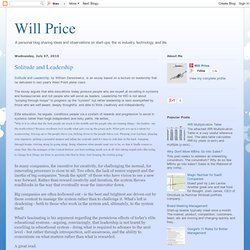 The essay argues that elite educations today produce people who are expert at excelling in systems and bureaucracies and not people who will excel as leaders. Leadership for WD is not about "jumping through hoops" to progress up the "system" but rather leadership is best exemplified by those who are self-aware, deeply thoughtful, and able to think creatively and independently. Elite education, he argues, conditions people via a system of rewards and progression to excel in systems rather than forge independent and risky paths. Mobbing-U.S.A. - Emotional Abuse in the American Workplace.
America's Big Problem - Newsweek. Enterprise Resilience Management Blog: The End of Management. In a provocative article in the Wall Street Journal, Alan Murray, argues that methods that have served corporate America well for the past hundred years are quickly becoming obsolete ["The End of Management," 21 August 2010].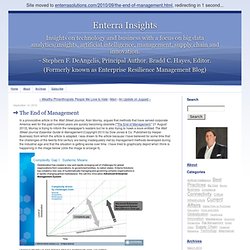 Murray is trying to inform the newspaper's readers but he is also trying to hawk a book entitled The Wall Street Journal Essential Guide to Management (Copyright 2010 by Dow Jones & Co. Published by Harper Business) from which the article is adapted. Information Science Reference. In management science, as with the broader social sciences, theories appear to be of limited efficacy and not fully appreciated by the business world.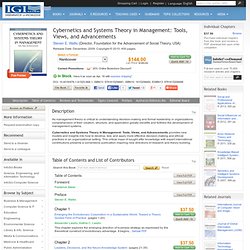 Even when we set our specific theories aside and rely on the benefits of a general education, the results are mixed. While no one denies the benefits of a general business education, that same education has also been implicated in corporate scandals such as the downfall of Enron. From these issues, one might imagine a crisis of confidence for management studies. The Bucky-Gandhi Design Institution » Revising Boyd for Bureaucracy: OODA 2×2. Mike and I have been kicking around the question of "why don't organizations act" as we get Buttered Side Down, the historic risk management consultancy off the ground.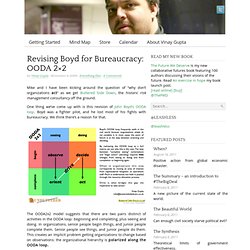 The OODA2x2 model suggests that there are two pairs distinct of activities in the OODA loop: beginning and completing, plus seeing and doing. In organizations, senior people begin things, and junior people complete them. Senior people see things, and junior people do them. This creates an implicit problem getting organizations to change based on observations: the organizational hierarchy is polarized along the OODA loop.
The New Deal: Negotiauctions. You've held your own while negotiating dozens of successful deals.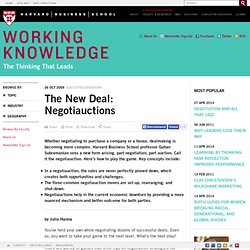 Even so, you want to take your game to the next level. What's the next step? There are plenty of guides that offer tips on negotiation strategies. Schumpeter: The three habits... Leading in the Gemba. By Kevin Meyer Dr.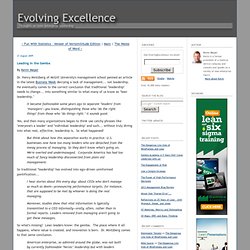 Henry Mintzberg of McGill University's management school penned an article in the latest Business Week decrying a lack of management... not leadership. He eventually comes to the correct conclusion that traditional "leadership" needs to change... into something similar to what many of us know as "lean leadership.
" It became fashionable some years ago to separate "leaders" from "managers"—you know, distinguishing those who "do the right things" from those who "do things right. " It sounds good. Unboxed - How Crisis Shapes the Corporate Model.
---