Management
No More Corporate Dodgeball 101509
Ed Carolan knows a lot about making soup.
Leading Outside the Lines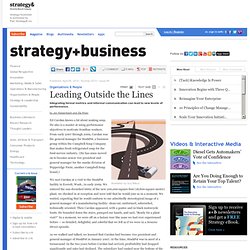 John Baldoni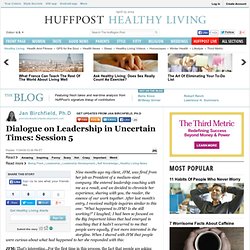 Nine months ago my client, JFM, was fired from her job as President of a medium-sized company. She entered leadership coaching with me as a result, and we decided to chronicle her experience, sharing with you, the reader, the essence of our work together.
Jan Birchfield, Ph.D: Dialogue on Leadership in Uncertain Times: Session 5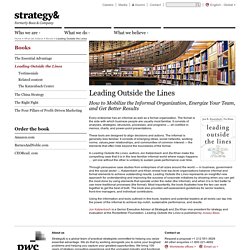 Leading Outside the LinesHow to Mobilize the Informal Organization, Energize Your Team, and Get Better Results Every enterprise has an informal as well as a formal organization. The formal is the side with which business people are usually most familiar.
Leading Outside the Lines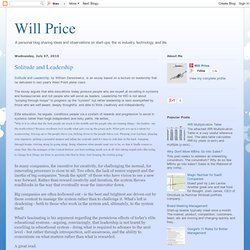 Solitude and Leadership, by William Deresiewicz, is an essay based on a lecture on leadership that he delivered to last year's West Point plebe class.
Solitude and Leadership
Mobbing-U.S.A. - Emotional Abuse in the American Workplace
America's Big Problem - Newsweek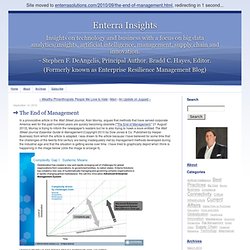 Enterprise Resilience Management Blog: The End of Management
In a provocative article in the Wall Street Journal, Alan Murray, argues that methods that have served corporate America well for the past hundred years are quickly becoming obsolete ["The End of Management," 21 August 2010]. Murray is trying to inform the newspaper's readers but he is also trying to hawk a book entitled The Wall Street Journal Essential Guide to Management (Copyright 2010 by Dow Jones & Co. Published by Harper Business) from which the article is adapted.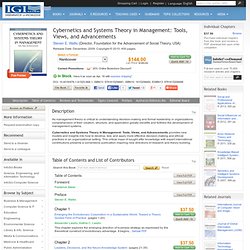 Information Science Reference
In management science, as with the broader social sciences, theories appear to be of limited efficacy and not fully appreciated by the business world.
Mike and I have been kicking around the question of "why don't organizations act" as we get Buttered Side Down, the historic risk management consultancy off the ground.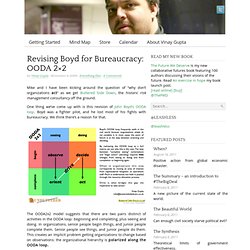 The Bucky-Gandhi Design Institution » Revising Boyd for Bureaucracy: OODA 2×2
You've held your own while negotiating dozens of successful deals.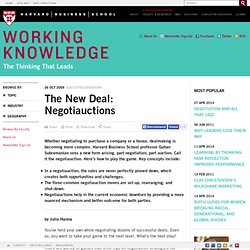 The New Deal: Negotiauctions
STEPHEN COVEY is fond of telling people that he is writing a book on the evils of retirement, "Live Life in Crescendo". There is no danger of a for this particular guru.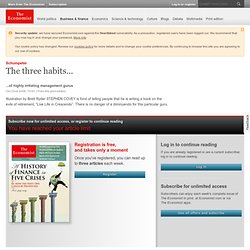 Schumpeter: The three habits...
Leading in the Gemba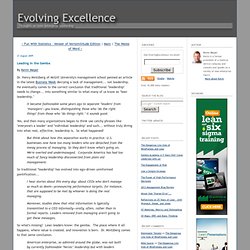 By Kevin Meyer Dr.
Unboxed - How Crisis Shapes the Corporate Model