Skola
ICT Competency Framework for Teachers. The UNESCO ICT Competency Framework for Teachers (ICT-CFT) is intended to inform educational policy makers, teacher-educators, providers of professional learning and working teachers on the role of ICT in educational reform, as well as to assist Member States in developing national ICT competency standards for teachers with an ICT in Education Master Plan approach.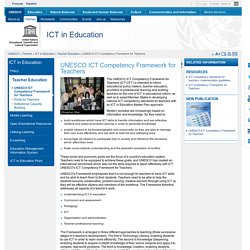 Modern societies are increasingly based on information and knowledge. So they need to: build workforces which have ICT skills to handle information and are reflective, creative and adept at problem-solving in order to generate knowledgeenable citizens to be knowledgeable and resourceful so they are able to manage their own lives effectively, and are able to lead full and satisfying livesencourage all citizens to participate fully in society and influence the decisions which affect their livesfoster cross-cultural understanding and the peaceful resolution of conflict.
Open Admin for Schools. Yes!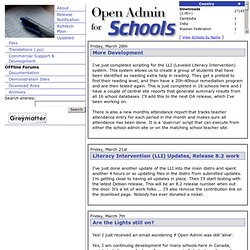 I just received an email wondering if Open Admin was still 'alive'. Yes, I am continuing development for many schools here in Canada, mainly including new features for assessment of student reading and numeracy. These include system for recording DRA (Diagnostic Reading Assessment), LLI (Literacy Intervention), PPVT (Peabody Picture Vocabulary Test), FSTEP (First Steps in Math), and have just finished starting applications for storing scores for a Common Math Assessment system based on outcomes from Saskatchewan Mathematics curriculum. Google. Biljana Atanacković: Јавни профил. Moodle Moot 2012: Program skupa.
Three pearltrees and a tip #82 - batanackovic - Gmail. Research Management for Professionals, Web and PDF Annotation | WebNotes. Web Clipper lets you save webpage text, links and images with a single click. Symbaloo | Access your bookmarks anywhere.
Seeing Is Believing – Document Embedding at Its Best | Crocodoc. Culture Freedom Day is May 19. This Saturday is Culture Freedom Day, a worldwide celebration of free and open culture through education efforts, on- and offline events, and promoting artists who work in free culture.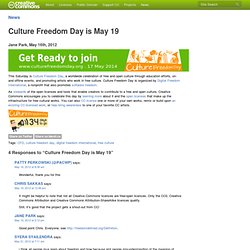 Culture Freedom Day is organized by Digital Freedom International, a nonprofit that also promotes software freedom. As stewards of the open licenses and tools that enable creators to contribute to a free and open culture, Creative Commons encourages you to celebrate this day by learning more about it and the open licenses that make up the infrastructure for free cultural works. You can also CC license one or more of your own works, remix or build upon an existing CC-licensed work, or help bring awareness to one of your favorite CC artists. У сусрет дигиталној писмености. Мини-курс на Диго-сервису друштвени обележивачи и веб-алати за истицање, бележење, организовање, чување, филтрирање и вредновање веб-референци Трајање курса: 21. мај - 10. јун 2012. (3 седмице)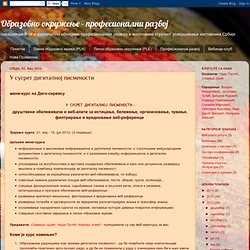 ---