Stories part 1
Stories
mustafah abdulaziz – obama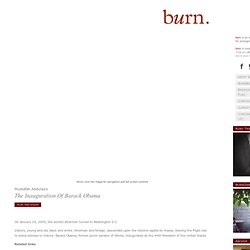 Hover over the image for navigation and full screen controls Mustafah Abdulaziz The Inauguration Of Barack Obama play this essay
A worker checks the bodywork on a new Porsche at the Valmet factory in Uusikaupunki, Finland, population 16,000, which has assembled the cars since 1997. In a sense, Porsche is the only major virtual vehicle manufacturer -- it designs and markets sports cars without actually cranking them all out on its own production line. Photo: Henna Aaltonen for the International Herald Tribune
Porsches, Made in Finland - The New York Times > Business > Slid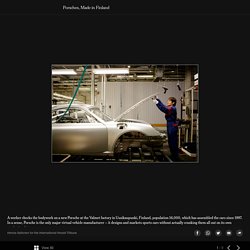 Updated Oct. 10, 2009 11:59 p.m. ET NEW YORK -- Karen King owes nearly $36,000, more than she's ever earned in a year.
The 'Democratization of Credit' Is Over -- Now It's Payback Time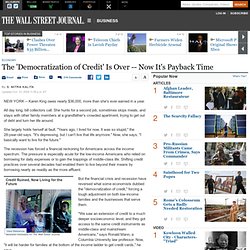 Following a Closing, the Struggle to Find Work - The New York Ti
The Candy Maker of Leavenworth - The New York Times > U.S. > Sli
Cannabis Culture - Photo Essays
Second Chance Comes With a Dose of Discipline - The New York Tim
Obamania
Showcase: The Roma in Rome - Lens Blog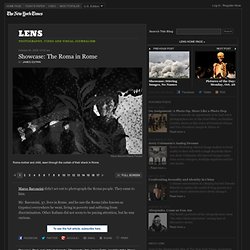 Marco Baroncini didn't set out to photograph the Roma people. They came to him. Mr.
Showcase: Sisyphean Days in Cuba - Lens Blog
Breaking Through the Ranks - The New York Times
Laying Off at the Family Business - The New York Times
Slumdog Entrepreneurs - Photo Essays
Double Jeopardy: The Harsh Reality for Iraqi Immigrants Trying t
High Seas Border Patrol - Photo Essays
slideshow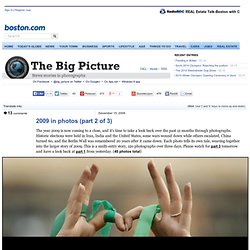 The year 2009 is now coming to a close, and it's time to take a look back over the past 12 months through photographs. Historic elections were held in Iran, India and the United States, some wars wound down while others escalated, China turned 60, and the Berlin Wall was remembered 20 years after it came down. Each photo tells its own tale, weaving together into the larger story of 2009. This is a multi-entry story, 120 photographs over three days. Please watch for part 3 tomorrow and have a look back at part 1 from yesterday. (40 photos total) Before the Iranian election, a supporter of main challenger and reformist candidate Mir Hossein Mousavi forms a heart shape with her hands to indicate her support, while wearing green ribbons - the color of the party, amidst a festive atmosphere at an election rally rally in Tehran, Iran, Tuesday, June 9, 2009.
The Inauguration of President Barack Obama - The Big Picture - B
Turning to Madrasas - The New York Times > World > Slide Show >
The Fall of Mexico - Magazine
In the almost three years since President Felipe Calderón launched a war on drug cartels, border towns in Mexico have turned into halls of mirrors where no one knows who is on which side or what chance remark could get you murdered. Some 14,000 people have been killed in that time—the worst carnage since the Mexican Revolution—and part of the country is effectively under martial law. Is this evidence of a creeping coup by the military? A war between drug cartels? Between the president and his opposition? Or just collateral damage from the (U.S.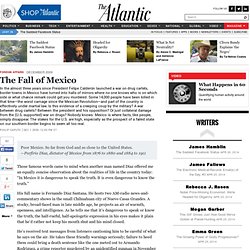 Reinforced Playground Opens in Sderot - The New York Times > Wor
Escape From North Korea
The faces of foreclosure include Karla Funnell of Elkhart, Ind. "I really miss living at that house, I really want to have that life again," says Funnell, seen here on Sept. 25 admiring the home she had called hers for 18 years. Laid off from her job, eventually her unemployment benefits ran out and then she lost the home to foreclosure in 2007. After 30 years in the RV industry, Funnell, 52, now delivers pizza part-time and lives in a fifth-wheel camper with her son on her daughter and son-in-law's property. Looking back, Funnell says she might have been able to get a loan from family members had she told them sooner.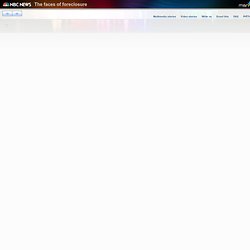 The faces of foreclosure - Picture Stories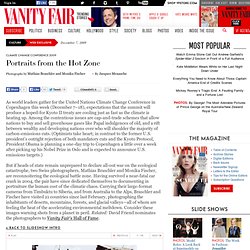 Mathias Braschler and Monika Fischer on the Environmental Meltdo
As world leaders gather for the United Nations Climate Change Conference in Copenhagen this week (December 7–18), expectations that the summit will produce a hoped-for Kyoto II treaty are cooling just as fast as the climate is heating up. Among the contentious issues are cap-and-trade schemes that allow nations to buy and sell greenhouse gases like Papal indulgences of old, and a rift between wealthy and developing nations over who will shoulder the majority of carbon-emissions cuts. (Optimists take heart; in contrast to the former U.S. president's outright rejection of both mandatory cuts and the Kyoto Protocol, President Obama is planning a one-day trip to Copenhagen a little over a week after picking up his Nobel Prize in Oslo and is expected to announce U.S. emissions targets.) But if heads of state remain unprepared to declare all-out war on the ecological catastrophe, two Swiss photographers, Mathias Braschler and Monika Fischer, are reconnoitering the ecological battle zone.
A Look Inside a Public Boarding School - Photo Essays
The Last Days of Pakistani Cinema - Photo Essays
Insurgents Target Punjabi Police - Photo Journal
Branding for Wombats - Photo Essays
On Assignment: Life Sentences - Lens Blog
Lens is the photography blog of The New York Times, presenting the finest and most interesting visual and multimedia reporting — photographs, videos and slide shows. A showcase for Times photographers, it also seeks to highlight the best work of other newspapers, magazines and news and picture agencies; in print, in books, in galleries, in museums and on the Web. Here are some suggestions for getting the most out of Lens.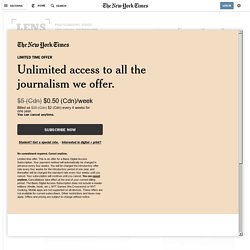 Puppies Behind Bars - Photo Essays
Giving Kolkata's Homeless Kids a Chance - Photo Essays
Brooklyn Gang
The Children of Malawi - Photo Essays
The Children of AIDS - Digital Journalist
General Farfan, an Ecuadorean town just two miles from the guerrilla-controlled jungles of Colombia, is a major point of entry for Colombian refugees escaping violence. It is also a major transit point for the movement of goods, including drugs, gasoline and illegal lumber. Please support our site by enabling javascript to view ads.
Colombian refugees | Ecuador
Drowning in Opium - The New York Times > World > Slide Show > Sl
Cutting Off the Taliban's Bankroll - The New York Times > World
Women's Shelters in Afghanistan - The New York Times > World > S
The Renegade Cabaret - The New York Times
INNOCENCE – Sri Lanka's former child soldiers | duckrabbit - we
Night Watch - The New York Times > N.Y. / Region > Slide Show >
Free large file hosting. Send big files the easy way!
The Golden Eagle Hunters of Mongolia - Photo Essays
Showcase: A Thirsting Planet - Lens Blog
Traveling with Ghana's Kayayo Girls - Photo Essays
Pakistan Beneath the Surface - Photo Essays
The Threat of Black Carbon - The New York Times > World > Slide
Without Papers, Looking for a Future - The New York Times
Mexico City Prepares to Reawaken - Photo Journal
G20 demonstrations, London
Breaking the Gender Bar in Boxing - The New York Times > Sports
Between Heaven And Earth
Monkey street performers | Photos | The Sydney Morning Herald
Indians Go to the Polls - The New York Times > World > Slide Sho
Olympics for the Unemployed - The New York Times > N.Y. / Region
Reportage by Gettyimages - features - End of Labor Town - Dumpin
A Day of Mourning in Tibet - The New York Times > Asia Pacific >
Cleveland's Smarter Approach to Health Care - Photo Essays - TIM
Reportage by Gettyimages - features - Real Dolls & iDollators
A Powerful Truth - The New York Times
"Foreclosure: Death of the American Dream" by Lauren Greenfield
Audio slideshow: Death and destruction on the cocaine trail | Wo
co.uk
co.uk
co.uk
Immigrant Influx Tests a Minneapolis Hospital - The New York Tim
One in 8 Million - New York Characters in Sound and Images - The
co.uk
Ballet at the Vaganova - The New York Times
After the Gulag - The New York Times > World > Slide Show > Slid
Recession Slows Migration From Mexico - The New York Times > U.S
The Siege of Ciudad Juarez - Photo Essays
Behind the Scenes: Still Wounded - Lens Blog