Sartorialist's aspirants
Friday, April 4, 2014 On the Street……Sixteenth St., New York Yes, it's still that cold in New York! I love how the b&w of the image places the focus on the texture of these two beautiful coats! (the people seem to be beautiful too) Thursday, April 3, 2014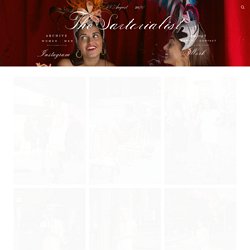 The Sartorialist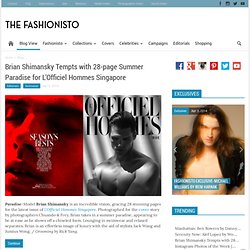 The Fashionisto
Paradise–Model Brian Shimansky is an incredible vision, gracing 28 stunning pages for the latest issue of L'Officiel Hommes Singapore. Photographed for the cover story by photographers Chuando & Frey, Brian takes in a summer paradise, appearing to be at ease as he shows off a chiseled form. Lounging in swimwear and relaxed separates, Brian is an effortless image of luxury with the aid of stylists Jack Wang and Jumius Wong. / Grooming by Rick Yang. Spring 2014 Trends–The latest issue of Harper's Bazaar Man China seeks out the season's trends with a spread featuring models Travis Cannata and Joe Bruzas. From Burberry Prorsum and Calvin Klein Collection to Givenchy, bold spring fashions are front and center as photographer Yossi Michaeli and stylist Vincent Young hit the studio for a colorful outing. / Hair by Shloi Mor (Atelier Management). Set design by Stewart Gerard.
The Cut: New York Magazine's Fashion Blog
COUTE QUE COUTE
The other day, I was sitting there relaxing in the operating room (ok, not exactly relaxing)(I was about to get anesthesia and I DO NOT like the idea of that at all)(it was for a really harmless operation, I assure you) when suddenly, the anesthesiologist, who was putting an IV in my hand, tells me "Oh, funny – the skin on your hand is very, very supple." I sat up in my bed suddenly, and said to her: "Wait a second – suuuuppple? I mean – good supple or bad supple?" And she answered: "Just supple, more supple than most people.
garance doré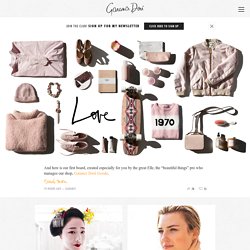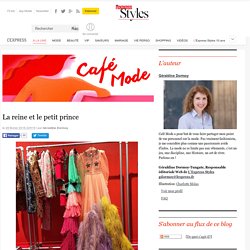 J'étais à Londres le weekend dernier et, croyez-le ou non, il faisait un temps magnifique! La preuve avec la photo ci-dessus, prise à St James 's Park, à deux pas de notre hôtel -le St Ermin's, cadeau de Mark pour mon anniversaire. Chaque matin, mon plus grand kif était d'aller courir le long du canal, face à Buckingham Palace. Il y avait des jonquilles partout, certains arbres semblaient sortir d'un conte de Perrault tant leurs branches étaient noueuses, les canards étaient aussi beaux que ceux que j'avais dans mes livres d'images, enfant… Bref, c'était merveilleux.
Café Mode, l'oeil d'une parisienne (presque) à la page - Lexpres
Face Hunter
Yvan Rodic
Modoscopie | Vincent Rouvière, le Podium Jeunes Stylistes Ci-dessus: Vincent Rouvière, quelques minutes avant le début du défilé de l'édition 2014 du Podium Jeunes Stylistes "D'aussi aussi loin que je m'en souvienne, j'ai toujours été passionné de mode" vous dira Vincent Rouvière, entrepreneur, consultant, fondateur et président du… Encore plus! → Young Bloods | Kathleen Kye, la plus engagée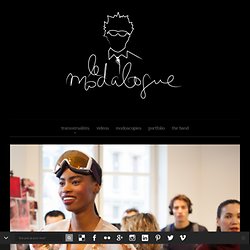 Le Modalogue | Le blog de mode transversal, luxe, tendances, art
La chemise à fleurs Dans la culture commune, la chemise à fleurs est symbole de plage, de surf et entre autre de Magnum. Ce ne sont pas forcément des mauvaises choses, cela dépend évidemment de quel usage on en fait. Si l'on voulait faire un rapprochement historique, notamment en ce qui concerne les deux derniers points, on rattacherait la période faste de la chemise à fleurs à partir de la moitié des années années 80 jusqu'à mi-90. C'est d'ailleurs une des grandes thématiques de la saison printemps-été 2014. Vous l'aurez compris, la chemise à fleurs est tendance, seulement la porter peut s'avérer être casse-gueule.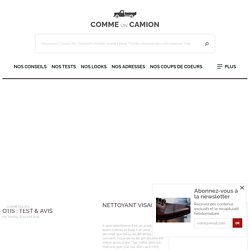 Comme un camion : blog mode homme
| Stylesightings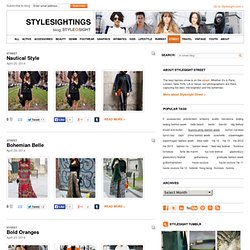 Senior European Correspondent Pernilla Lofberg is Stylesight's Senior European Correspondent, reporting on emerging fashion trends across retail, trade shows, festivals and street style coverage from her home base in London and through frequent travels abroad. Originally from Sweden, Pernilla began her career assisting fashion stylists in London and New York, eventually landing as a stylist at Net-A-Porter prior to joining Stylesight. Her understanding of both high street and high-end fashion informs her posts for the Stylesightings blog, which she took over in Spring 2013.
JUSTJR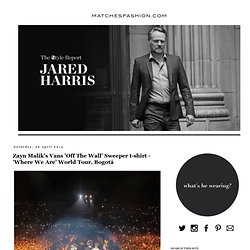 00 o 00 blog
Mika and Karl Lagerfeld / Source: Pascal Le Segretain/Getty Images Europe Mika and Karl Lagerfeld attended the Rose Ball 2014 in aid of the Princess Grace Foundation at Sporting Monte-Carlo on 29 March 2014 in Monte-Carlo, Monaco. Mika wore a red suit for the red carpet photocall, and accessorised with a matching velvet bow tie and tasselled loafers. Mika / Source: PLS Pool/Getty Images Europe Mika then changed into another red suit for his performance, and he was pictured in a pair of spiked sneakers, which I believe is the Christian Louboutin 'Louis Gomme/Spikes'.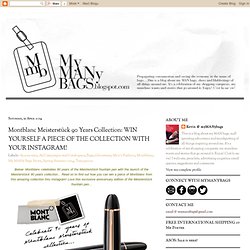 My MANy Bags
Below: My heart be still... A new object of desire indeed... the new Montblanc Meisterstück Heritage Date Automatic as spotted on hearthrob Chris Hemsworth during the recent 86th Academy Awards... Montblanc Meisterstück Heritage Date Automatic When you have progressed so much with your bags, clothes and shoes collection... the natural step forward for being a true style aficionado naturally inclines to appreciating a full lifestyle of tasteful living. Timepieces, automobiles, home furnishings and art are all part and parcel to reinforce one's appreciation of the finer things in life.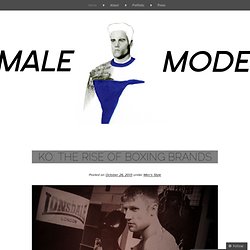 Male-Mode
Since gentrification's taken a firm hold of Williamsburg, artists, designers, musicians have been migrating further into Brooklyn, with Bushwick now fast following suit. With ample space at more affordable prices, convenient connections to Manhattan and enough Stumptown coffee to fuel full-time jobs and moonlight freelancing, it's hardly difficult to see the attraction. Having come across Bushwick-based brand Highland during a spate of press days, I was eager to learn more about the interestingly anomalous brand.
Easy Fashion
Ornella / Palais de Tokyo / Paris I met the pretty Ornella during last Fashion Week in Paris. Ornella is studying in last year of High-School.
Mais oui , le titre de cette chronique n'est pas illégitime, car c'est bien à un véritable festin de mode que vous êtes conviés avec cette première exposition consacrée en France au créateur anversois Dries Van Noten. Vendredi dernier, soir du vernissage, je me suis rendu au Musée des Arts Décoratifs, et comme ma consoeur, Géraldine Dormoy a déjà parlé dans Café Mode de son coup de coeur pour cet événement, ce sont les modèles de la mode masculine, un certain « Dries Code », comme titrait joliment Sabrina Champenois dans Libération, dont je voudrais vous parler ici. Si Dries est depuis longtemps l'un de mes créateurs préférés en matière de mode masculine, c'est sans nul doute parce que son balancier créatif oscille sans cesse du pur jansénisme nordique à l'exubérance la plus volubile. Impossible de savoir avant l'heure du défilé quelle sera la tonalité de sa saison : motifs all-over, couleurs sourdes, coupes au rasoir ou volumes inédits ?
Entrez dans la tendance le blog de Guillaume Crouzet
redingote.
Luxe oblige
Soldes suprêmes, soldes exceptionnels, soldes absolus, soldes soldes soldes !!! Depuis mercredi 24 juin, les soldes d'été ont commencé en France. Après un 1er semestre très difficile pour tous les secteurs économiques, y compris le luxe, ces soldes représentent un enjeu considérable pour le résultat opérationnel des marques. L'industrie du luxe, qui cultive les paradoxes (voir l'excellent article de Bernard Dubois à ce sujet), s'accommode avec facilité du principe des soldes, et le poids de cette période de l'année sur le CA des marques et des distributeurs est de plus en plus considérable. Mais comment concilier l'idée de luxe et celle des soldes ?
Coach building is a virtue, which dates back several centuries to a time when man and machine were in the early stages of becoming truly engaged. Names such as Rippon, Barker, Carrozzeria Ghia and Chapron decked the lime light in the era of peace and love. In essence each firm wildly exhibited a unique style, grace and a forthcoming character in the automobile industry.
Berkley Magazine - Men's style and men's luxury fashion blog
NICOLA FORMICHETTI'S BLOG!!
Iconoclastine Inc. - Mode homme, photo, marketing, concepts et p