Sartorialist's aspirants
The Sartorialist
The Fashionisto
The Cut: New York Magazine's Fashion Blog
COUTE QUE COUTE
garance doré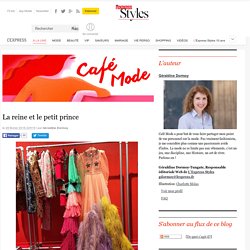 Mon post sur les manières de dire bonjour dans la mode vous ayant plu, je récidive avec les différentes façons d'attendre dans la salle qu'un défilé commence. Les créateurs ayant la fâcheuse habitude d'avoir toujours au moins une demi-heure de retard, ça laisse le temps d'observer les manœuvres de chacun. L'occupation la plus courante, la plus chère aussi, aucune marque n'ayant encore estimé utile d'installer le Wifi dans sa salle. A chaque défilé, des bataillons de rédactrices, blogueuses et photographes passent donc leur temps à exploser stoïquement leur facture de téléphone.
Café Mode, l'oeil d'une parisienne (presque) à la page - Lexpres
Face Hunter
Yvan Rodic
Le Modalogue | Le blog de mode transversal, luxe, tendances, art
Comme un camion : blog mode homme
| Stylesightings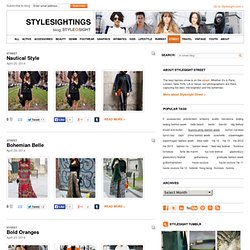 Senior European Correspondent Pernilla Lofberg is Stylesight's Senior European Correspondent, reporting on emerging fashion trends across retail, trade shows, festivals and street style coverage from her home base in London and through frequent travels abroad. Originally from Sweden, Pernilla began her career assisting fashion stylists in London and New York, eventually landing as a stylist at Net-A-Porter prior to joining Stylesight. Her understanding of both high street and high-end fashion informs her posts for the Stylesightings blog, which she took over in Spring 2013.
JUSTJR
00 o 00 blog
My MANy Bags
Male-Mode
Easy Fashion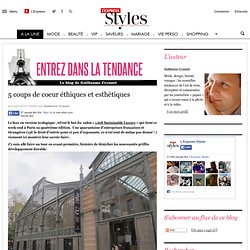 Hier soir, le Bon Marché, temple du BCBG Rive Gauche, inaugurait sa Grande Epicerie relookée. Après 18 mois de travaux, ce qui est sans doute la plus grande épicerie fine de France (3500 m2 !) célébrait en fanfare sa deuxième jeunesse. Et quand je dis « en fanfare », c'est au sens propre du terme !
Entrez dans la tendance le blog de Guillaume Crouzet
redingote.
Luxe oblige
Berkley Magazine - Men's style and men's luxury fashion blog
NICOLA FORMICHETTI'S BLOG!!
Iconoclastine Inc. - Mode homme, photo, marketing, concepts et p