Indie may 010 from pitchfork /1
TONY ALLEN sur MySpace Music - Ecoute gratuite de MP3, Photos et
The sticker affixed to the front of Tony Allen's new album says it all, really. "Perhaps the greatest drummer ever," reads a quote from Brian Eno; "Without Tony Allen, there'd be no Afrobeat," reads a quote from the late Fela Kuti. And then there's the cover of the album proper, which features the matter-of-fact sub-tag "another one from the underground sensation." Yet despite all the falir, it's that last one-- "underground sensation" that stings, and really rings true.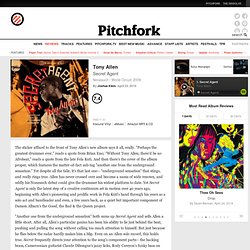 Tony Allen: Secret Agent
Tony Allen - Secret Agent (2009) [Lossless/FLAC] (download torre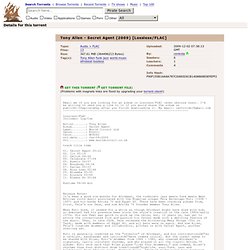 Tony Allen - Secret Agent (2009) [Lossless/FLAC] Type: Audio > FLAC Files:
The Futureheads sur MySpace Music - Ecoute gratuite de MP3, Phot
The Futureheads: The Chaos
It'd be a shame if history only remembered the Futureheads for one near-perfect album (2004's self-titled debut) and for being unlikely forerunners of the current Kate Bush revival (thanks to that album's heroic "Hounds of Love" cover). But that tricky balance-- between buzzsaw aggression, mathematical complexity, and bubblegum accessibility-- the Sunderland quartet once deftly executed proved difficult to strike on subsequent releases. The result was a more pedestrian, power-pop aesthetic, and, by 2008's This Is Not the World, a band once near the head of the post-millennial post-punk class was threatening to be demoted to one of its also-rans. It's a situation the Futureheads themselves seem all too aware of-- as singer Barry Hyde observes toward the end of their new, fourth album: "The first 5,000 miles/ Are the hardest steps to take/ But then your autopilot/ Kicks in for the journey's sake."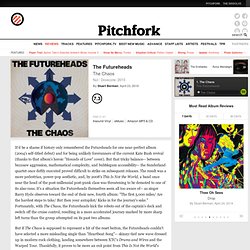 The Futureheads - The Chaos (2010).
Omar Khorshid sur MySpace Music - Ecoute gratuite de MP3, Photos
Bio: Star of the cinema and leading guitarist of the Orient, Omar Khorshid has also composed the music for thirteen ?lms and in 1971 won the Premier Prix at the Film Festival of Tachkand for his music for the ?lm "Tbnati El Aziza" . He is renowned as the greatest guitarist of the whole Arab world and has accompanied all it's leading singers...Umm Kaltsoum, Abdel Wahab, Abdul Halim Hafez. We are proud to mark his debut on "Voice of Lebanon" with this sensational LP. - 1974
Omar Khorshid: Guitar El Chark
Oum Kalthoum, Abdel Halim Hafez, Farid Al Atrache, and Mohamed Abdel Wahab are often referred to as the "four greats" of Arabic music. Al Atrache was Syrian, the rest were Egyptian, and all four are genuine legends in the Arab-speaking world, their music still widely played and loved. Omar Khorshid played guitar in the orchestras of two of them. He made his first foray into professional music in the mid-60s, playing in one of the Arab world's first beat groups, Les Petit Chats, and in 1968, Hafez saw them perform in Alexandria, Egypt, and asked Khorshid to join his group. Hafez worked at the time with innovative composer Baligh Hamdi, and with Khorshid in the band, they made some amazing recordings that broadened the scope of Egyptian orchestral pop music.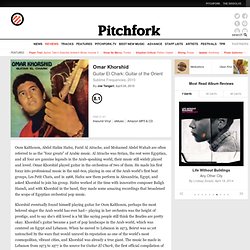 Medications sur MySpace Music - Ecoute gratuite de MP3, Photos e
Medications: Completely Removed
It's been five years since we last heard from Washington, D.C.'s Medications. Devin Ocampo and Chad Molter formed the band from the ashes of Faraquet, and on the group's debut EP and first LP, there was a clear tension between the knotty, agile post-punk of their former group and a more pop-informed tendency.
Medications-Completely Removed-2010-FNT
The Radio Dept. sur MySpace Music - Ecoute gratuite de MP3, Phot
Sweden's Radio Dept. have spent their career to date quietly building up a devoted fanbase by filtering traditional indie and dream-pop sounds through an electronic haze. They've admirably honored their genre's history every step of the way, incorporating elements of vintage Slumberland noise-pop, sadder 80s UK indie sounds, and the kind of romantic, low-key dance-pop typically associated with Saint Etienne, or more recently, the Tough Alliance. The band's relatively low profile is partly due to the infrequency of their output: Up to now, they've released only two LPs throughout their 13-year career, along with a handful of EPs and singles. As with their last two albums, Clinging to a Scheme stands to further expand the Radio Dept.'
The Radio Dept.: Clinging to a Scheme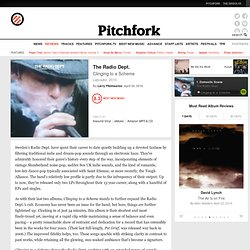 The Radio Dept - Clinging To A Scheme [2010] Type: Audio > Music Files: Size: 51.07 MiB (53547344 Bytes)
The Radio Dept - Clinging To A Scheme [2010] (download torrent)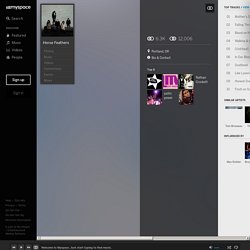 Bio: Cynic's New Year" professes an ending but welcomes Horse Feathers' fans with the promise of something new. To be sure, old friends return. Wrapped around the warmth of Justin Ringle's vocals and sparkling guitar, fiddles dance in the spaces between, above the smoky banjo and woven through the foundation of the lower strings.
Horse Feathers sur MySpace Music - Ecoute gratuite de MP3, Photo
Horse Feathers: Thistled Spring
No one can accuse Justin Ringle of being an optimist. As the leader of Portland, Ore., folk outfit Horse Feathers, he's trawled in dark subject matter that recalls Southern gothic authors William Faulkner and Flannery O'Connor. Words like "regret" and "shame" make regular appearances in his lyrics-- alongside references to hard church pews, blood-stained snow, and sinners who take human and animal forms. All this misery may come across as disingenuous considering the band's PacNW roots, but somehow Horse Feathers have managed to rise above being consigned as cultural backseat drivers, weaving hushed, ornate arrangements that ably serve Ringle's uneasy imagery. 2008's House With No Name was slightly more sprightly than Horse Feathers' 2006 debut, the dourly titled Words Are Dead, but there was still an undercurrent of depression, owed both to the droning hum provided by cellist/vocalist Catherine Odell and Ringle's voice.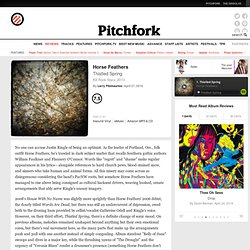 Horse Feathers - Thistled Spring (2010)(Indie Folk)(VBR-MP3)(Kil Type: Audio > Music Files: Size: 90.42 MiB (94808671 Bytes)
Horse Feathers - Thistled Spring (2010)(Indie Folk)(VBR-MP3)(Kil
Daughters sur MySpace Music - Ecoute gratuite de MP3, Photos et
Daughters: Daughters
This isn't technically Daughters' final album, but after recording, half the band quit, and whatever the remaining members (vocalist Alexis Marshall and drummer Jonathan Syverson) come up with in the future probably won't sound much like this. In a February 2010 interview with Noisecreep.com, Marshall all but says so while discussing the new album: "[Former guitarist] Nick [Sadler] wrote a lot of the stuff on there, and he was really looking to make it accessible, and see how it fared... There are definitely parts of the record that were written to see how people will respond, which is kind of disappointing." If Sadler's name sounds familiar, it's probably from the decidedly non-Daughters-like charms of his other group, Fang Island. While he's not officially credited as a songwriter-- the songs on Daughters are attributed to the entire group-- Sadler is listed as a co-producer, which might explain the album's relatively less abrasive sound.
Daughters - Daughters (2010) [mp3@256]
Avi Buffalo Music sur MySpace Music - Ecoute gratuite de MP3, Ph
Avi Buffalo: Avi Buffalo
The ladies and gentlemen of Avi Buffalo are all about 19, and you might say they do a good job acting their age; they're ponderous but not brooding, strident yet skeptical, and really, really horny. As his band saunters around him, frontlad Avigdor Zahner-Isenberg finds himself "lost in your summer cum" and puzzles over mortality: "Too much time to die," he and bandmate Rebecca Coleman sing in unison, "and I don't wanna die." His voice, never too far from a crack, lends that riff on impermanence the same weight as his takes on young lust. For all their age-appropriate fumbling, Avi Buffalo seem graceful beyond their years as songwriters. As many starkly intimate moments as they muster, a few of their tunes unfurl into near-epic lengths, gallantly breezing through moods and motifs. Snatches of Wilco's easy early-2000s amble, Built to Spill's curly fretwork, and Shins-y shuffle turn up everywhere here, occasionally all at once.
Avi Buffalo - Avi Buffalo (2010)(Plus Bonus Non-Album & Live)(In
GOGOL BORDELLO sur MySpace Music - Ecoute gratuite de MP3, Photo
Gogol Bordello: Trans-Continental Hustle
Gogol Bordello - Trans-Continental Hustle (2010) (download torre
The Mynabirds sur MySpace Music - Ecoute gratuite de MP3, Photos
The Mynabirds: What We Lose in the Fire We Gain i
The Black Swans sur MySpace Music - Ecoute gratuite de MP3, Phot
The Black Swans: Words Are Stupid
Alcest sur MySpace Music - Ecoute gratuite de MP3, Photos et cli
Alcest: Écailles de Lune
Alcest - Ecailles De Lune (2010) [mp3@320] (download torrent) -
Broken Social Scene sur MySpace Music - Ecoute gratuite de MP3,
Broken Social Scene: Forgiveness Rock Record
Crystal Castles sur MySpace Music - Ecoute gratuite de MP3, Phot
Crystal Castles: Crystal Castles
Crystal Castles - Crystal Castles [2010] (download torrent) - TP
FUTURE ISLANDS sur MySpace Music - Ecoute gratuite de MP3, Photo
Future Islands: In Evening Air
Emily Jane White sur MySpace Music - Ecoute gratuite de MP3, Pho
Emily Jane White: Victorian America
Emily Jane White - Dark Undercoat 2oo7
dom sur MySpace Music - Ecoute gratuite de MP3, Photos et clips
Dom: Sun Bronzed Greek Gods EP
Dom - Sun Bronzed Greek Gods EP (2010)
David Holmes sur MySpace Music - Ecoute gratuite de MP3, Photos
David Holmes: The Dogs Are Parading
Kate Nash sur MySpace Music - Ecoute gratuite de MP3, Photos et
Kate Nash: My Best Friend Is You
Kate_Nash-My_Best_Friend_Is_You-(Retail)-2010-SOM (download torr
The Dillinger Escape Plan sur MySpace Music - Ecoute gratuite de
The Dillinger Escape Plan: Option Paralysis
The_Dillinger_Escape_Plan-Option_Paralysis-2010-FNT (download to
Baby Dee sur MySpace Music - Ecoute gratuite de MP3, Photos et c
Baby Dee: A Book of Songs for Anne Marie
Unnatural Helpers sur MySpace Music - Ecoute gratuite de MP3, Ph
Unnatural Helpers: Cracked Love & Other Drugs
Flying Lotus sur MySpace Music - Ecoute gratuite de MP3, Photos
Flying Lotus: Cosmogramma
Flying Lotus - Cosmogramma
The Wave Pictures sur MySpace Music - Ecoute gratuite de MP3, Ph
The Wave Pictures: Instant Coffee Baby / If You L
The Dead Weather sur MySpace Music - Ecoute gratuite de MP3, Pho
The Dead Weather | Die By The Drop
Album Reviews: The Dead Weather: Sea of Cowards
The Dead Weather - Sea Of Cowards CDRip 2010 [Bubanee] (download
CocoRosie sur MySpace Music - Ecoute gratuite de MP3, Photos et
Album Reviews: CocoRosie: Grey Oceans
PHOSPHORESCENT sur MySpace Music - Ecoute gratuite de MP3, Photo
Phosphorescent: Here's to Taking It Easy
Phosphorescent - Here's To Taking It Easy [Dead Oceans 2010 320k
MALE BONDING sur MySpace Music - Ecoute gratuite de MP3, Photos
Male Bonding: Nothing Hurts
Holy Fuck sur MySpace Music - Ecoute gratuite de MP3, Photos et
Holy Fuck: Latin
Holy Fuck - Latin [2010]
SLEIGHBELLS sur MySpace Music - Ecoute gratuite de MP3, Photos e
Sleigh Bells: Treats
Sleigh Bells - Treats (2010) 256kbps
lcd soundsystem sur MySpace Music - Ecoute gratuite de MP3, Phot
LCD Soundsystem: This Is Happening
LCD Soundsystem - This Is Happening [2010]
WOVEN BONES
Woven Bones: In and Out and Back Again
RANGDA sur MySpace Music - Ecoute gratuite de MP3, Photos et cli
Rangda: False Flag
The National sur MySpace Music - Ecoute gratuite de MP3, Photos
The National: High Violet
The National - High Violet