From pitchfork june 010
the Ponys sur MySpace Music - Ecoute gratuite de MP3, Photos et
TIFT MERRITT sur MySpace Music - Ecoute gratuite de MP3, Photos
At one point on her disappointing 2008 album, Another Country , alt-country songstress Tift Merritt claims, "It isn't very often that I say just what I mean." Much of the reason for that record's mediocrity can be explained by that line, as Merritt's willowy voice and limp folk-pop hooks found themselves floating off entirely into the ether upon being paired with frustratingly vague, moony lyrics choked with overcooked metaphors ("Night is a gypsy;" "I ran like the wildest horse"). Leaning hard on blithe mid-tempo grooves and useless pleasantries, Merritt was in danger of writing herself off wholly into benign irrelevance, a Sheryl Crow with some indie cred.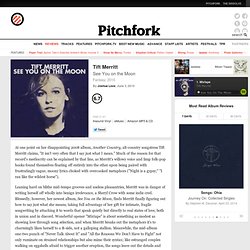 Tift Merritt: See You on the Moon
Tift.Merritt-See.You.On.The.Moon-2010-(Retail)-MJN (download tor
Saint Etienne sur MySpace Music - Ecoute gratuite de MP3, Photos
Many great pop songs can be said to have their own personality. Saint Etienne's have their own sense of place. Last June, Swedish dance-pop duo Air France released "GBG Belongs to Us", a three-part multimedia tribute to their hometown of Gothenburg. The Swedes explained their intentions in words lovingly similar to the ones they'd used to describe Saint Etienne in a Pitchfork interview a few months earlier: "For us, geography and architecture are essential elements of pop." That goes for Pete Wiggs, Bob Stanley, and Sarah Cracknell.
Saint Etienne: Tiger Bay / Finisterre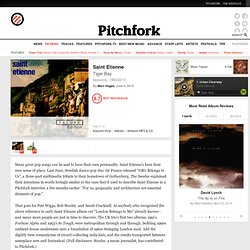 Saint Etienne - Tiger Bay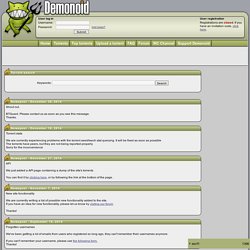 Saint Etienne - Finisterre (2002
MP3 format, 128 Kbps with full ID3 tags, .m3u playlist file and cover art. http://www.saintetienne.com/ Tracklist 1. Action 2.
Teenage fanclub sur MySpace Music - Ecoute gratuite de MP3, Phot
Teenage Fanclub: Shadows
Teenage Fanclub - Shadows [mp3-vbr-2010] (download torrent) - TP
Punch Drunk Records sur MySpace Music - Ecoute gratuite de MP3,
When electronic music is compared to video games, it is invariably linked to spry and cartoonish soundtracks. Dubstep artists like Zomby (who actually composes on an Atari) have mostly reinforced these parallels. Guido, who along with fellow Bristol youngsters Joker and Gemmy is lumped into the dubstep-offshoot wonky or purple, also frequently receives the "video game music" tag. Guido's music, though, has little to do with anything bright or glitchy. A self-professed fan of soundtracks to ornate dreamworlds like those of the Final Fantasy series, Guido's debut album, Anidea , is composed, patient, and a lot closer to phantasmal R&B than anything written for an xBox.
Guido: Anidea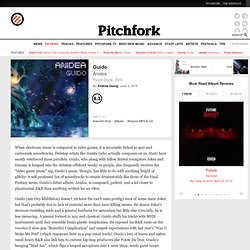 Wild Nothing sur MySpace Music - Ecoute gratuite de MP3, Photos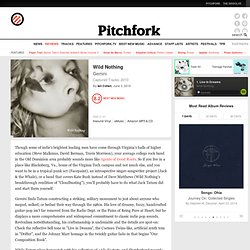 Though some of indie's brightest leading men have come through Virginia's halls of higher education (Steve Malkmus, David Berman, Travis Morrison), your average college rock band in the Old Dominion area probably sounds more like Agents of Good Roots . So if you live in a place like Blacksburg, Va., home of the Virginia Tech campus and not much else, and you want to be in a tropical punk act (Facepaint), an introspective singer-songwriter project (Jack & the Whale), or a band that covers Kate Bush instead of Dave Matthews (Wild Nothing's breakthrough rendition of "Cloudbusting"), you'll probably have to do what Jack Tatum did and start them yourself. Gemini finds Tatum constructing a striking, solitary monument to just about anyone who moped, sulked, or bedsat their way through the 1980s.
Wild Nothing: Gemini
Wild Nothing - Gemini [2010] 256 kbps
NAKED ON THE VAGUE sur MySpace Music - Ecoute gratuite de MP3, P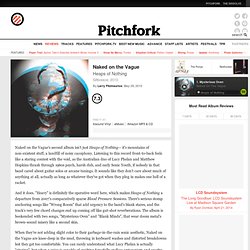 Naked on the Vague: Heaps of Nothing
Naked on the Vague's second album isn't just Heaps of Nothing -- it's mountains of non-existent stuff, a landfill of noisy cacophony. Listening to this record front-to-back feels like a staring contest with the void, as the Australian duo of Lucy Phelan and Matthew Hopkins thrash through 1960s psych, harsh dub, and early Sonic Youth, if nobody in that band cared about guitar solos or arcane tunings. It sounds like they don't care about much of anything at all, actually as long as whatever they've got when they plug in makes one hell of a racket. And it does.
BLITZEN TRAPPER sur MySpace Music - Ecoute gratuite de MP3, Phot
Blitzen Trapper: Destroyer of the Void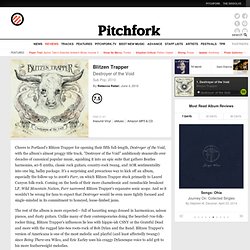 Cheers to Portland's Blitzen Trapper for opening their fifth full-length, Destroyer of the Void , with the album's almost proggy title track. "Destroyer of the Void" ambitiously steamrolls over decades of canonical popular music, squishing it into an epic suite that gathers Beatles harmonies, sci-fi synths, classic rock guitars, country-rock twang, and AOR sentimentality into one big, ballsy package. It's a surprising and precarious way to kick off an album, especially the follow-up to 2008's Furr, on which Blitzen Trapper stuck primarily to Laurel Canyon folk-rock. Coming on the heels of their more chameleonic and ramshackle breakout LP, Wild Mountain Nation , Furr narrowed Blitzen Trapper's expansive sonic scope.
Blitzen Trapper - Destroyer of the Void - 2010 (rhsiv) (320) (do
Tame Impala sur MySpace Music - Ecoute gratuite de MP3, Photos e
From the Vines to Wolfmother to Jet, recent Aussie rock exports have been painfully indebted to arena rock-- quick to recycle a sound but rarely succeeding in revitalizing it. Perth three-piece Tame Impala play with some of the ingredients of arena rock as well but do so in aid of more leftfield, organic sounds and interesting excursions. The result is a cleanly executed and frequently dazzling debut: Innerspeaker is a psychedelia-heavy outing that toys with paisley pop, stoner vibes, and an expansive array of swirling guitars. On first listen, Innerspeaker provides a lot of dots to connect: There are patches of late-60s American psychedelia, buzzy Motor City riffage, and decades of British pop, ranging from the pastoral pop of the Kinks to the vivid expansiveness of the Verve to the narcotic warmth of the Stone Roses.
Tame Impala: Innerspeaker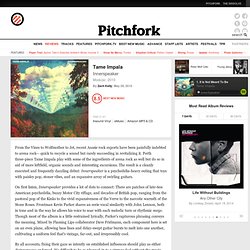 Tame Impala - Innerspeaker (MP3, 320kbps) [2010]
The Ponys: Deathbed +4 EP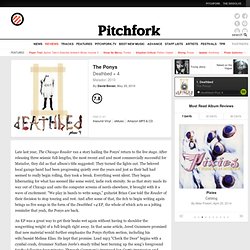 Late last year, The Chicago Reader ran a story hailing the Ponys' return to the live stage. After releasing three seismic full-lengths, the most recent and and most commercially successful for Matador, they did as that album's title suggested: They turned the lights out. The beloved local garage band had been progressing quietly over the years and just as their ball had seemed to really begin rolling, they took a break. Everything went silent. They began hibernating for what has seemed like some weird, indie rock eternity. So as that story made its way out of Chicago and onto the computer screens of nerds elsewhere, it brought with it a wave of excitement.
The Ponys
not the one... but good enough to wait. by bil May 31
The Ponys - Turn The Lights Out [2007] [Rock] (download torrent)
Redhooker sur MySpace Music - Ecoute gratuite de MP3, Photos et
Redhooker: Vespers
For fans of the instrumental post-rock proffered by groups like Rachel's, Balmorhea, and Clogs, Redhooker's debut full-length will quickly become a favorite. On Vespers , this group-- led by former Antony and the Johnsons guitarist, and current member of Slow Six, Stephen Griesgraber-- makes it way through a collection of stately, handsome pieces. Greisgraber is also Redhooker's writer, but his songs don't focus on his guitar playing (excepting one Clogs-like turn in "Friction", with his winding arpeggio driving the track).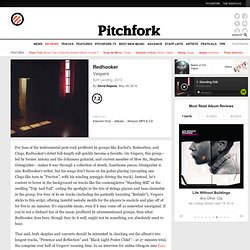 Redhooker - Vespers [2010]
Cate Le Bon sur MySpace Music - Ecoute gratuite de MP3, Photos e
Cate Le Bon: Me Oh My
Wales is used to being overlooked. Seven centuries of English occupation will do that. Almost 15 years after Super Furry Animals, Gorky's Zygotic Mynci, Catatonia, and Manic Street Preachers drew attention to their tiny country's music scene, newer Welsh artists like Race Horses and the Joy Formidable are plugging along amid considerably less media fanfare. Now add Cate Le Bon to that list, with a bullet. On her debut album, the Cardiff-based singer/songwriter introduces a beguiling, idiosyncratic voice almost designed not to call attention to itself.
ACTIVE CHILD sur MySpace Music - Ecoute gratuite de MP3, Photos
Pat Grossi's a harpist, an ex-choirboy, an Active Child; precious, no? Nah, not really. Grossi's gauzy, twinkly Active Child songs feel at once rather humble and astronomically huge. Bits of Animal Collective's stacked harmonies, Dazzle Ships ' askew shimmer, and M83's post-New Order epic pulse coalesce in Grossi's tidy yet titanic sound, stretched out over six songs and 30 minutes on the Curtis Lane EP. Precious? More like prodigious.
Active Child: Curtis Lane EP
Robyn sur MySpace Music - Ecoute gratuite de MP3, Photos et clip
Robyn: Body Talk Pt. 1
"I'm always going to feel like this person on the outside looking in," Robyn recently told Popjustice. The Swedish singer and songwriter has no fear of pop: A platinum seller in her own country, Robyn cracked the Billboard top 10 in the late 1990s working with famed teen-pop producer Max Martin. As the daughter of a couple who ran an independent theater company, however, Robin Miriam Carlsson is also a woman who enjoys doing things her own way. Robyn , first released in Scandinavia five years ago on the newly liberated singer's own Konichiwa label, ultimately led to a UK #1 hit, a tour with Madonna, and Snoop Dogg remix spots.
Robyn [Body.Talk Pt. 1][2010]
TRASH KIT sur MySpace Music - Ecoute gratuite de MP3, Photos et
Over the past couple of years, we've heard a lot of new indie rock bands playing charming, low-tech music like the last 10 years-- or 20, or 30 years-- never happened: Vivian Girls, Real Estate, the Pains of Being Pure at Heart, etc. Some of these bands try to take their old influences in new directions, and some don't bother. (Now that I'm thinking about retro, I'm thinking about Folgers Coffee ads: Tonight, we're secretly replacing this noisy cassette-label band from the mid-80s with something that came out last week-- let's see if people know the difference, or if they care.)
Trash Kit: Trash Kit
Onra "Long Distance" out now on Itunes sur MySpace Music - Ecout
Onra: Long Distance
Ariel Pink's Haunted Graffiti sur MySpace Music - Ecoute gratuit
Ariel Pink's Haunted Graffiti: Before Today
Ariel Pink's Haunted Graffiti - Before Today - 2010 (rhsiv) (dow
The Drums sur MySpace Music - Ecoute gratuite de MP3, Photos et
The Drums: The Drums
The Drums - The Drums (plus bonus track) (download torrent) - TP
Hanoi Janes sur MySpace Music - Ecoute gratuite de MP3, Photos e
Hanoi Janes: Year of Panic
here we go magic sur MySpace Music - Ecoute gratuite de MP3, Pho
Here We Go Magic: Pigeons
Pigeons by Here We Go Magic [2010] Full Album (download torrent)
Casiokids sur MySpace Music - Ecoute gratuite de MP3, Photos et
Casiokids: Topp Stemning På Lokal Bar
Emeralds: Does It Look Like I'm Here?
Emeralds - Does Look Like Im Here [2010] VBR (download torrent)
The Gaslight Anthem sur MySpace Music - Ecoute gratuite de MP3,
Album Reviews: The Gaslight Anthem: American Slang
The Gaslight Anthem - American Slang [320 kbps]
REFUSED sur MySpace Music - Ecoute gratuite de MP3, Photos et cl
Refused: The Shape of Punk to Come: A Chimerical
Refused- The Shape of Punk to Come (1998)[320kbps] (download tor
Ty Segall sur MySpace Music - Ecoute gratuite de MP3, Photos et
Album Reviews: Ty Segall: Melted
Drake sur MySpace Music - Ecoute gratuite de MP3, Photos et clip
Album Reviews: Drake: Thank Me Later
Drake-Thank Me Later-Retail-2010-WHOA