21 designers #9
KLOSS-INTERACTORS
LANZAVECCHIA + WAI MILAN 2011
Vincent Dubourg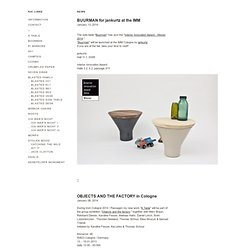 Kai Linke > Home
January 06, 2014 During Imm Cologne 2014 / Passagen my new work "K Table" will be part of the group exhibition "Objects and the factory " together with Marc Braun, Reinhard Dienes, Karoline Fesser, Mathias Hahn, Daniel Lorch, Sven Lützenkirchen , Thorsten Neeland, Thomas Schnur, Elisa Strozyk & Samuel Treindl. Initiated by Karoline Fesser, Kai Linke & Thomas Schnur Körnerstr. 4850823 Cologne / Germany13. - 19.01.2013daily 13.00 - 20.00h January 04, 2014 A homage to contemporary product design, the exhibition Alle Metalle / all metal features during the IMM Cologne / Passagen classic and new products made from non-ferrous metals and precious metals.
S.A.W. Italy
Design Junction John Galvin Design will be exhibiting at Design Junction, part of London Design Festival 2012, taking place at The Sorting Office, 21-31 New Oxford St, London between the 19th-23rd September. John's work will be displayed at Stand 17 on the second floor.
Bespoke Furniture and Kitchen Design, Glasgow, Scotland | John Galvin Furniture Design. » John Galvin Design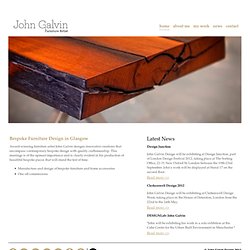 ::. ANTONINO SCIORTINO .::
Home : Ismail Özalbayrak
Zoe Mowat
db glassworks - devin burgess glass
Joey Zeledón - Boston, Massachusetts - Coat Check Chair
TDC Tsigos Design & Construction
readymade projects inc.
Simen Aarseth
Lervik Design
adamgoodrum design
Alexander Pelikan products | Pelidesign