21 designers #9
KLOSS-INTERACTORS. LANZAVECCHIA + WAI MILAN 2011. Vincent Dubourg. Kai Linke > Home. January 06, 2014 During Imm Cologne 2014 / Passagen my new work "K Table" will be part of the group exhibition "Objects and the factory " together with Marc Braun, Reinhard Dienes, Karoline Fesser, Mathias Hahn, Daniel Lorch, Sven Lützenkirchen , Thorsten Neeland, Thomas Schnur, Elisa Strozyk & Samuel Treindl.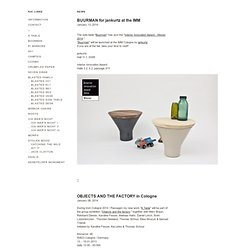 Initiated by Karoline Fesser, Kai Linke & Thomas Schnur Körnerstr. 4850823 Cologne / Germany13. - 19.01.2013daily 13.00 - 20.00h January 04, 2014 A homage to contemporary product design, the exhibition Alle Metalle / all metal features during the IMM Cologne / Passagen classic and new products made from non-ferrous metals and precious metals. S.A.W. Italy. OOOMS | dutch design. TOKUJIN YOSHIOKA INC. Bespoke Furniture and Kitchen Design, Glasgow, Scotland | John Galvin Furniture Design. » John Galvin Design. ::. ANTONINO SCIORTINO .:: Home : Ismail Özalbayrak. Zoe Mowat. Db glassworks - devin burgess glass. Joey Zeledón - Boston, Massachusetts - Coat Check Chair.
TDC Tsigos Design & Construction. Readymade projects inc. Simen Aarseth. Lervik Design. Adamgoodrum design. Alexander Pelikan products | Pelidesign.
---