21 designers #13
White Stone, villa Ibiza Architecture view project K-MB Showroom Berlin Zero Energy House Copenhagen
Sigurd Larsen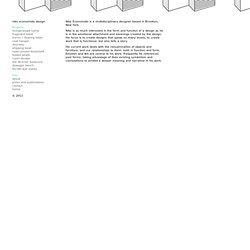 niko economidis design studio
Niko Economidis is a multidisciplinary designer based in Brooklyn, New York. Niko is as much interested in the form and function of a design as he is in the emotional attachment and meanings created by the design. His focus is to create designs that speak on many levels, to create work that is functional, but also tells a story.
Constance Guisset
Noon Studio | Welcome to the Noon Studio official website
UNIT Arkitektur AB | Arkitektkontor specialiserat på utredningar i tidiga skeden
Kuli is a simple piece of furniture designed to be a seating object, a coffee table, or a storage and display unit, it requires the user to 'build' it themselves according to what kind of furniture is needed. Comprised of a steel wire basket with a board on top, the wire box can be filled with beanbag-style cushions in several different sizes to layer like sandbags if you need a seat. By fixing them with rubber ropes hooked into the grid, they stay put. Joining two easy chairs gets you a bed or a cosy sofa, and when the pillows are put away, the arm chair turns into a table. Without the cushions, Kuli would be pretty handy in a children's room to function as an arts and crafts table and a toy box; and for grown-ups, it's also at home in the living room for putting coffees on and storing books underneath. Kuli is produced by small high quality workshops in south Germany.
kuli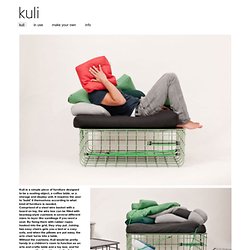 Arik home | Arik Levy
Latitude bordserien består af borde med vendbar plade, som diskret er placeret på et understel. Det giver mulighed for at ændre farven på sofabordet hvis behovet skulle være til det. De laminerede bordplader leveres i: hvid/sort, hvid/lysblå, mint/aubergine og lysgul/brun. Bordene kommer i følgende størrelser: Rund: Ø50, Ø60, Ø65 Oval: 90×70, 78×60 Rektangulær: 110×60, 88×48
sofabord via cph laminat ovalt bord danish design
ALEXANDER REHN
AUGUST 2012The Third Space at Burning Man, Nevada, USA Together with Swissnex San Francisco and Greutmann-Bolzern Design Studio, Alexander Rehn brings the stunning zip tie installation The Third Space to the Burning Man festival deep in the Black Rock desert of Nevada.For more information about The Third Space visit the PROJECTS area. AUGUST 2012cay sofa featured in XXI Magazine, Turkey APRIL 2012HALEY Series for german company GOIN launched.The Haley series, consisting of a barstool and a chair, has been designed to serve primarily as outdoor furniture for the gastronomy trade.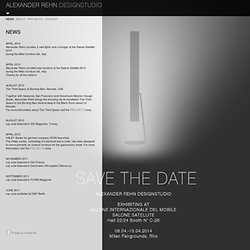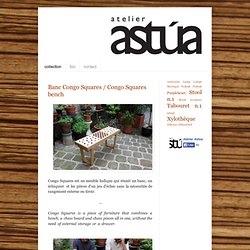 Congo Squares est un meuble ludique qui réunit un banc, un échiquier et les pièces d'un jeu d'échec sans la nécessitée de rangement externe ou tiroir. Congo Squares is a piece of furniture that combines a bench, a chess board and chess pieces all in one, without the need of external storage or a drawer. Artisan designer Artisan designer Artisan designer Artisan designer Artisan designer Artisan designer Un simple mécanisme situé sous le banc fait ressortir les pièces de l'assise. A simple mecanism located underneath the bench makes the pieces pop-up above the seating surface. Une fois la partie terminée, les pièces peuvent être rangées de diverses manières, permettant ainsi de créer plusieurs "compositions visuelles" sur la surface du banc.
Atelier Astúa
Astrid N. Bucio - Main
DESIGN-JAY, Table Chiuet.
Sigurd Larsen :
About Ernest & C0 The work of Duncan Bull is what has formed the main collection of Ernest & Co, in 2006 he started working on a variety of projects and concepts which has developed into a range of products which form the backbone to Ernest & Co's core values: Experimentation, Detail and Craftsmanship .Email: info@ernestco.co.uk Tel: 07901822182 Fullscreen
Ernest & Co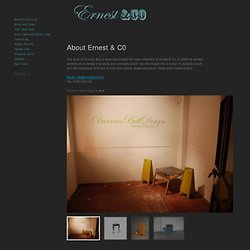 Concepts on a waiting list
AmauryPoudray Index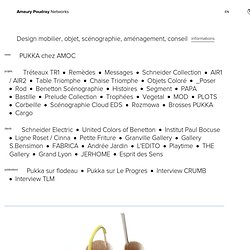 Amaury Poudray est designer de mobilier, d'objets, de scénographies et d'aménagement intérieur. Il est diplômé de l'Ecole Supérieure d'Art et de Design de Saint Etienne en 2009. Il a aussi étudié aux Etats-Unis à la Rhode Island School of Design. En Avril 2011, il rejoint l'équipe de design de FABRICA, centre de recherche et de communication du groupe Benetton en Italie, au sein duquel il résidera un an. Il applique une méthode de travail basé sur "la confiance conviviale", "l'élégance esthétique" et "la justesse rigoureuse".
ANTIFACTO - shop galerie
Home - Kenyon Yeh
etc.etc. my writing desk
decorkuznetsov
haoshi Design 良事設計