21 designers #13
Sigurd Larsen. Niko economidis design studio. Constance Guisset. Noon Studio | Welcome to the Noon Studio official website. TORAFU ARCHITECTS トラフ建築設計事務所. UNIT Arkitektur AB | Arkitektkontor specialiserat på utredningar i tidiga skeden. Kuli. Kuli is a simple piece of furniture designed to be a seating object, a coffee table, or a storage and display unit, it requires the user to 'build' it themselves according to what kind of furniture is needed.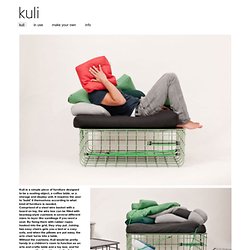 Comprised of a steel wire basket with a board on top, the wire box can be filled with beanbag-style cushions in several different sizes to layer like sandbags if you need a seat. By fixing them with rubber ropes hooked into the grid, they stay put. Joining two easy chairs gets you a bed or a cosy sofa, and when the pillows are put away, the arm chair turns into a table. Without the cushions, Kuli would be pretty handy in a children's room to function as an arts and crafts table and a toy box; and for grown-ups, it's also at home in the living room for putting coffees on and storing books underneath. Kuli is produced by small high quality workshops in south Germany. Arik home | Arik Levy. Sofabord via cph laminat ovalt bord danish design. ALEXANDER REHN. Atelier Astúa. Astrid N. Bucio - Main. DESIGN-JAY, Table Chiuet. Sigurd Larsen : Ernest & Co. Concepts on a waiting list.
AmauryPoudray Index. ANTIFACTO - shop galerie. Home - Kenyon Yeh. Etc.etc. my writing desk. Decorkuznetsov. Haoshi Design 良事設計.
---