21 (+3) designers #12
hellauf
Andrew Haythornthwaite & Shai Akram
t h i n k k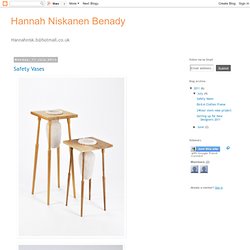 Hallway and Bedside Tables, Cashmere and merino hand knit framed by a solid walnut top and hand turned legs. Experimenting with hard and soft materials and textures has been the muse for the Safety Vase series. The Safety Vase series empathises with wood and wool's emotional and physical qualities to create a safe hideaway for ones treasures. Knit holds connotations of safety, warmth and softness. Wood is a traditional furniture material that represents strength and longevity.
Hannah Niskanen Benady
AmauryPoudray Index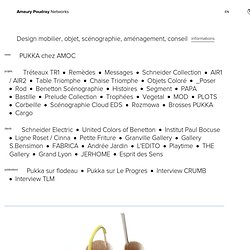 Amaury Poudray est designer de mobilier, d'objets, de scénographies et d'aménagement intérieur. Il est diplômé de l'Ecole Supérieure d'Art et de Design de Saint Etienne en 2009. Il a aussi étudié aux Etats-Unis à la Rhode Island School of Design.
NEWS
Maarten De Ceulaer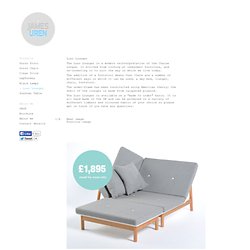 Luso Lounger, James Uren's Portfolio
The Luso Lounger is a modern reinterpretation of the Chaise Longue. It evolved from looking at redundant furniture, and re-inventing it to suit the way in which we live today. The addition of a footstool means that there are a number of different ways in which it can be used; a day bed, lounger, chair, footstool. The under-frame has been constructed using American cherry; the shell of the lounger is made from lacquered plywood. The Luso Lounger is available on a "made to order" basis. It is all hand made in the UK and can be produced in a variety of different timbers and coloured fabric of your choice so please get in touch if you have any questions.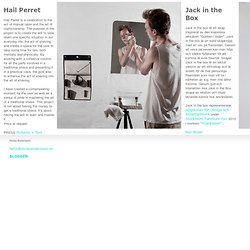 Niclas Andersson : Möbel- och produktdesigner i Göteborg
Hail Perret is a celebration to the act of manual labor and the art of craftsmanship. The purpose of the project is to create the will to slow down one specific situation in our everyday life, the act of shaving, and create a space for the user to take some time for him, both mentally and physically. By working with a cohesive solution for all the parts involved in a traditional shave and presenting it in a practical case, the goal was to enhance the act of shaving into the art of shaving. I have created a contemplating moment for the user as well as a sense of pride in mastering the art of a traditional shave.
rolf sachs fun c'tion
studio ziben
Saporiti - Index
Matteo Cibic I Art Direction + Strategies I Ideas + Design
dudleyseagram.com
Amandine Chhor, design
elementodiseño
Philippine Lemaire - Designer
Outofstock
Rooms
h220430
aissalogerot.com
David Weeks Studio: Custom Lighting, Furniture and Accessories