21 (+3) designers #12
Hellauf. Andrew Haythornthwaite & Shai Akram. T h i n k k. Hannah Niskanen Benady. AmauryPoudray Index. NEWS. Maarten De Ceulaer. Luso Lounger, James Uren's Portfolio. The Luso Lounger is a modern reinterpretation of the Chaise Longue.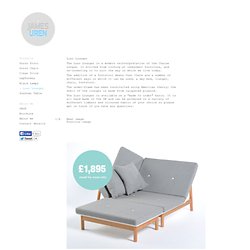 It evolved from looking at redundant furniture, and re-inventing it to suit the way in which we live today. The addition of a footstool means that there are a number of different ways in which it can be used; a day bed, lounger, chair, footstool. The under-frame has been constructed using American cherry; the shell of the lounger is made from lacquered plywood. The Luso Lounger is available on a "made to order" basis. It is all hand made in the UK and can be produced in a variety of different timbers and coloured fabric of your choice so please get in touch if you have any questions. Niclas Andersson : Möbel- och produktdesigner i Göteborg. Rolf sachs fun c'tion. Studio ziben. Saporiti - Index. YaelMer&ShayAlkalay.
Matteo Cibic I Art Direction + Strategies I Ideas + Design. Dudleyseagram.com. Amandine Chhor, design. Elementodiseño. Philippine Lemaire - Designer. Outofstock. Rooms. h220430. Aissalogerot.com. David Weeks Studio: Custom Lighting, Furniture and Accessories.
---