Articles
Slavery Still Exists - Lisa Kristine. Photographs of human trafficking and enslavement around the world Lisa Kristine It was 130 degrees when I was first introduced to the brick kilns of Nepal.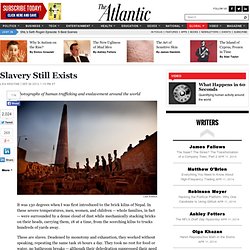 In these severe temperatures, men, women, and children -- whole families, in fact -- were surrounded by a dense cloud of dust while mechanically stacking bricks on their heads, carrying them, 18 at a time, from the scorching kilns to trucks hundreds of yards away. Yovany Gonzalez's Wells Fargo Lawsuit Alleges Bank Fired Him, Cut Dying Daughter's Health Insurance. Wells Fargo allegedly fired an employee because his dying daughter needed expensive cancer treatment, according to a lawsuit filed in Palm Beach County Court on Thursday.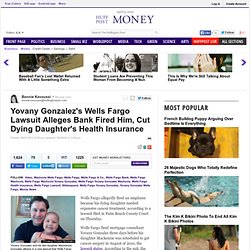 Wells Fargo fired mortgage consultant Yovany Gonzalez three days before his daughter Mackenzie was scheduled to get cancer surgery in August of 2010, the lawsuit states. According to the suit, the hospital canceled the surgery because Mackenzie no longer was covered by health insurance. She died of cancer in March of 2011. The Fraudulent Criminalization of Marijuana. Drug use became endemic among U.S. troops serving in Vietnam with more than 80% getting stoned on marijuana and lysergic acid diethylamide (LSD).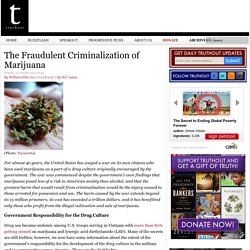 Many of the secrets are still hidden; however, we now have some information about the extent of the government's responsibility for the development of the drug culture in the military and in communities across America. These are the highlights: Although the U.S. was a signatory to the Geneva Convention protocols banning the use of chemical weapons, the U.S. Army engaged in extensive testing of marijuana and its active ingredient, tetrahydrocannabinol (THC) as an incapacitating agent in warfare. NSA: It Would Violate Your Privacy to Say if We Spied on You | Danger Room. Gen.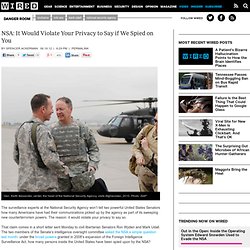 Keith Alexander, center, the head of the National Security Agency, visits Afghanistan, 2010. Photo: ISAF. FDA Must Rethink Antibiotics In Animal Feed, Federal Judge Orders. * Judge critical of FDA's lack of action * Long-standing concerns about creation of superbugs * FDA unveiled voluntary guidelines in April (Rewrites with quotes from judge and industry group comments) By P.J.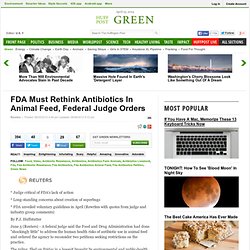 Huffstutter. Senate panel approves five-year extension of warrantless wiretapping program. By Eric W.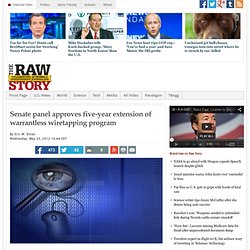 DolanWednesday, May 23, 2012 16:44 EDT The Senate Intelligence Committee on Tuesday approved the extension of legislation that authorized a sweeping warrantless wiretapping program started under the Bush Administration. Help pass the California Wolf PAC Resolution! - Wolf PAC. Wolf PAC, we need your help now making phone calls and sending email!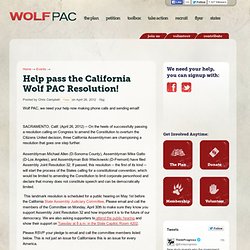 SACRAMENTO, Calif. (April 26, 2012) -- On the heels of successfully passing a resolution calling on Congress to amend the Constitution to overturn the Citizens United decision, three California Assemblymen are championing a resolution that goes one step further. Who Googled You? This Website Knows. After a date, a pitch or a job interview, there's a good chance you're going to get Googled.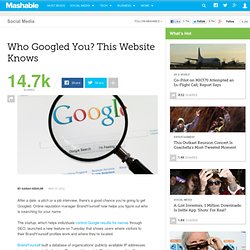 Online reputation manager BrandYourself now helps you figure out who is searching for your name. The startup, which helps individuals control Google results for names through SEO, launched a new feature on Tuesday that shows users where visitors to their BrandYourself profiles work and where they're located. BrandYourself built a database of organizations' publicly-available IP addresses in order to create the feature. They use it to match IP addressees of profile visitors with the companies that own those addressses. Visitors most frequently reach BrandYourself profiles through Google, but the feature works the same way if visitors reach a user's profile from another search engine or website. College Student Daniel Chong Attempted Suicide After DEA Agents Locked Him in a Small Cell Without Food or Water for Five Days. Several hours after Obama's drug czar told a room filled with Democratic power brokers at the Center for American Progress that the "war on drugs" was over, 23-year-old Daniel Chong sat down with NBC San Diego to recount the five days he spent handcuffed in a DEA holding cell without food or water after he was arrested at a "4/20 party.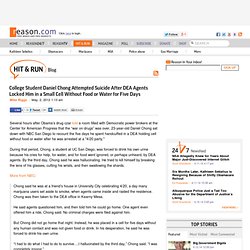 " During that period, Chong, a student at UC San Diego, was forced to drink his own urine because his cries for help, for water, and for food went ignored, or perhaps unheard, by DEA agents. By the third day, Chong said he was hallucinating. He tried to kill himself by breaking the lens of his glasses, cutting his wrists, and then swallowing the shards. More from NBC:
Politics. Financial News. Choking Game: 1 in 16 Kids Have Tried It, Study Says. One in 16 eighth-graders surveyed in Oregon admit to experimenting with "the choking game" (also known as asphyxia) at least once, according to research published today in Pediactrics.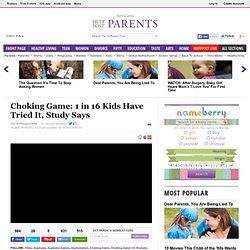 Though the potentially fatal "game" -– defined by Reuters as "putting pressure on the neck with a towel or belt to cut off someone's oxygen supply, then releasing the pressure to give a 'high' sensation" –- has been around for years, it's gaining new traction and popularity among kids because of its prevalence on YouTube. ABC News reports that videos of kids participating in the game are "all over" the site. Judy Rogg, whose 12-year-old son Erik died in 2010 after attempting to "play" in his living room, calls the choking game a silent epidemic.
Iran Hopes to Be Rid of Meddlesome Internet by August. Facebook isn't making us lonely. It's making us anxious. Get over it. As a masterpiece and a cultural catastrophe at once, Facebook is distinctly American. It represents a social regime that's scintillating and hideous. The values intrinsic to it—velocity, wit, growth, exhibitionism and "connectivity"—can seem superficial, but they're ours. This week, the Facebook brass are making housecalls to investors, using razzle, dazzle and astral projections to justify valuing the eight-year-old company at a big, round $100 billion.
This comes in preparation for Facebook's midmonth initial public offering—what's expected to be the biggest I.P.O. in the history of the Internet. Father beats man to death; sheriff says dad reacted to his daughter, 4, being sexually assaulted. SHINER - A father caught a man molesting his 4-year-old daughter and beat him to death Saturday, the Lavaca County sheriff said. Sheriff Micah Harmon said the death occurred about 3:45 p.m. in a residence along County Road 302 near Shiner.
The name of the deceased man, a 47-year-old from Gonzales, was not released because his relatives have not been notified, Harmon said.
War. Trayvon Martin Case. How PIPA and SOPA Violate White House Principles Supporting Free Speech and Innovation. Over the weekend, the Obama administration issued a potentially game-changing statement on the blacklist bills, saying it would oppose PIPA and SOPA as written, and drew an important line in the sand by emphasizing that it "will not support" any bill "that reduces freedom of expression, increases cybersecurity risk, or undermines the dynamic, innovative global Internet.
" Yet, the fight is still far from over. Even though the New York Times reported that the White House statement "all but kill[s] current versions of the legislation," the Senate is still poised to bring PIPA to the floor next week, and we can expect SOPA proponents in the House to try to revive the legislation—unless they get the message that these initiatives must stop, now. So let's take a look at the dangerous provisions in the blacklist bills that would violate the White House's own principles by damaging free speech, Internet security, and online innovation: Meet SOPA's evil twin, ACTA - Big Tech. By Dan Mitchell, contributor FORTUNE -- It's only fitting that a loud, global outcry over ACTA, an international agreement to govern intellectual property, began just after the anti-piracy bills SOPA and PIPA were shelved by the U.S Congress in the face of massive public pressure. If "copyright maximalists" can't get legislation passed, writes TechDirt's Mike Masnick, "they resort to getting these things put into international trade agreements, which get significantly less scrutiny.
" Not that the "maximalists" -- including the movie and music industries -- were following such a timeline, exactly. CISPA = SOPA 2.0? CISPA legislation seen by many as SOPA 2.0. Reporting from Washington — In spite of their hopes, Internet activists are finding that their efforts to keep the digital world free of further regulation did not end with SOPA's defeat. The Cyber Intelligence Sharing and Protection Act of 2011 is working its way through Congress, and is the latest proposed legislation to raise concerns among privacy activists.
Introduced in November by Rep. Mike Rogers (R-Mich.) and Rep. Dutch Ruppersberger (D-Md.), the stated goal of CISPA is to create new channels for communication between government intelligence entities and private firms regarding potential and emerging cyber-security threats. The communication would deal primarily with what the legislation deems "cyber threat intelligence," which it defines as "information in the possession of an element of the intelligence community directly pertaining to a vulnerability of, or threat to, a system or a network of a government or private entity." White House will propose new digital copyright laws | Privacy Inc. The RIAA Pirated $9 Million Worth of TV Shows. EU votes in favour of tougher copyright enforcement News. EU Parliament calls for pan-EU copyright law. List of porn pirates leaked on to internet. SOPA Anti-Porn Amendment Rejected By Bipartisan Coalition.
---