Make Dev
Kanso. Project Fedena - Free & Opensource Student Information System, School Management Software. Coordino - Home - A FREE PHP StackOverflow Clone. Pinry by Isaac Bythewood. Thor - Home. Proto.io - Silly-fast mobile prototyping. BugHerd | The world's simplest bug tracker. T by sferik. A command-line power tool for Twitter.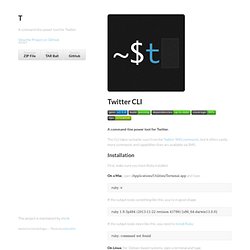 The CLI takes syntactic cues from the Twitter SMS commands, but it offers vastly more commands and capabilities than are available via SMS. Installation First, make sure you have Ruby installed. On a Mac, open /Applications/Utilities/Terminal.app and type: ruby -v. OSQA | The Open Source Q&A System. Gttext - Software to build a Ground Truth from complex color images with text. In the research of algorithms that extract text from color images a set of files with the exact location of the text is needed to avoid inefficient and tedious visual checks of the results.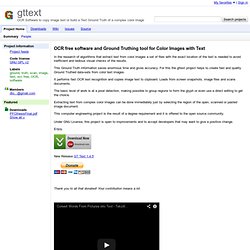 This Ground Truth information saves enormous time and gives accuracy. For this the gttext project helps to create fast and quality Ground Truthed data-sets from color text images. It performs fast OCR text recognition and copies image text to clipboard. Loads from screen snapshots, image files and scans documents. Syntax Highlighting Without the Overhead. Coordino - Home - A FREE PHP StackOverflow Clone. GitLab. Maccman/macgap - GitHub. Bookmarklet Builder.
---