Doctor Who
Reasouces relating to the British science fiction television series Doctor Who Sep 7
Gallifrey 2012 | Gallifrey One's Network 23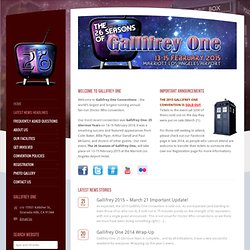 Welcome to Gallifrey One Conventions – the world's largest and longest running annual fan-run Doctor Who convention. Our most recent convention was Gallifrey One: 25 Glorious Years on 14-16 February 2014; it was a smashing success and featured appearances from Colin Baker, Billie Piper, Arthur Darvill and Paul McGann, and dozens of other guests. Our next event, The 26 Seasons of Gallifrey One, will take place on 13-15 February 2015 at the Marriott Los Angeles Airport Hotel.
For those interested, here are all the larger versions of the poses that we included in the composite Doctor picture. That's it for the Doctor posts, for now. I hope you've enjoyed them! Thanks to everyone who's reblogged, liked, left comments, etc etc on these posts. You guys are extremely awesome and I appreciate the help in orchestrating this epic blackmail material for when she is old enough to have her own Tumblr.
Chic Sprog - Providing Today's Future Blackmail, For those interested, here are all the larger...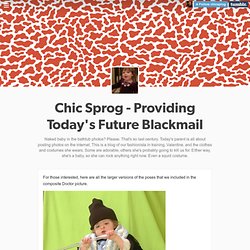 History Licensed media such as novels and audio plays provided new stories, but as a television programme Doctor Who remained dormant until 2003. In September of that year,[20] BBC Television announced the in-house production of a new series after several years of attempts by BBC Worldwide to find backing for a feature film version. The executive producers of the new incarnation of the series were writer Russell T Davies and BBC Cymru Wales head of drama Julie Gardner. The programme has been sold to many other countries worldwide (see Viewership). Public consciousness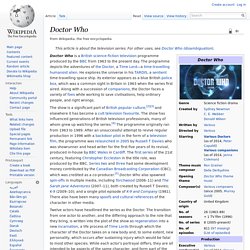 ...to the home page of 'The Doctor Who Appreciation Society' (DWAS), the longest running Doctor Who fan club in the world, with members across the globe. The Society offers members a monthly magazine 'Celestial Toyroom' which itself is the longest running Doctor Who magazine currently in existence, and all members are welcome to contribute. We regularly offer members access to discounted and signed items of merchandise and there is a discount available at DWAS-organised conventions and social events. Members can also join our email news service. For more information and details on how to join, see our Membership section.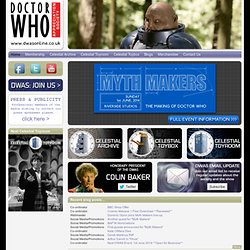 Welcome... | DWAS Online