Doctor Who
Reasouces relating to the British science fiction television series Doctor Who
Gallifrey 2012 | Gallifrey One's Network 23. Chic Sprog - Providing Today's Future Blackmail, For those interested, here are all the larger... Doctor Who. History Licensed media such as novels and audio plays provided new stories, but as a television programme Doctor Who remained dormant until 2003.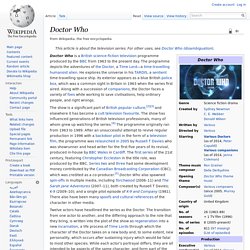 In September of that year,[20] BBC Television announced the in-house production of a new series after several years of attempts by BBC Worldwide to find backing for a feature film version. The executive producers of the new incarnation of the series were writer Russell T Davies and BBC Cymru Wales head of drama Julie Gardner. The programme has been sold to many other countries worldwide (see Viewership). Public consciousness. TARDIS Index File, the Doctor Who wiki.
Welcome... | DWAS Online. Doctor Who TV - News, features and spoilers on BBC's Doctor Who. Doctor Who - The Official Site.
---