Blade Runner
A collection of resources related to the science fiction film Blade Runner
Vangelis. Having had a career in music spanning over 50 years and having composed and performed more than 52 albums, Vangelis is one of the most important exponents of electronic music.[3][4][5] Biography[edit] Formative years[edit]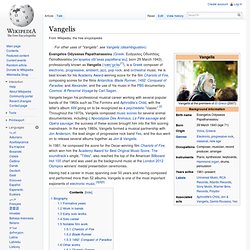 Philip K. Dick. Personal life[edit] The family moved to the San Francisco Bay Area.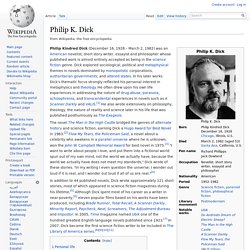 When Philip turned five, his father was transferred to Reno, Nevada. When Dorothy refused to move, she and Joseph divorced. Ridley Scott. Early life and career[edit] Scott was born 30 November 1937 in South Shields, Tyne and Wear in the North East of England,[2] the son of Elizabeth and Colonel Francis Percy Scott.[3] He was brought up in an army family, so for most of his early life, his father — an officer in the Royal Engineers — was absent.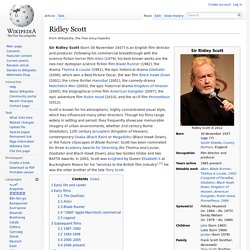 His elder brother, Frank, joined the Merchant Navy when he was still young and the pair had little contact. During this time the family moved around, living in (among other areas) Cumberland, Wales and Germany. He had a younger brother, Tony, who also became a film director. After the Second World War, the Scott family moved back to their native North East, eventually settling on Greens Beck Road, Hartburn, Stockton on Tees, Teesside (whose industrial landscape would later inspire similar scenes in Blade Runner), where he studied at Grangefield Grammar School and West Hartlepool College of Art from 1954 to 1958, obtaining a Diploma in Design.
BladeZone: The Online Blade Runner Fan Club and Museum. Blade Runner. Blade Runner is a 1982 American dystopian science fiction thriller film directed by Ridley Scott starring Harrison Ford, Rutger Hauer, Sean Young, and Edward James Olmos.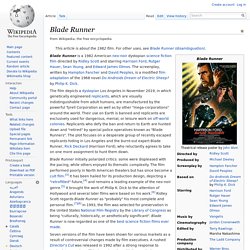 The screenplay, written by Hampton Fancher and David Peoples, is loosely based on the 1968 novel Do Androids Dream of Electric Sheep? By Philip K. Dick. BRmovie.com - The Home of Blade Runner.
---