Blade Runner
A collection of resources related to the science fiction film Blade Runner Sep 7
Evangelos Odysseas Papathanassiou ( Greek : Ευάγγελος Οδυσσέας Παπαθανασίου [evˈaɲɟelos oðiˈseas papaθanaˈsiu] ; born 29 March 1943) is a Greek composer of electronic , progressive , ambient , jazz , pop rock , and orchestral music under the artist name Vangelis / v æ ŋ ˈ ɡ ɛ l ɨ s / . [ 1 ] He is best known for his Academy Award -winning score for the film Chariots of Fire , composing scores for the films Antarctica , Blade Runner , 1492: Conquest of Paradise and Alexander , and the use of his music in the PBS documentary Cosmos: A Personal Voyage by Carl Sagan .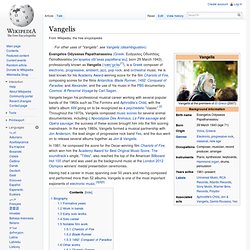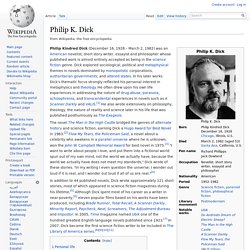 Philip Kindred Dick (December 16, 1928 – March 2, 1982) was an American novelist, short story writer and essayist whose published work is almost entirely in the science fiction genre. Dick explored sociological, political and metaphysical themes in novels dominated by monopolistic corporations, authoritarian governments , and altered states . In his later works Dick's thematic focus strongly reflected his personal interest in metaphysics and theology . He often drew upon his own life experiences in addressing the nature of drug abuse , paranoia , schizophrenia , and transcendental experiences in novels such as A Scanner Darkly and VALIS . [ 6 ]
Ridley Scott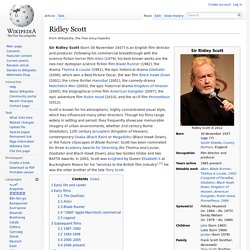 Sir Ridley Scott (born 30 November 1937) is an English film director and producer. Following his commercial breakthrough with Alien (1979), his best-known works are sci-fi classic Blade Runner (1982), Thelma & Louise (1991), best picture Oscar-winner Gladiator (2000), Black Hawk Down (2001), Matchstick Men (2003), Kingdom of Heaven (2005), American Gangster (2007), Robin Hood (2010), and Prometheus (2012).
Blade Runner is a 1982 American dystopian science fiction action film directed by Ridley Scott and starring Harrison Ford , Rutger Hauer , and Sean Young . The screenplay, written by Hampton Fancher and David Peoples , is loosely based on the novel Do Androids Dream of Electric Sheep? by Philip K. Dick .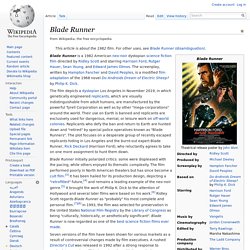 BRmovie.com - The Home of Blade Runner