Database
The International Cosmetic Ingredient Dictionary & Handbook (INC) has been in existence since the early 1970's. It has evolved into a global compendium for naming cosmetic ingredients for back label disclosure and referencing in technical journals.
INCI Insights - Editorials - SpecialChem 4 Cosmetics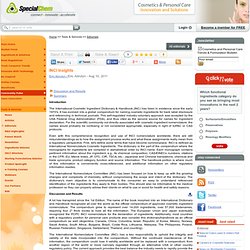 mymarketmonitor.com
Natural Medicines Comprehensive Database
IECSC 2010
[資訊] Ingredients 成分表 - INCI Name @ 科友公司專屬部落格 :: 痞客邦 PIXNET ::
SODIUM BENZOATE - National Library of Medicine HSDB Database
Household Products Database - Health and Safety Information on Household Products
Sodium lauroyl lactylate | 化妆品、保养品成分查询分析
O/W BODY LOTION Personal Care Magazine Formulations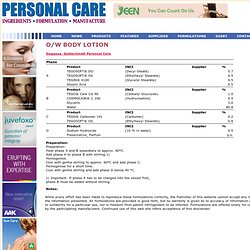 While every effort has been made to reproduce these formulations correctly, the Publisher of this website cannot accept any liability for the information presented.
The Search Engine for Product Innovators
The International Nomenclature of Cosmetic Ingredients , abbreviated INCI , is a system of names for waxes , oils , pigments , chemicals , and other ingredients of soaps , cosmetics , and the like, based on scientific names and other Latin and English words. [ 1 ] INCI names often differ greatly from systematic chemical nomenclature or from more common trivial names .
International Nomenclature of Cosmetic Ingredients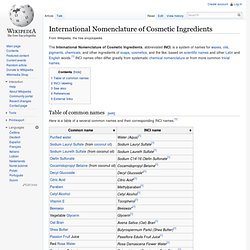 Trimethyl dodecatrienol, CAS Number: 4602-84-0
TSAR (Tracking System for Alternative test methods Review Validation and Approval in the Context of EU Regulations on Chemicals).
化妆品百科知识网 自由的化妆品百科全书 - www.cosmowiki.com
Industries - Specialty chemicals
JECFA 搜索
政大機構典藏:Item 140.119/32738