Database
The International Cosmetic Ingredient Dictionary & Handbook (INC) has been in existence since the early 1970's. It has evolved into a global compendium for naming cosmetic ingredients for back label disclosure and referencing in technical journals. This self-regulated industry voluntary approach was accepted by the USA Federal Drug Administration (FDA), and thus cited as the second source for names for ingredient declaration. For the scientific community not directly associated with cosmetic ingredient nomenclature, the names would probably be confusing or not considered appropriate; especially in light of IUPAC or CAS protocols. Even with this comprehensive recognition and use of INCI nomenclature worldwide, there are still misunderstandings as to how the assignment process works and what these assignments really mean from a regulatory perspective. First, let's define some terms that have become commonplace.
INCI Insights - Editorials - SpecialChem 4 Cosmetics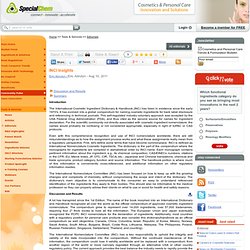 mymarketmonitor.com
Natural Medicines Comprehensive Database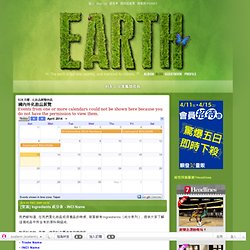 [資訊] Ingredients 成分表 - INCI Name @ 科友公司專屬部落格 :: 痞客邦 PIXNET ::
我們都知道, 在我們買化妝品或保養品的時候, 背面都有Ingredients(成分表列), 提供大家了解這個成品中所含有的原料與組成, 對原料來說, 其實一個原料主要會有四種資訊, - Trade Name- INCI Name- CAS Number- EINECS Number 除了Trade Name是原料商自己取的之外, 其他三種都需要向特定的機關申請 這篇文章我們就來簡單介紹一下INCI Name:INCI Name簡單來說就是化妝品成品後面的Ingredients
SODIUM BENZOATE - National Library of Medicine HSDB Database
Household Products Database - Health and Safety Information on Household Products
Sodium lauroyl lactylate | 化妆品、保养品成分查询分析
O/W BODY LOTION Personal Care Magazine Formulations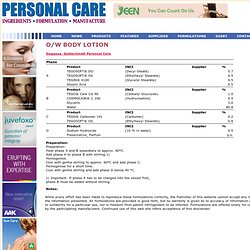 While every effort has been made to reproduce these formulations correctly, the Publisher of this website cannot accept any liability for the information presented. All formulations are provided in good faith, but no warranty is given as to accuracy of information or results, or suitability for a particular use, nor is freedom from patent infringement to be inferred. Formulations are offered solely for consideration by the participating manufacurers. Continued use of this web site infers acceptance of this disclaimer.
The Search Engine for Product Innovators
The International Nomenclature of Cosmetic Ingredients, abbreviated INCI, is a system of names for waxes, oils, pigments, chemicals, and other ingredients of soaps, cosmetics, and the like, based on scientific names and other Latin and English words.[1] INCI names often differ greatly from systematic chemical nomenclature or from more common trivial names. Table of common names[edit] Here is a table of a several common names and their corresponding INCI names.[1] * Some common names and INCI names are the same name.[1]
International Nomenclature of Cosmetic Ingredients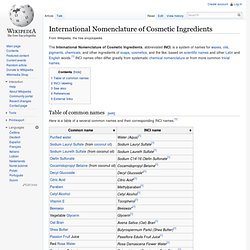 Trimethyl dodecatrienol, CAS Number: 4602-84-0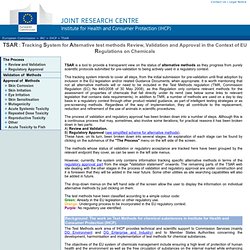 The whole system relies on the determination of the potential hazardous properties of chemicals and for this it is crucial to have appropriate and standardised test methods. Standardised Test Methods: Having standardised Test Methods for chemicals at the EU level is also important for ensuring the internal market and free trade inside the Union because the free movement of goods between the Member States relies on data generated with harmonised methods. For the above reasons and because of the global relevance of the subject, the work is closely linked and co-ordinated with the parallel OECD Test Guidelines programme.
TSAR (Tracking System for Alternative test methods Review Validation and Approval in the Context of EU Regulations on Chemicals).
化妆品百科知识网 自由的化妆品百科全书 - www.cosmowiki.com
高级搜索 热门词条 更多>> 利物浦学生开发不同于Dra... 中文译文 利物浦大学的研究人员开发出[详细] 保湿剂与润肤剂封闭剂的比较...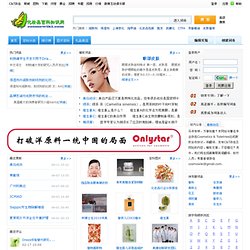 Industries - Specialty chemicals
JECFA 搜索
政大機構典藏:Item 140.119/32738