Facebook
If you have a business fan page, you want those fans to see your posts, right? Well, the chart above shows that fan page owners are grossly overestimating how many people they're reaching through posts. (Note: That chart based on pages that together represent more than 400 million fans; it was complied by PageLever, which is in beta and growing its data set. The PageLever charts rock (they're much cooler than my lame MS Powerpoint table above), and if you want better Facebook Page insights, you should sign up for their beta.
SHOCKER: 3% To 7.5% Of Fans See Your Page's Posts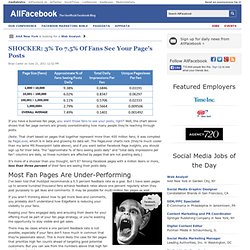 To most observers, 2009 marked the year Twitter conquered the world. Yet it wasn't the only social media company that grew like wildfire. There's another that grew even more rapidly, adding over 200 million new users and raising $200 million dollars — double that of Twitter's most recent round.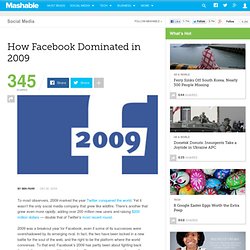 How Facebook Dominated in 2009
This article is updated. If you are reading this in 2011, please see the new how to build a perfect Facebook page article. This is a guest post by Jesse Stay, founder and CEO of SocialToo.com and all around great Facebook Fan Page coder. He's volunteered to give away a copy of his recent book, FBML Essentials, to two readers.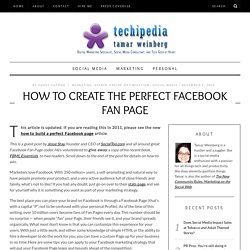 Facebook employees know better than most the value of privacy. This past summer Facebook relocated from University Avenue in Palo Alto, CA — where several buildings fan out along the downtown strip — to a new central office in Stanford Research Park. A good friend and two-year veteran of Facebook invited me to check out the new space. When I arrived, a security guard handed me a non-disclosure contract to fill out, a requirement to enter the building. "Just making sure you're not a Twitter spy," he said.
Conversations About The Internet #5: Anonymous Facebook Employee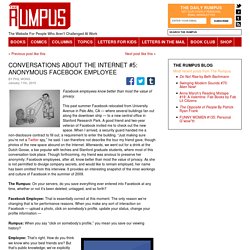 Facebook Memology: Top Status Trends of 2009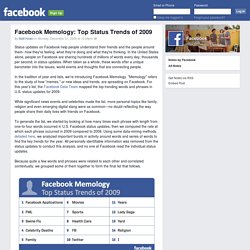 Status updates on Facebook help people understand their friends and the people around them--how they're feeling, what they're doing and what they're thinking. In the United States alone, people on Facebook are sharing hundreds of millions of words every day, thousands per second, in status updates. When taken as a whole, these words offer a unique barometer into the issues, world events and thoughts that are connecting people.
Privacy: Zuckerberg: Facebook Is Helping People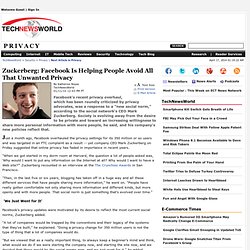 Facebook's recent privacy overhaul, which has been roundly criticized by privacy advocates, was a response to a "new social norm," according to the social network's CEO Mark Zuckerberg. Society is evolving away from the desire to be private and toward an increasing willingness to share more personal information with more people, he said, and his company's new policies reflect that. Hire the best candidates for your jobs with the resources in the "Guide to Sourcing Best Candidates": an infographic on mobile candidates, a candidate experience eBook, and a video of an easy-to-use recruitment software.View guide today! Just a month ago, Facebook overhauled the privacy settings for its 350 million or so users and was targeted in an FTC complaint as a result -- yet company CEO Mark Zuckerberg on Friday suggested that online privacy has faded in importance in recent years.
Facebook's privacy changes: the real reason behind the move - Te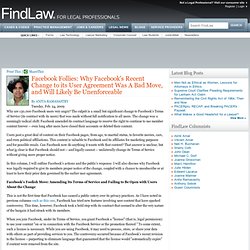 Why are 130,000 Facebook users very angry? The culprit is a small but significant change to Facebook's Terms of Service (its contract with its users) that was made without full notification to all users. The change was a seemingly radical shift: Facebook amended its contract language to reserve the right to continue to use member content forever -- even long after users have closed their accounts or deleted their content. Users post a great deal of content on their Facebook pages, from age, to marital status, to favorite movies, cars, and even political affiliations. This content is valuable to Facebook and its affiliates for marketing purposes and for possible resale. Can Facebook now do anything it wants with that content?
Facebook Follies: Why Facebook's Recent Change to its User Agree