Music
Jay - Z ft Mya - Best Of Me (Remix)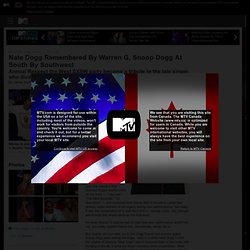 Nate Dogg Remembered By Warren G, Snoop Dogg At South By Southwest
AUSTIN, Texas — Less than 15 minutes before he was set to hit the stage, Warren G sat in a dressing room deep within Austin's Venue 222, wearing a white T-shirt emblazoned with the picture of his late friend and cohort, Nate Dogg, who passed away on Tuesday, reportedly from complications from multiple strokes . Obviously still dealing with the loss, Warren was silent, stoic and lost in his thoughts. And then, seemingly out of nowhere, he turned to MTV News' cameras and said, with the upmost sincerity, "I honestly don't know how this is going to turn out."
5 Things: What hip-hop gave America
RIP Nate Dogg by Nate Dogg & Friends - Uploaded by: TWEETMYSONG - @tweetmysongcom
Big Boi
Photo by captain simon's mandolin Exactly one year ago, I wrote a blog post about the fact that Myspace has failed musicians and fans alike . Recently, after speaking to the Head of Music for Myspace, I wrote another blog post explaining that Myspace is not just ugly, frustrating and riddled with spam – but actually compromises the ethics of its users while exploiting your music and your audiences… and why it can and will never be what it should be. Myspace is not simply irrelevant, it's utterly poisonous.
New Music Strategies: The time has come: It's 'Quit Myspace Day'!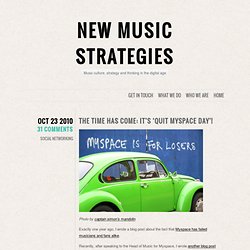 MagnumLiveLarge's Channel
Beyoncé;Jay-Z - Crazy In Love
Michael Jackson's Top 50 Billboard Hits
Ego - Beyonce Ft Kanye West