Mssql
SQLSecurity.com > Home
SqlJunkies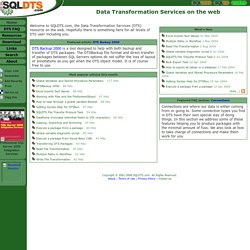 Welcome to SQLDTS.com, the Data Transformation Services (DTS) resource on the web. Hopefully there is something here for all levels of DTS user including you. DTS Backup 2000 is a tool designed to help with both backup and transfer of DTS packages. The DTSBackup file format and direct transfer of packages between SQL Servers options do not suffer the loss of layout or annotations as you get when the DTS object model. It is of course free to use. Most popular articles this month
SQLDTS.com - Data Transformation Services on the web
SQL Server Information at SQLTeam.com
Featured Article: Using Dynamic SQL in Stored Procedures Dynamic SQL allows stored procedures to "write" or dynamically generate their SQL statements. The most common use case for dynamic SQL is stored procedures with optional parameters in the WHERE clause.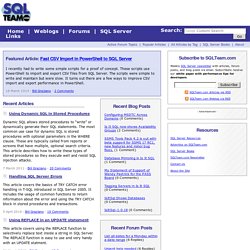 Microsoft SQL Server Related Links
Moving a SQL Server database from one server to another is simple-initially. But there are various methods for moving a database, and some have more advantages than others. Investigating the types of moves ahead of time can make planning for a database migration easier. It takes essentially three steps to move a database from one server to another: take the database out of production, copy it to another server, and then bring the copy back into production.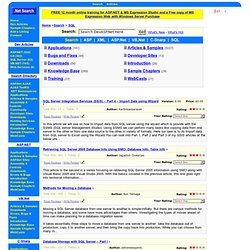 Directory of SQL Resources