Calibre
eReaders aren't just portable displays to read your eBooks on the go. The difference lies in the display technology. Where normal displays use liquid crystal-filled pixels, and beam the image on your retina with what is in fact a big flashlight, e-ink technology uses no additional light-source. In fact, they really use an ink-like set-up. The result?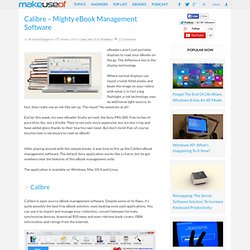 Calibre – eBook Management & Synchronization Software (Multi-OS)
Windows/Mac/Linux: If you've got a virtual pile of e-books but no good way to organize them, Calibre is a feature rich e-book manager, complete with Cover Flow-like looks and network sharing. Whether or not you have a portable e-book reader, Calibre is packed with features to help you organize your e-books. To start, you simply tell Calibre where you store your book files. It does a pretty good job pulling the necessary information and self-populating, although you'll still find yourself making occasional edits, like swapping the author and title fields. If you're a LibraryThing user, you can also hook into that account to populate the fields. Calibre has a Cover Flow-like browsing feature for skimming through the covers of your books.
Calibre Manages Your E-Book Collection - Ebooks