Appliance
Some VMware images. VMware lets you run another computer in your computer.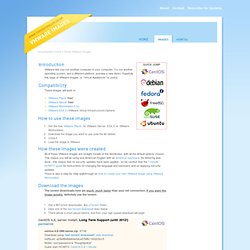 Try out another operating system, test a different platform, preview a new distro. Hopefully this page of VMware images, or "Virtual Appliances" is useful. These images will work in: Get the free VMware Player (or VMware Server, ESX 3, or VMware Workstation) Download the image you want to use (see the list below) Unzip it Load the image in VMware All of these VMware images are straight installs of the distribution, with all the default options chosen.
TurnKey Linux Virtual Appliance Library | Virtual Appliances for Virtual Machines, Cloud Computing and Bare Metal. Revision Control Appliance. An integrated revision control server combining the world's best open source Version Control Systems: Subversion, Git, Bazaar, and Mercurial.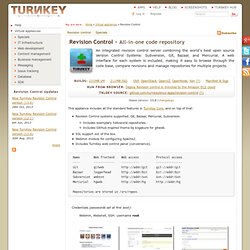 A web interface for each system is included, making it easy to browse through the code base, compare revisions and manage repositories for multiple projects. This appliance includes all the standard features in TurnKey Core, and on top of that: Virtual Appliances Home. Studio -Virtual Machines - Virtualization - VMware. Download VMware Player, Free VMware - VMware. ThinApp (formerly Thinstall), Application Virtualization - VMware. vCenter Converter, Convert to Virtual Machines - VMware. Subversion and WebSVN on Ubuntu Server. Solution Name false Available via Partner.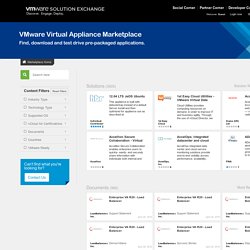 VirtualBox a Vmware alternative » gHacks tech news. You all know that you can run virtual operating systems using vmware.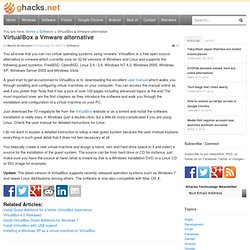 VirtualBox is a free open source alternative to vmware which currently runs on 32-bit versions of Windows and Linux and supports the following guest systems: FreeBSD, OpenBSD, Linux 2.4 / 2.6, Windows NT 4.0, Windows 2000, Windows XP, Windows Server 2003 and Windows Vista. A good start to get accustomed to VirtualBox is to downloading the excellent user manual which walks you through installing and configuring virtual machines on your computer. You can access the manual online as well if you prefer that. Note that it has a size of over 100 pages including advanced topics at the end.The most important ones are the first chapters as they introduce the software and walk you through the installation and configuration of a virtual machine on your PC. Live View.
---