Appliance
Some VMware images
VMware lets you run another computer in your computer. Try out another operating system, test a different platform, preview a new distro.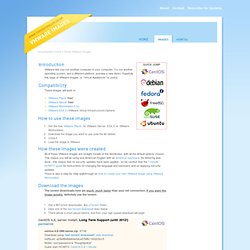 An integrated revision control server combining the world's best open source Version Control Systems: Subversion, Git, Bazaar, and Mercurial. A web interface for each system is included, making it easy to browse through the code base, compare revisions and manage repositories for multiple projects. This appliance includes all the standard features in TurnKey Core , and on top of that: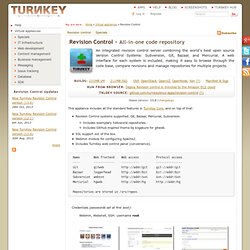 Revision Control Appliance | TurnKey Linux Virtual Appliance Library
Virtual Appliances Home
Introduction Virtual machines like: - VMware Player ® - VMware Workstation ®
bagvapp - Virtual Appliances - webdesign - Free Graphics - Wallpaper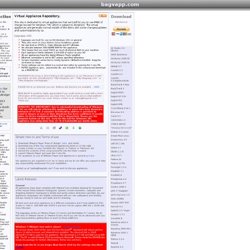 The Virtual Machine & Virtual Appliance Library | JumpBox Virtual Appliances and Applications for Cloud Computing
Studio -Virtual Machines - Virtualization - VMware
Packages software applications into Linux-based VMs and Windows-based virtual appliances and vApps that are ready to run and are optimized for various VMware product platforms .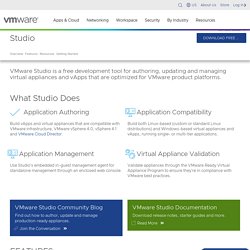 Download VMware Player, Free VMware - VMware
The one application per server model requires dedicated hardware for specific applications that cannot coexist, whether for technical reasons or concerns about data isolation. VMware ThinApp lets you eliminate these application silos to allow for better utilization of existing assets while making your applications easier to manage and deploy. On the road or in the office, give your users reliable and flexible application access on virtually any computer they have access to, including kiosk and hotel PCs.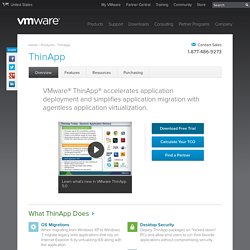 ThinApp (formerly Thinstall), Application Virtualization - VMware
vCenter Converter, Convert to Virtual Machines - VMware
Automate and simplify physical to virtual machine conversions as well as conversions between virtual machine formats with VMware vCenter Converter.
Subversion and WebSVN on Ubuntu Server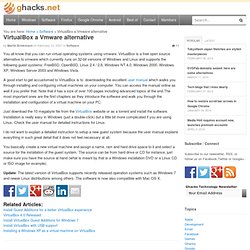 You all know that you can run virtual operating systems using vmware.
VirtualBox a Vmware alternative » gHacks tech news
Live View