Trends
Says Worldwide Mobile Device Sales to End Users Reached 1.6 Billion Units in 2010; Smartphone Sales Grew 72 Percent in 2010
Egham, UK, February 9, 2011 View All Press Releases Apple and RIM Displaced Sony Ericsson and Motorola in Mobile Device Manufacturers Ranking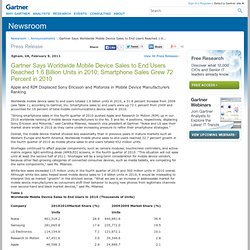 IT'S OFFICIAL: The Smartphone Market Is Now Bigger Than The PC Market
In its annual mobile technology report, Forrester Research has outlined the trends it expects to see in the coming year. Technologies like 4G and LTE, Near Field Communication (NFC), barcodes and augmented reality will see increasing amounts of hype in 2011, and the use of mobile/social/location combinations will soar, the report says. But for companies, the goal should now be on developing mobile business cases and strategies, and not jumping on the bandwagons surrounding these types of disruptions.
10 Mobile Trends for 2011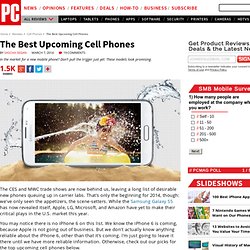 In the market for a new mobile phone? Don't pull the trigger just yet: These models look promising. The holiday season is typically a quiet one for mobile phone rumors.
The 10 Best Upcoming Cell Phones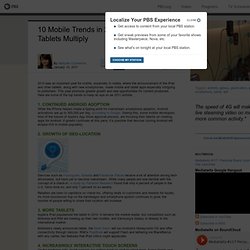 2010 was an important year for mobile, especially in media, where the announcement of the iPad and other tablets, along with new smartphones, made mobile and tablet apps especially intriguing to publishers. This year promises greater growth and new opportunities for content producers. Here are some of the top trends to keep an eye on as 2011 unfolds. 1. Continued Android Adoption
MediaShift . 10 Mobile Trends in 2011: Android Boom, Tablets Multiply