Trends
Says Worldwide Mobile Device Sales to End Users Reached 1.6 Billion Units in 2010; Smartphone Sales Grew 72 Percent in 2010
Egham, UK, February 9, 2011 View All Press Releases Apple and RIM Displaced Sony Ericsson and Motorola in Mobile Device Manufacturers Ranking Worldwide mobile device sales to end users totaled 1.6 billion units in 2010, a 31.8 percent increase from 2009 (see Table 1), according to Gartner, Inc. Smartphone sales to end users were up 72.1 percent from 2009 and accounted for 19 percent of total mobile communications device sales in 2010. "Strong smartphone sales in the fourth quarter of 2010 pushed Apple and Research In Motion (RIM) up in our 2010 worldwide ranking of mobile device manufacturers to the No. 5 and No. 4 positions, respectively, displacing Sony Ericsson and Motorola," said Carolina Milanesi, research vice president at Gartner. "Nokia and LG saw their market share erode in 2010 as they came under increasing pressure to refine their smartphone strategies."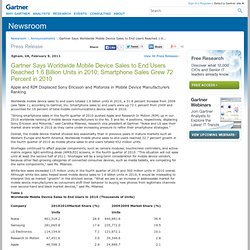 Well, that was fast. Only three years after the iPhone launched, the smartphone market is already bigger than the PC market. According to IDC, 101 million smartphones were sold in Q4, versus 92 million PCs. Smartphone shipments, meanwhile, grew 87% year over year, while PCs only grew 3%. Android vaulted past all contenders, including Apple and Nokia, to become the No. 1 smartphone platform in the quarter (Nokia still sold the most phones, with 28% of the market). Apple's share doubled to 16% year over year.
IT'S OFFICIAL: The Smartphone Market Is Now Bigger Than The PC Market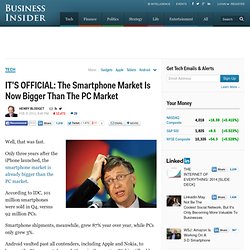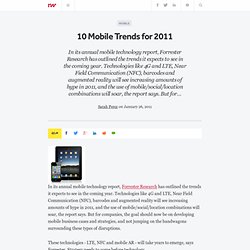 In its annual mobile technology report, Forrester Research has outlined the trends it expects to see in the coming year. Technologies like 4G and LTE, Near Field Communication (NFC), barcodes and augmented reality will see increasing amounts of hype in 2011, and the use of mobile/social/location combinations will soar, the report says. But for companies, the goal should now be on developing mobile business cases and strategies, and not jumping on the bandwagons surrounding these types of disruptions.
10 Mobile Trends for 2011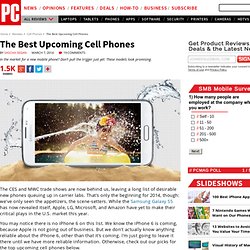 The CES and MWC trade shows are now behind us, leaving a long list of desirable new phones queuing up in carrier labs. That's only the beginning for 2014, though: we've only seen the appetizers, the scene-setters. While the Samsung Galaxy S5 has now revealed itself, Apple, LG, Microsoft, and Amazon have yet to make their critical plays in the U.S. market this year.
The 10 Best Upcoming Cell Phones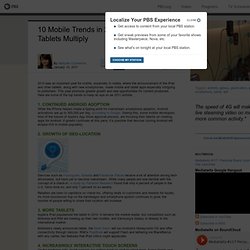 2010 was an important year for mobile, especially in media, where the announcement of the iPad and other tablets, along with new smartphones, made mobile and tablet apps especially intriguing to publishers. This year promises greater growth and new opportunities for content producers. Here are some of the top trends to keep an eye on as 2011 unfolds. 1. Continued Android Adoption
MediaShift . 10 Mobile Trends in 2011: Android Boom, Tablets Multiply