Trends
Says Worldwide Mobile Device Sales to End Users Reached 1.6 Billion Units in 2010; Smartphone Sales Grew 72 Percent in 2010
Egham, UK, February 9, 2011 View All Press Releases Apple and RIM Displaced Sony Ericsson and Motorola in Mobile Device Manufacturers Ranking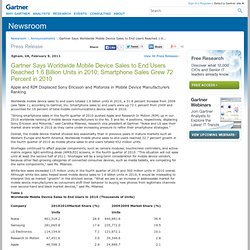 IT'S OFFICIAL: The Smartphone Market Is Now Bigger Than The PC Market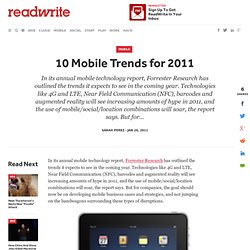 In its annual mobile technology report, Forrester Research has outlined the trends it expects to see in the coming year.
10 Mobile Trends for 2011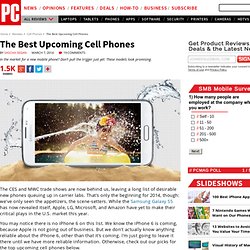 In the market for a new mobile phone? Don't pull the trigger just yet: These models look promising. It's clearly going to be a big year for smartphones.
The 10 Best Upcoming Cell Phones
2010 was an important year for mobile, especially in media, where the announcement of the iPad and other tablets, along with new smartphones, made mobile and tablet apps especially intriguing to publishers.
MediaShift . 10 Mobile Trends in 2011: Android Boom, Tablets Multiply