Sept. 2011
Nike Running 2011 Holiday "Rain" Collection. The Nike Running Holiday 2011 "Rain" collection is a part of a larger running collection to be released this holiday season from Nike that includes "Cold" and "Dark."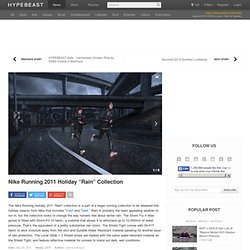 Rain is probably the least appealing weather to run in, but the collection looks to change the way runners feel about winter rain. The Storm Fly X Max jacket is fitted with Storm-Fit 10 fabric, a material that allows it to withstand up to 10,000mm of water pressure. That's the equivalent of a pretty substantial rain storm. The Shield Tight comes with Dri-FIT fabric to wick moisture away from the skin and Durable Water Resistant material paneling for another layer of rain protection. The Lunar Glide + 3 Shield shoes are treated with the same water-resistant material as the Shield Tight, and feature reflective material for runners to stand out dark, wet conditions. Videos - 2011 Nike MAG | The Story Behind the McFly Jacket.
Nike Mag – Back For The Future. It was an ordinary evening at Lone Pine Mall.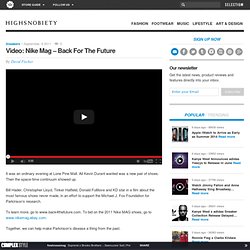 All Kevin Durant wanted was a new pair of shoes. Then the space-time continuum showed up. Nike Miyashita Cup 2011 Video Recap. Nike MAG 2011 "McFly's Closet" Video Teaser. Nike Graphic Art Studio Show at Compound Gallery. Starting today, Nike will run a month-long art exhibition that will showcase the brand's vast creative and design history.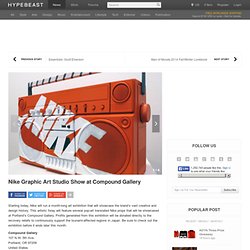 This artistic foray will feature several pop-art translated Nike props that will be showcased at Portland's Compound Gallery. Profits generated from this exhibition will be donated directly to the recovery reliefs to continuously support the tsunami-affected regions in Japan. Nike 6.0: The Vapen Session – Episode 1. Nice Kicks: An In-Depth Look at Opium Paris. Dave White "WINGS for the Future" Air Jordan I. British artist Dave White reworks Jordan Brand's timeless Air Jordan 1 model in this special collaboration.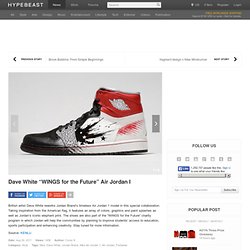 Taking inspiration from the American flag, it features an array of colors, graphics and paint splashes as well as Jordan's iconic elephant print. The shoes are also part of the "WINGS for the Future" charity program in which Jordan will help the communities by planning to improve students' access to education, sports participation and enhancing creativity.
---