Land
Prada
Others. Fabergé. First look: Karl Lagerfeld for Macy's. By admin | July 22, 2011 Following collaborations with H&M and French mail-order company La Redoute, Karl Lagerfeld has been working on a collection with US department store Macy's.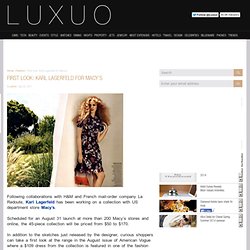 Scheduled for an August 31 launch at more than 200 Macy's stores and online, the 45-piece collection will be priced from $50 to $170. In addition to the sketches just released by the designer, curious shoppers can take a first look at the range in the August issue of American Vogue where a $109 dress from the collection is featured in one of the fashion spreads. Lagerfeld will create another line for Macy's for the upcoming holiday season, and a capsule collection by Italian designer Giambattista Valli is expected to become available in November.
Cartier Time Art by Tokujin Yoshioka. Japanese designer Tokujin Yoshioka has collaborated with Cartier to bring a traveling exhibition called "Cartier Time Art".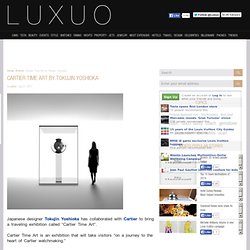 Cartier Time Art is an exhibition that will take visitors "on a journey to the heart of Cartier watchmaking." The exhibition unites the largest number of Cartier timepieces ever displayed in public, from its origins through to the present day. The unique journey offered by the exhibition begins in 1874, displaying 158 vintage pieces from Cartier collection. Introducing twelve movements and seventeen Fine Watchmaking timepieces, the journey finishes in the present day with the ID-One watch, a concept timepiece which offers a glimpse into the watchmaking future at Cartier. La Planète Mode de Jean Paul Gaultier à Montréal. Nous nous sommes rendus à Montréal pour visiter la magnifique exposition "La Planète Mode de Jean Paul Gaultier, de la Rue aux Étoiles" qui se tient jusqu'au 2 octobre au Musée des Beaux-Arts (MBAM) de la ville.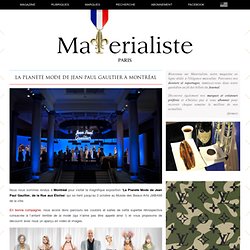 En bonne compagnie, nous avons donc parcouru les couloirs et salles de cette superbe rétrospective consacrée à l'enfant terrible de la mode (qui n'aime pas être appelé ainsi !) Et vous proposons de découvrir avec nous un aperçu en vidéo et images. Célébrant 35 ans de création du couturier français, c'est main dans la main que la maison Gaultier et le MBAM ont travaillé, permettant ainsi de rassembler un trésor formidable : pas moins de 140 silhouettes accessoirisées emblématiques de prêt-à-porter et de haute-couture accompagnées d'innombrables vidéos, dessins, photographies du petit génie, de Warhol à Pierre et Gilles… Pierre Cardin wants to sell business for 1 bln euros. French fashion legend Pierre Cardin is ready to sell his group and will seek one billion euros (1.46 billion U.S. dollars).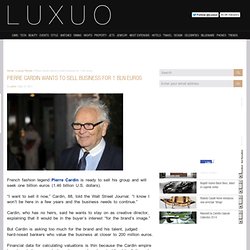 "I want to sell it now," Cardin, 88, told the Wall Street Journal. "I know I won't be here in a few years and the business needs to continue."
D&G
Mini and Rolls-Royce team up for special edition. Iconic compact car maker Mini has unveiled a collaboration with top luxury marque Rolls-Royce at the Auto Shanghai show, which opens this week.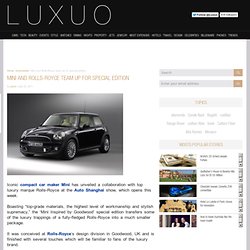 Boasting "top-grade materials, the highest level of workmanship and stylish supremacy," the 'Mini Inspired by Goodwood' special edition transfers some of the luxury trappings of a fully-fledged Rolls-Royce into a much smaller package. It was conceived at Rolls-Royce's design division in Goodwood, UK and is finished with several touches which will be familiar to fans of the luxury brand. They include a dashboard and door handle surfaces finished in Walnut Burr and a black leather dashboard top.
To offer "incomparably high-quality ambiance," the design team has included 'Lounge' leather seats in Rolls-Royce Cornsilk (a warm and natural beige).
Marc Jacobs
Kwanpen Luxury Handbags. In a luxury industry dominated by European brands, a Singapore company is making inroads with an exclusive line of colourful handbags made from crocodile skin.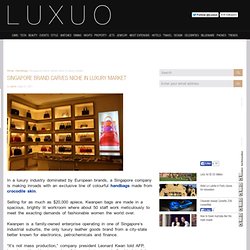 Selling for as much as $20,000 apiece, Kwanpen bags are made in a spacious, brightly lit workroom where about 50 staff work meticulously to meet the exacting demands of fashionable women the world over. Kwanpen is a family-owned enterprise operating in one of Singapore's industrial suburbs, the only luxury leather goods brand from a city-state better known for electronics, petrochemicals and finance. "It's not mass production," company president Leonard Kwan told AFP, beaming with pride at samples of the products named after his late father, who started the business in the 1960s.
"The Kwanpen brand signifies a crocodile-skin bag of the best value and quality."
LVMH
Lancôme. BMW 5 Series Gran Turismo by Trussardi. BMW Italia and Trussardi have created a limited edition of the 5 Series Gran Turismo to mark the fashion house's centennial.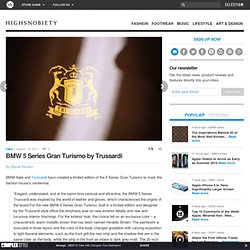 "Elegant, understated, and at the same time sensual and attractive, the BMW 5 Series Trussardi was inspired by the world of leather and gloves, which characterized the origins of the brand.For the new BMW 5 Series Gran Turismo, built in a limited edition and designed by the Trussardi style office,the emphasis was on new exterior details and new and luxurious interior finishings. For the exterior look, the choice fell on an exclusive color – a characteristic warm metallic brown that has been named Heraldic Brown. The paintwork is executed in three layers and the color of the body changes gradation with varying exposition to light.Several elements, such as the front grill,the rear strip and the shadow-line are in the same color as the body, while the strip in the front air intake is dark grey matt.
MIU MIU
Baume et mercier. Gucci. Hugo Boss. Chanel. Maison Martin Margiela. Trussardi. Burberry. Montblanc. Balmain. Lancel. Dior. Hermes. Lanvin. Longchamp. Louboutin. Louis Vuitton. Ralph Lauren. YSL.
---