FB news
Get flash to fully experience Pearltrees
We've been holding out for some kind of partnership that would bring music to Facebook for a while now. Well, no dice on that, kids. However, a recently launched Chrome plugin called Music+ is sure to tide you over until that glorious day comes. Music+ is a plugin that was developed during the Echo Nest Social Music App Challenge . It uses the music intelligence service's API (as well as Facebook's API) to make it easy to find and listen to music while surfing the web.
Sept marques participent au déploiement de «Facebook Deals» dans l'Hexagone, permettant aux internautes de bénéficier de promotions lorsqu'ils visitent une enseigne.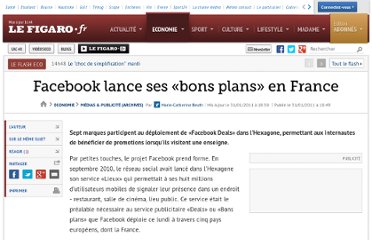 Here's a dose of something that you might have heard before, but it's coming back to light today. Facebook, in a recently-released video that highlights some of the photo tagging features, has shown that it's still testing a feature that will allow you to "Subscribe" to someone's updates. Call it following without friending.
Bonjour! Si vous visitez Emarketinglicious pour la 1ère fois, abonnez-vous à notre flux RSS pour recevoir nos dernières actualités. J'ai suivi en direct la conférence que Mark Zuckerberg a donné sur le nouveau système de messagerie de Facebook au cours de laquelle est également intervenu Andrew Bosworth, chef de produit. Ce nouveau service est différent des autres solutions disponibles actuellement sur le marché telles que Gmail par exemple. Bien qu'il comprenne l'envoi d'e-mails, la messagerie de Facebook ne peut pas se résumer à cette seule fonction. L'e-mail du réseau social est de toute façon différent de ce que nous connaissons aujourd'hui.