Dior
LADY DIOR AS SEEN BY. Analyse du nouveau site Dior. Annoncer ici Après un très beau teasing, Dior nous livre son nouveau site.
Premières impressions, en terme de contenu et d'ergonomie de navigation. La Maison Christian Dior donne le ton dès l'arrivée sur le site. En effet, la descente de l'avenue Montaigne de nuit avec l'immeuble de la marque brillant de mille feux ainsi que la Tour Eiffel lumineuse en arrière-plan ne laisse planer aucun doute : Dior est une Maison éclairée, dans le sens où elle est innovante et personne ne peut le contester.
Commençons la visite. Dior Homme "The Wanderer" Film. Daily Online Magazine for Sneakers, Streetwear, Fashion, Art, and Toys - Part 7. 'Les Essentiels' by Dior Homme. New from Dior Homme comes a monthly installation called Les Essentiels.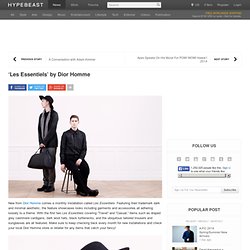 Featuring their trademark dark and minimal aesthetic, the feature showcases looks including garments and accessories all adhering loosely to a theme. With the first two Les Essentiels covering "Travel" and "Casual," items such as draped grey cashmere cardigans, dark wool hats, black turtlenecks, and the ubiquitous tailored trousers and sunglasses are all featured. Make sure to keep checking back every month for new installations and check your local Dior Homme store or retailer for any items that catch your fancy!
Moscow art museum honors Dior. By admin | April 28, 2011 After the John Galliano debacle, Christian Dior can use all the positive publicity it can get, and a new retrospective of its history at the Pushkin State Museum of Fine Arts sets out to bring back the fashion house's magic.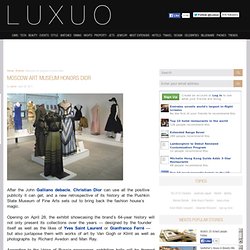 Opening on April 28, the exhibit showcasing the brand's 64-year history will not only present its collections over the years — designed by the founder itself as well as the likes of Yves Saint Laurent or Gianfranco Ferré — but also juxtapose them with works of art by Van Gogh or Klimt as well as photographs by Richard Avedon and Man Ray. According to the Voice of Russia newspaper, exhibition halls will be themed, with one focusing on the flower motif, another on Dior's work process, and so on. Check-in - Aujourd'hui - Lady Dior innove dans l'interactivité. Lady Dior innove dans l'interactivité Publié le 05 décembre 2010 Pour clôturer le 4ème et dernier volet de la saga Lady Dior, «Lady Grey London», la maison Dior utilise les dernières technologies de reconnaissance d'image qui permettent de visionner le court-métrage directement sur son mobile en «flashant» le visuel de presse.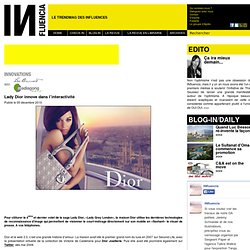 A vos téléphones. Dior et le web 2.0, c'est une grande histoire d'amour. La maison avait été le premier grand nom du luxe en 2007 sur Second Life, avec la présentation virtuelle de la collection de Victoire de Castellane pour Dior Joaillerie.
---