Contes / Märchen
Didactisation de 4 Märchen. Bienvenue sur la page Märchen!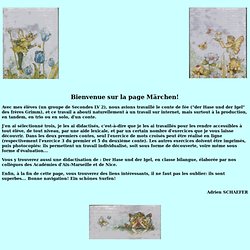 Avec mes élèves (un groupe de Secondes LV 2), nous avions travaillé le conte de fée ("der Hase und der Igel" des frères Grimm), et ce travail a abouti naturellement à un travail sur internet, mais surtout à la production, en tandem, en trio ou en solo, d'un conte. J'en ai sélectionné trois, je les ai didactisés, c'est-à-dire que je les ai travaillés pour les rendre accessibles à tout élève, de tout niveau, par une aide lexicale, et par un certain nombre d'exercices que je vous laisse découvrir.
Dans les deux premiers contes, seul l'exercice de mots croisés peut être réalisé en ligne (respectivement l'exercice 3 du premier et 5 du deuxième conte). Les autres exercices doivent être imprimés, puis photocopiés: ils permettent un travail individualisé, soit sous forme de découverte, voire même sous forme d'évaluation... Sketche aus der Märchenwelt. An allem ist die Katze schuld Ein groteskes Schauerdrama für 5 Personen.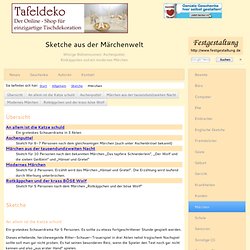 Es sollte zu etwas fortgeschrittener Stunde gespielt werden. Dieses erhebende, herzbewegende Ritter-Schauer-Trauerspiel in drei Akten nebst tragischem Nachspiel sollte soll man gar nicht proben. Histoires en forêt. Grimm Grammar : site index. Götz Widmann-Grimms Märchen.
Märchen - Märchen – Legenden Sagen Geschichten  From Rapunzel to The Little Red Riding Hood, Beloved Children's Classics as Minimalist Posters. By Maria Popova Visual hyper-distillation of iconic storytelling.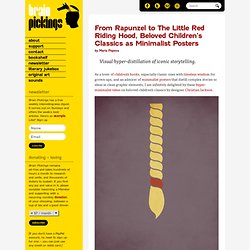 As a lover of children's books, especially classic ones with timeless wisdom for grown-ups, and an admirer of minimalist posters that distill complex stories or ideas in clean graphic elements, I am infinitely delighted by these hyper-minimalist takes on beloved children's classics by designer Christian Jackson. Grimmland  MaerchenBlog. In diesem Jahr wird in Deutschland das Grimm-Jahr gefeiert.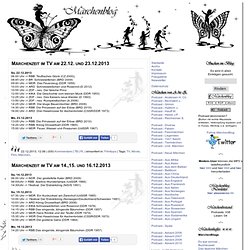 Vor 200 Jahren, genau am 20. Dezember 1812 erschien die Erstausgabe der "Kinder- und Hausmärchen". In rund 160 Sprachen wurden die Grimms Märchen übersetzt. Generationen über Generationen verbinden ihre Kindheit fest mit Märchen, sei es als Einschlafgeschichte, oder im Kindergarten oder bei einer Schulaufführung.
Deutsche Märchenstraße - Startseite.
---