Translation
La Météo des Écoles
Coopération au développement
Jeter des ponts entre le Nord et le Sud, est une des missions que Volens s'est donnée afin de sensibiliser la population aux grands enjeux de demain En partenariat avec l'asbl « Identité Amérique Indienne » et dans le cadre de nos activités en éducation au développement, nous sommes heureux de vous annoncer la présence en Belgique pour une tournée exceptionnelle de la jeune troupe de théâtre bolivienne CALLECRUZ. Composée de 8 adolescents vivant en Bolivie au centre d'accueil pour enfants de la rue CALLECRUZ, cette formation artistique a (...) ···> En savoir plus Concours Volens 2010 : Les gagnants !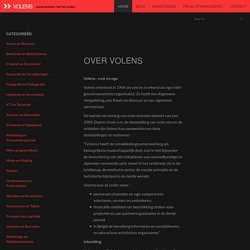 ProZ.com
Le site de traduction de l'agence de traduction Anyword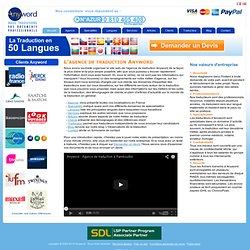 Nous avons souhaité organiser le site web de l'agence de traduction Anyword de la façon la plus claire et la plus simple possible, afin que vous puissiez y trouver rapidement l'information dont vous avez besoin. Et, vous le verrez, ce ne sont pas les informations qui manquent ! Vous trouverez ici des renseignements sur notre métier d'agence, sur les travaux dont nous sommes chargés par nos clients, les domaines d'expertise des traducteurs avec qui nous travaillons, sur les différents services autour de la traduction que nous pouvons vous proposer, mais aussi des informations sur les métiers et les outils de la traduction, des témoignages de clients, et plein d'articles d'actualité sur le monde de la traduction en général.
Association ENTRAiD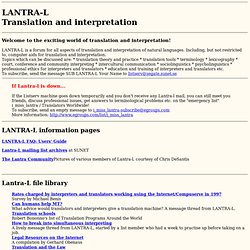 LANTRA-L Translation and interpretation
Welcome to the exciting world of translation and interpretation! LANTRA-L is a forum for all aspects of translation and interpretation of natural languages. Including, but not restricted to, computer aids for translation and interpretation. Topics which can be discussed are: * translation theory and practice * translation tools * terminology * lexicography * court, conference and community interpreting * intercultural communication * sociolinguistics * psycholinguistics * professional ethics for interpreters and translators * education and training of interpreters and translators etc.