B-List Companies
[ Heavy iron ] Beenox Translated. Relic Studio. Work Where People Get You.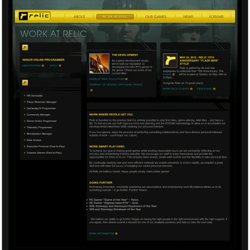 Relic is founded on the premise that it is entirely possible to ship first class, genre altering, AAA titles – and have a life. To that end we use both rigorous front-end planning and the SCRUM methodology to allow us to accomplish our developmental milestones while retaining our personal freedom. Relentless Software. We're currently working hard on creating a raft of brand new games as well as continuing with our hugely successful Murder Files franchise.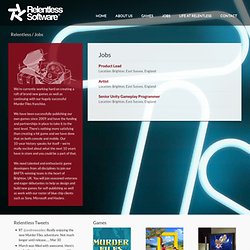 We have been successfully publishing our own games since 2009 and have the funding and partnerships in place to take it to the next level. There's nothing more satisfying than creating a hit game and we have done that on both console and mobile. Our 10-year history speaks for itself – we're really excited about what the next 10 years have in store and you could be a part of that.
Creative Assembly. Frontier Developments. Rebellion. Crytek. Treyarch. Sumo Digital. Do you want to work at Sumo Digital?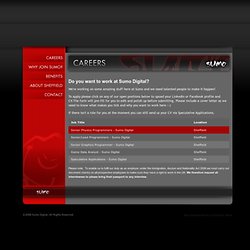 We're working on some amazing stuff here at Sumo and we need talented people to make it happen! To apply please click on any of our open positions below to upoad your LinkedIn or Facebook profile and CV.The form will pre-fill for you to edit and polish up before submitting. Please include a cover letter as we need to know what makes you tick and why you want to work here :-) If there isn't a role for you at the moment you can still send us your CV via Speculative Applications.
ROCKSTAR SAN DIEGO. Rockstar San Diego is the developer of the multi-million selling blockbuster Red Dead Redemption as well as other highly acclaimed hits such as the Midnight Club racing series, Red Dead Revolver, Table Tennis and the Smuggler's Run series.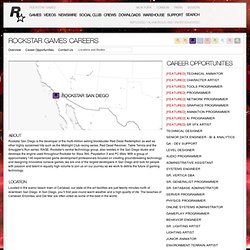 RAGE, Rockstar's central technology group, also resides in the San Diego studio and develops the engine used throughout Rockstar for Xbox 360, Playstation 3 and PC titles. With a group of approximately 140 experienced game development professionals focused on creating groundbreaking technology and designing innovative console games, we are one of the largest developers in San Diego and look for people with passion and talent in equally high volume to join us on our journey as we work to define the future of gaming technology. Located in the scenic beach town of Carlsbad, our state-of-the-art facilities are just twenty minutes north of downtown San Diego. In San Diego, you'll find year-round warm weather and a high quality of life. Pop Cap Games. What's it like to work at PopCap?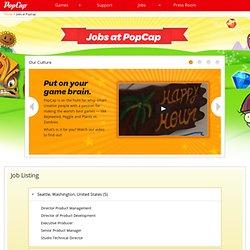 It's more than just another day at the office. With headquarters in beautiful Seattle, we embrace diversity and pour ourselves into our work to make the best games possible. And with lots of employee programs and activities, we don't only make fun — we have lots of fun, too. EA Tiburon. The studio features state-of-the-art photography and audio studios, and there are many perks for employees to enjoy, including a gourmet café, free cereal and coffee bars, a complimentary DVD and game library, and a mix of classic arcade game consoles, just for fun.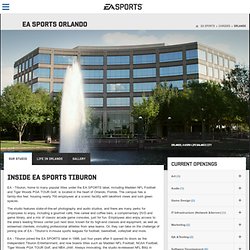 Employees also enjoy access to the area's leading fitness center just next door, known for its high-end classes and equipment, as well as esteemed clientele, including professional athletes from area teams. Or, they can take on the challenge of joining one of EA - Tiburon's in-house sports leagues for football, basketball, volleyball and more. Rareware. Silicon Knights. Bizarre Creations. TT Games. We are looking for a programmer to join our Game Technology team.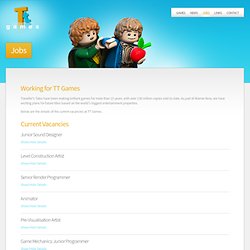 The Game Technology team is part of the Engine Room Department, and is responsible for creating and maintaining the nuts and bolts that glue our award winning games together. You will be working with every platform conceivable, from hand-held devices, through desktop computers to consoles both current and next generation. Because of this, you will be using a wide variety of development environments and programming languages and tackling technical challenges of every sort. No day will be the same, and you won't be bored! During your day you will be working with all the internal development departments in Traveller's Tales: the game programmers, the low level renderer programmers, the artists and designers who produce the amazing content that makes our games alive, the production team who manage the process and the publishers who get our games out to the public. Eurocom.
---