Starting a business
Copyrights & Licensing 101: The Basics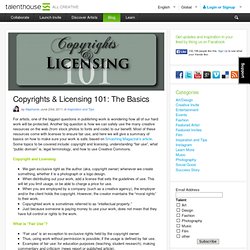 For artists, one of the biggest questions in publishing work is wondering how all of our hard work will be protected. Another big question is how we can safely use the many creative resources on the web (from stock photos to fonts and code) to our benefit. Most of these resources come with licenses to ensure fair use, and here we will give a summary of basics on how to make sure your work is safe, based on Smashing Magazine's article. Some topics to be covered include: copyright and licensing, understanding "fair use", what "public domain" is, legal terminology, and how to use Creative Commons. Copyright and Licensing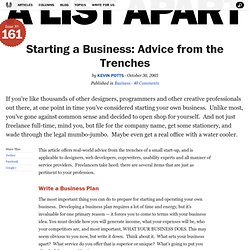 If you're like thousands of other designers, programmers and other creative professionals out there, at one point in time you've considered starting your own business. Unlike most, you've gone against common sense and decided to open shop for yourself.
How to Pick a Startup Funding Strategy [Infographic]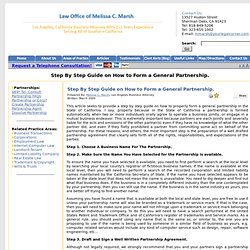 Step By Step Guide on How to Form a General Partnership.
This article seeks to provide a step by step guide on how to properly form a general partnership in the State of California. I say, properly because in the State of California a partnership is formed automatically when two or more individuals orally agree to operate a business jointly, or engage in a mutual business endeavor. This is extremely important because partners are each jointly and severally liable for the acts and omissions of the other partner(s) even if they have no knowledge of what the other partner did, and even if they flatly prohibited a partner from committing some act on behalf of the partnership. For these reasons, and others, the most important step is the preparation of a well drafted partnership agreement that clearly sets forth all of the rights, responsibilities, and expectations of the parties. Step 1. Choose A Business Name For The Partnership.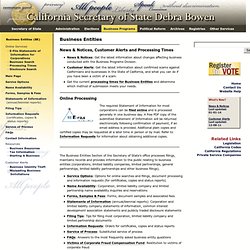 News & Notices, Customer Alerts and Processing Times News & Notices: Get the latest information about changes affecting business conducted with the Business Programs Division. Customer Alerts: Get the latest information about confirmed scams against Californians and businesses in the State of California, and what you can do if you have been a victim of a scam.
Business Entities
Apply for an Employer Identification Number (EIN) Online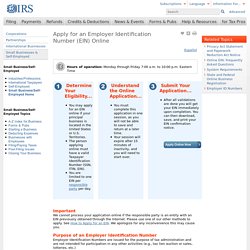 Our new hours of operation are Monday through Friday 7:00 a.m. to 10:00 p.m. Eastern time. No need to file a Form SS-4!
City of Rancho Cordova : Business Licenses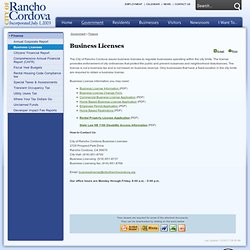 The City of Rancho Cordova issues business licenses to regulate businesses operating within the city limits. The license promotes enforcement of city ordinances that protect the public and prevent nuisances and neighborhood disturbances. The license is not a business tax and is not based on business revenue. Only businesses that have a fixed-location in the city limits are required to obtain a business license. Business License information you may need: How to Contact Us City of Rancho Cordova Business Licenses 2729 Prospect Park Drive Rancho Cordova, CA 95670 City Hall: (916) 851-8700Business Licensing: (916) 851-8737Business Licensing fax: (916) 851-8768