Axiology
40 Belief-Shaking Remarks From a Ruthless Nonconformist | Raptitude.com. If there's one thing Friedrich Nietzsche did well, it's obliterate feel-good beliefs people have about themselves.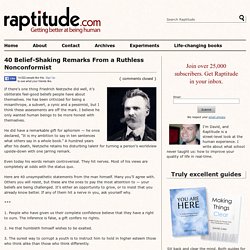 He has been criticized for being a misanthrope, a subvert, a cynic and a pessimist, but I think these assessments are off the mark. I believe he only wanted human beings to be more honest with themselves. He did have a remarkable gift for aphorism — he once declared, "It is my ambition to say in ten sentences what others say in a whole book." A hundred years after his death, Nietzsche retains his disturbing talent for turning a person's worldview upside-down with one jarring remark. Some lessons I wish I learned earlier in life | Results Junkies. As I get older, I realize I've learned some lessons that I wish I had picked up sooner in life.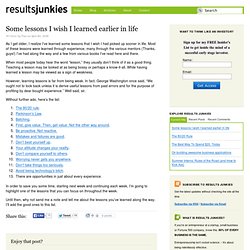 Most of these lessons were learned through experience, many through the various mentors (Thanks, guys!) I've had along the way and a few from various books I've read here and there. When most people today hear the word "lesson," they usually don't think of it as a good thing. Teaching a lesson may be looked at as being bossy or perhaps a know-it-all. ... imagine a puddle.
Aesthetics.
---