Viajes
Vuelos baratos, ofertas de hoteles, alquiler de coches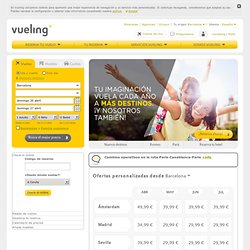 Mediante la marcación de la presente casilla nos autorizas a que tus datos sean incorporados en un fichero del cual es responsable VUELING AIRLINES, S.A. con la finalidad de remitirte información y publicidad, incluso por medios electrónicos, sobre nuestros productos, servicios, promociones y demás información que pueda ser de tu interés. Asimismo, nos autorizas a que te remitamos, incluso por medios electrónicos, información y publicidad, sobre productos y servicios de otros sectores de actividad relacionados con nuestros propios productos y servicios, y en particular sobre los siguientes sectores: financiero, asegurador, alquiler y venta de vehículos, hotelero, agencias de viajes, touroperadores, restauración, turístico, deportes y ocio relacionados con el transporte aéreo, a través de nuestra Newsletter. Bajo ninguna circunstancia tus datos serán entregados ni facilitados a ninguna otra empresa, quedando siempre y en todo caso bajo el control de VUELING AIRLINES, S.A.
Vuelos y Vacaciones - ba.com
Reserva vuelos baratos y ofertas de última hora-easyJet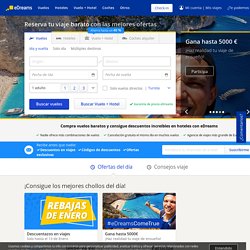 Estamos buscando para las fechas seleccionadas: Buscando... Aegean Airlines|Aer Lingus|Aigle Azur|Air Arabia Maroc|Air Berlin|Air Corsica|Air Europa|Air Italy|Air One|American Airlines|Blue Air|Blue Panorama|Brussels Airlines|Easyjet|Emirates|Germanwings|Jetairfly|Jetstar|Lan|Lot|Lufthansa|Meridiana|Monarch|Norwegian Air|Pegasus Airlines|Qatar|Renfe|Royal Air Maroc|Ryanair|SAS|Swiss Airlines|TAP|Transavia|Tunis Air|Turkish Airlines|United Airlines|US Airways|Volotea|Vueling|Wizz Air|Vietnam Airlines|Tarom|Finnair|TAM|Etihad|Virgin Atlantic Concorde Hotels|Best Western|Radisson Edwardian|Sol Melia Hotels|Mandarin Oriental|Derby Hotels Collection|Westin Hoteles|Hesperia|Le Meridien Hotels & Resorts|Maritim Hotels|The Ritz-Carlton Hotels|NH Hoteles|Starwood Hotels|Ibis Hotels|Sheraton Hotels & Resorts|Vincci Hotels|Westin Hotels & Resorts|Sokos Hotels|Occidental Hotels & Resorts|Marriot Hotels|Hoteles Silken|St. Regis Hotels|Golden Tulip|Starhotels|Ramada Int.
Final prices: taxes, service fees and carrier charges included The prices shown correspond to recent searches made by clients. These may vary according to availability, possible fare variations, taxes and other supplements applicable at the time of making the request.
IBERIA.COM en España.Los Mejores Precios en vuelos de Iberia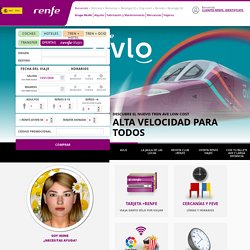 renfe.mobi Reputación y RSE Avisos Atención al cliente
Desktop Computers: Portátiles, ordenadores de sobremesa, monitor