Knowledge Management (videos)
How Knowledge Management Is Moving Away From the Repository as Goal - Video
by IdeasProject | 9:49 AM July 9, 2010 Nokia's IdeasProject features visionary and influential thought leaders on communications technology. In this clip, John Hagel of Deloitte's Center for the Edge explores how knowledge is distributed and dispersed throughout an organization, and asks: "How do we capture it, and make it available to others?"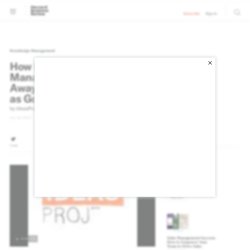 developing an asking culture.wmv
Sharing Tacit Knowledge - Nancy Dixon tells the story about Xerox Copy Repair Technicians
Nancy Dixon on Action Learning (fcp1) - iPhone 4.m4v
Three Eras of Knowledge Management - Nancy Dixon
The Importance of Learning in Organizations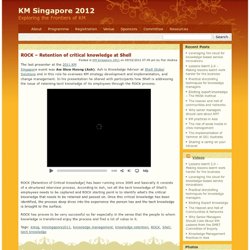 The last presenter at the 2011 KM Singapor e event was Aw Siew Hoong (Ash) . Ash is Knowledge Advisor at Shell Global Solutions and in this role he oversees KM strategy development and implementation, and change management. In his presentation he shared with participants how Shell is addressing the issue of retaining tacit knowledge of its employees through the ROCK process. ROCK (Retention of Critical Knowledge) has been running since 2005 and basically it consists of a structured interview process. According to Ash, not all the tacit knowledge of Shell's employees needs to be captured and ROCK starting point is to identify what's the critical knowledge that needs to be retained and passed on. Once this critical knowledge has been identified, the process deep dives into the experience the person has and the tacit knowledge is brought to the surface.
KM Singapore 2011 » Blog Archive » ROCK – Retention of critical knowledge at Shell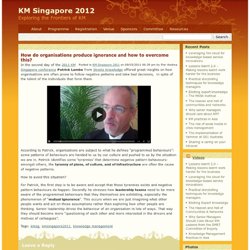 In the second day of the 2011 KM Singapore conference Patrick Lambe from Straits Knowledge offered great insights on how organisations are often prone to follow negative patterns and take bad decisions, in spite of the talent of the individuals that form them. According to Patrick, organisations are subject to what he defines "programmed behaviours": some patterns of behaviours are handed to us by our culture and pushed to us by the situation we are in. Patrick identifies some 'tyrannies' that determine negative pattern behaviours: amongst others, the tyranny of plans, of culture, and of infrastructure are often the cause of negative patterns. How to avoid this situation?
KM Singapore 2011 » Blog Archive » How do organisations produce ignorance and how to overcome this?
The Cognitive Dimension of KM | KM videos brought to you by the iKMS on blip.tv
The Cognitive Dimension of KM Singapore, 2 September 2011. Gary Klein was the international keynote in the second day of the 2011 KM Singapore conference. In this video, he highlights the importance of capturing tacit knowledge from experts and ways to do this effectively. In particular, he underlines how story-telling can help in this process and what advantages it brings in creating a reacher dialogue. See more at http://http://www.kmsingapore.com/
Knowledge Management Education (KMedu) Hub Group News
Communities of Practice (videos)
Personal Knowledge Management (videos)
KM Practice: Storytelling (videos)
After-Action-Review (videos)
Difference Between Organizational Learning and Knowledge Management
When Are Case Studies Not Very Effective for KM?
Best Ways to Transfer Tacit Knowledge
Most Common KM Mistakes