Side Dishes
Get flash to fully experience Pearltrees
Make dough: Put flour in a large shallow bowl and make a well in center. Add water, egg, oil, and salt to well and carefully beat together with a fork without incorporating flour.
No, not those kind of cupcakes. Cute, little savory cupcake-formed stacks of mac and cheese. Healthy ones, too – made with whole wheat bread crumbs and whole wheat pasta.
11. Bacon Cook 1/2 pound chopped bacon until crisp.
Today is the first day of Comfort Week here at Real Mom Kitchen and what a better way to start the week than with Mac and Cheese – gooey, creamy, yummy, cheesy goodness. I decided to try a recipe that I found in the Oct. 2009 issue of Martha Stewart's Everyday Food . I loved the fact that the recipe is made on the stovetop.
Ok, what is up with eggs?!!? They seem to be in everything lately!
1. Preheat oven to 350°F. 2.
Ingredients 7 tablespoons unsalted butter , plus more for the dish Kosher salt 1 pound elbow macaroni 1 small onion, finely chopped 2 stalks celery, finely chopped 3 cups shredded rotisserie chicken 2 cloves garlic , minced 3/4 cup hot sauce (preferably Frank's) 2 tablespoons all-purpose flour 2 teaspoons dry mustard 2 1/2 cups half-and-half 1 pound yellow sharp cheddar cheese , cut into 1-inch cubes (about 3 1/2 cups) 8 ounces pepper jack cheese , shredded (about 2 cups) 2/3 cup sour cream 1 cup panko (Japanese breadcrumbs ) 1/2 cup crumbled blue cheese 2 tablespoons chopped fresh parsley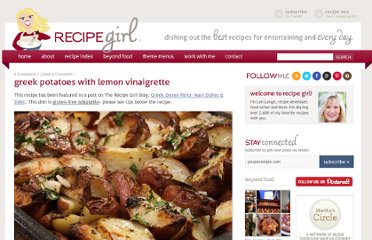 Greek Potatoes with Lemon Vinaigrette This recipe has been featured in a post on The Recipe Girl blog: Greek Dinner Party- Main Dishes & Sides .
Courtesy of Food Network Magazine 1. Classic Cover 2 pounds whole russet or Yukon gold potatoes with cold salted water; simmer 45 minutes.