Candy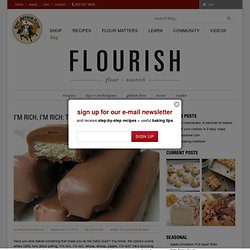 Have you ever baked something that made you do the Daffy Duck? You know, the cartoon scene where Daffy runs about yelling, "I'm rich, I'm rich, whoop, whoop, yippee, I'm rich!" He's bouncing around on his head, feet, hands, and rump in a spastic outpouring of sheer joy.
Brickle A few weeks ago, I went to a barbeque. On the table there was plate of what looked to be a chocolate type dish that was crumbled up. I grabbed a piece, ate it, had eight more pieces, and then went on a mad hunt throughout the barbeque to see who brought the stuff and how much I would have to pay them for the recipe.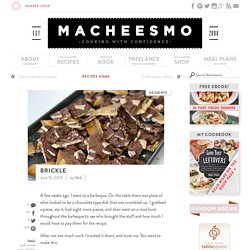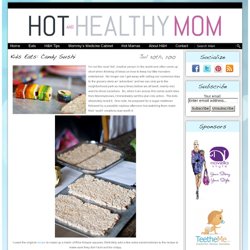 I'm not the most 'kid' creative person in the world and often come up short when thinking of ideas on how to keep my little monsters entertained. No longer can I get away with calling our numerous trips to the grocery store an 'adventure' and we can only go to the neighborhood park so many times before we all (well, mainly me) want to shoot ourselves. So, when I ran across this candy sushi idea from Mommyknows, I immediately set this plan into action. The kids absolutely loved it. One note, be prepared for a sugar meltdown followed by a possible napless afternoon but watching them make their 'sushi' creations was worth it. I used the original recipe to make up a batch of Rice Krispie squares.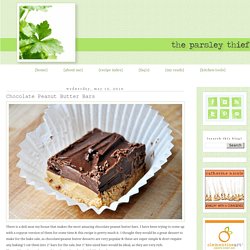 There is a deli near my house that makes the most amazing chocolate peanut butter bars. I have been trying to come up with a copycat version of them for some time & this recipe is pretty much it. I thought they would be a great dessert to make for the bake sale, as chocolate/peanut butter desserts are very popular & these are super simple & don't require any baking! I cut them into 2" bars for the sale, but 1" bite-sized bars would be ideal, as they are very rich. They sold out faster then anything else at the sale...I wish I had made more.
Homemade Kit Kat Candy Bar Recipe
These homemade Kit Kat candy bars taste amazingly like the real thing. You won't find a better copycat recipe anywhere! If you're a Kit Kat fan, you have to try this recipe. It's simple to follow, and easy to produce delicious results. These make a tasty surprise for any event, and you can be sure you'll be the only one to bring Kit Kats! This one's a good story too.