Candy
I'm rich, I'm rich! Thousand Dollar Bars | King Arthur Flour - King Arthur Flour – Baking Banter. Have you ever baked something that made you do the Daffy Duck?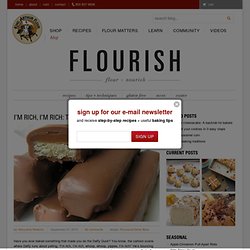 You know, the cartoon scene where Daffy runs about yelling, "I'm rich, I'm rich, whoop, whoop, yippee, I'm rich!" He's bouncing around on his head, feet, hands, and rump in a spastic outpouring of sheer joy. Brickle. A few weeks ago, I went to a barbeque.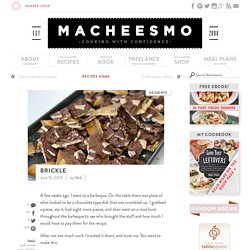 On the table there was plate of what looked to be a chocolate type dish that was crumbled up. I grabbed a piece, ate it, had eight more pieces, and then went on a mad hunt throughout the barbeque to see who brought the stuff and how much I would have to pay them for the recipe. After not too much work I tracked it down, and trust me. Warm Toasted Marshmallow S'more Bars. Chocolate Peanut Butter Bars. There is a deli near my house that makes the most amazing chocolate peanut butter bars.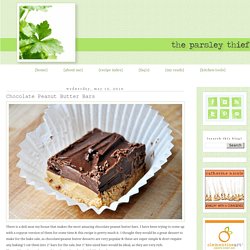 I have been trying to come up with a copycat version of them for some time & this recipe is pretty much it. I thought they would be a great dessert to make for the bake sale, as chocolate/peanut butter desserts are very popular & these are super simple & don't require any baking! I cut them into 2" bars for the sale, but 1" bite-sized bars would be ideal, as they are very rich. They sold out faster then anything else at the sale...I wish I had made more. Homemade Kit Kat Candy Bar Recipe. Melt the butter in a pan and stir in the milk.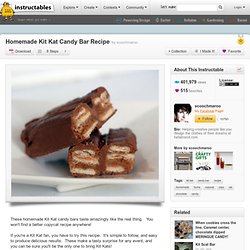 Add the sugars and bring to a boil. Stir in the graham cracker crumbs and cook for 5 minutes, stirring constantly. Easy, right? But trust me, this order of events is important. Were you to, say, dump all the ingredients into a pan and just cook away, you might have to throw the whole sloppy, sticky mess into the trash.
---