Breakfast
Bell Pepper Egg-in-a-hole › shutterbean. I've been running out of breakfast ideas that are quick and healthy so I was delighted to find this little concoction in the latest Everyday Food magazine.
It's a fun to make and it's a healthy alternative to the egg-in a hole that I love so much. I think a little drizzle of aged balsamic vinegar on top would be delightful…or maybe I'll top it with some black beans, cilantro and hot sauce! I'll get on that tomorrow morning. Make-Ahead Breakfast Burritos | Recipes for Kids. Rainy day gal » day 6: bacon cinnamon rolls. Pumpkin Pancakes with Nutmeg Whipped Cream Recipe. A Tasty Recipe: Stuffed French Toast – Tasty Kitchen Blog. Since Ree is somewhere in D.C. right now with her gushing armpits (sorry for that visual on a cooking blog), we've invited a very special guest to host the Tasty Recipe post this week.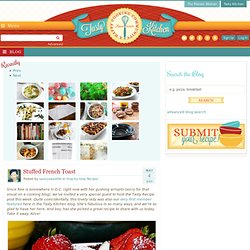 Quite coincidentally, this lovely lady was also our very first member featured here in the Tasty Kitchen blog. She's fabulous in so many ways, and we're so glad to have her here. And boy, has she picked a great recipe to share with us today. Take it away, Alice! Bacon, Egg and Cheese Cups | Recipes for Kids. Breakfast pizza. My son's favorite game in the whole world is Let's Play With The Other Baby!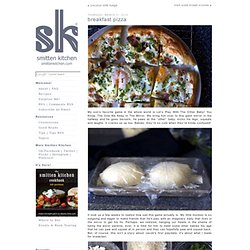 You Know, The One We Keep In The Mirror. We bring him over to this giant mirror in the hallway and he goes berserk, he paws at the "other" baby, kicks his legs, squeals and laughs. It cracks us up too. Babies: they're so cute when they're kinda confused! It took us a few weeks to realize how sad this game actually is. Homemade Pop-Tarts. When I was a kid, I loved Pop-Tarts.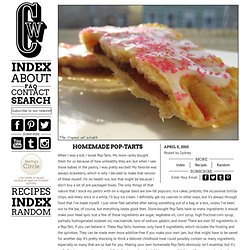 My mom rarely bought them for us because of how unhealthy they are, but when I saw those babies in the pantry, I was pretty excited! My favorite was always strawberry, which is why I decided to make that version of these myself. I'm no health nut, but that might be because I don't buy a lot of pre-packaged foods. The only things of that nature that I stock my pantry with on a regular basis are low-fat popcorn, rice cakes, pretzels, the occasional tortilla chips, and every once in a while, I'll buy ice cream. I definitely get my calories in other ways, but it's always through food that I've made myself. Chocolate banana crepes. This past Friday night was meant for celebrating.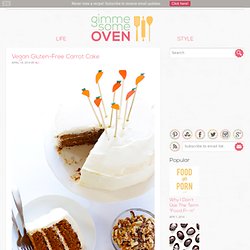 The weather was sit-out-on-the-deck-in-the-cool-evening-breeze perfection. Friends gathered from all around the city with chips and salsa and salads and popcorn and laughter and stories to share. The fire pit was aflame. The candles were lit on this (gluten free and vegan) carrot cake. Baked Eggs in Bread Bowls. This was our breakfast Sunday morning.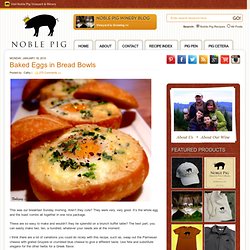 Aren't they cute? They were very, very good. It's the whole egg and the toast combo all together in one nice package. Baked Eggs in Bacon Baskets. This is such a nice idea for breakfast/brunch for a crowd.It is so simple, makes 12 at a time and the baskets stays warm, unlike scrambled eggs which always seem to get cold when left on the plate.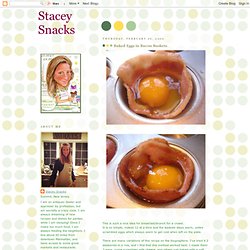 There are many variations of this recipe on the blogosphere. I've tried it 2 weekends in a row, and I find that this method worked best. I made them 2 ways, some scrambled with cheese, and others just baked with a soft center.We couldn't decide which way we liked them best. Spray a 12 cup muffin tin with PAM spray. Lightly cook 12 strips of bacon (or how ever many baskets you are making).Do NOT cook the bacon till crisp, but just enough to get rid of some of the grease. Amish Hash Browns Recipe. Big Red Kitchen: Cinnamon Roll Pancakes. The original and unique Cinnamon Roll Pancake recipe created by Robin Sue!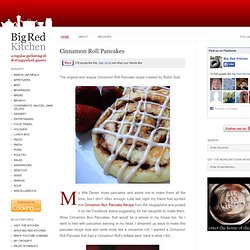 My little Deven loves pancakes and wants me to make them all the time, but I don't often enough. Late last night my friend had spotted this Cinnamon Bun Pancake Recipe from the blogisphere and posted it on her Facebook status suggesting for her daughter to make them. Wow, Cinnamon Bun Pancakes, that would be a winner in my house too. Pumpkin Fritters.