Witchcraft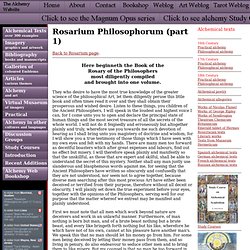 Rosarium Philosophorum (part 1)
Back to Rosarium page. Here beginneth the Book of the Rosary of the Philosophers most diligently compiled and brought into one volume. They who desire to have the most true knowledge of the greater science of the philosophical Art, let them diligently peruse this little book and often times read it over and they shall obtain their prosperous and wished desire. Listen to these things, you children of the Ancient Philosophers, I will speak in the loudest and highest voice I can, for I come unto you to open and declare the principal state of human things and the most secret treasure of all the secrets of the whole world. I will not do it feignedly and erroneously but altogether plainly and truly, wherefore use you towards me such devotion of hearing as I shall bring unto you magistery of doctrine and wisdom, for I will show you a true testimony of those things which I have seen with my own eyes and felt with my hands.
Blue Moon Coven - Traditional Gardnerian Wicca
Ok...off topic post, and more of a rant than anything else really. Seeing as I've now found a doctor (whom I really hope is permanent for a great number of years), I've taken it upon myself to have my health taken care of properly. I've been suffering for a long time with lower back pain...something I've attributed to Sciatica, though never had it confirmed.
Walking the Unbeaten Path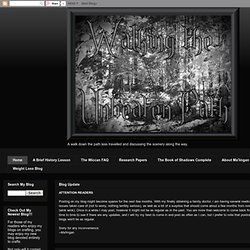 Wicca: For the Rest of Us
In Ancient Near Eastern religions as well as in the Abrahamic traditions, including ancient and medieval Christian demonology, a demon is considered an unclean spirit, sometimes a fallen angel, the spirit of a deceased human, or a spirit of unknown type which may cause demonic possession, calling for an exorcism. In Western occultism and Renaissance magic, which grew out of an amalgamation of Greco-Roman magic, Jewish demonology and Christian tradition,[2] a demon is a spiritual entity that may be conjured and controlled. Terminology[edit] The Greek term does not have any connotations of evil or malevolence.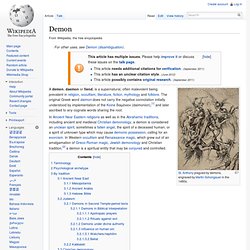 Argante's Well
Web Site Content (including: text - graphics - html - look & feel) Copyright 1997-2014 The Witches' Voice Inc. All rights reserved Note: Authors & Artists retain the copyright for their work(s) on this website. Unauthorized reproduction without prior permission is a violation of copyright laws.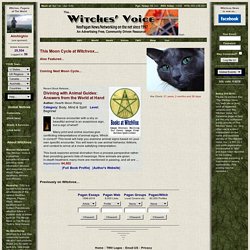 What you find here is one Witch's point of view. I happen to be an initiate of a Wiccan Tradition as well, so occasionally you'll see a bit of the blurring of the lines, but most of what you find here will apply to almsot any form of Witchcraft practice. I try to update the site with information every now and then, but I am a busy person, so I do't really have a regular schedule. Sometimes I'll answer a question on a forum or question site (Quora, Y! Answers) and post that information here so it's easy to find.
ErisianTrubble's Witchcraft |