Computational design
Generative Design Computing: Links for 591 Course. N-fold geometry. Digital fabrication in the architectural design process. VERTEX DIGITAL DESIGN. Grasshopper intermediate. Nervous System – explorations in generative design and natural phenomena. Once a piece of jewelry has been designed and 3D-printed, whether it's from one of our collections or a custom-made design, there's still a lot left to do, like quality-checking, […] Read Article → Yesterday, Jesse and I took a hike in our local forest, the Middlesex Fells Reservation.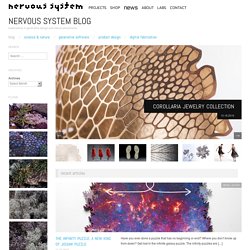 The Fells is the closest patch of wilderness to where we live and work. Founded […] Read Article → The Electronic Cocktail Napkin Project. Authors (old page as appeared in Colorado 1994-1999) * Mark and Ellen recently moved (September, 1999) from University of Colorado to University of Washington.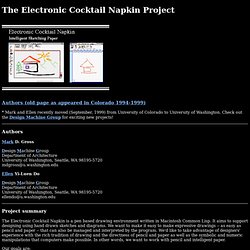 Check out the Design Machine Group for exciting new projects! Authors Mark D. Gross. NSO. Webinar: T-Splines and KeyShot. This webinar, "T-Splines and Keyshot: Modeling and rendering in minutes and seconds--instead of hours," was originally recorded on May 20, 2010, using T-Splines v2.3 and a sneak preview of KeyShot 2 BETA (the current shipping version of KeyShot is v1.9).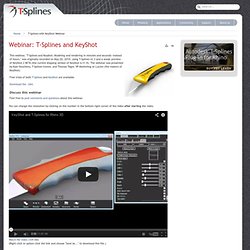 The webinar was presented by Kyle Houchens, T-Splines trainer, and Thomas Teger, VP Marketing at Luxion (the makers of KeyShot). Free trials of both T-Splines and KeyShot are available. Kokkugia. Theverymany. SJET. Homepage. Programming Architecture - Genetic Algorithms - Structural Optimization Of Free Form Grid Shells - YouTube. Www.programmingarchitecture.com Watch in HD!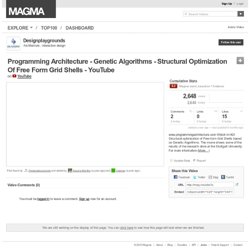 Structural optimization of Free form Grid Shells based on Genetic Algorithms. The movie shows some of the results of the research done at the Stuttgart University. For more information ( More… ) www.programmingarchitecture.com Watch in HD! Structural optimization of Free form Grid Shells based on Genetic Algorithms. Tools. Radiolaria lets you manipulate a web of connected cells to create a huge variety of biologically-inspired patterns.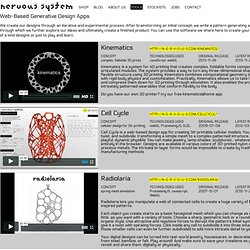 Each object you create starts as a basic hexagonal mesh which you can change as much, or as little, as you want with a variety of tools. Choose a sharp, geometric look or a rounded, more organic style. Use attractive and repulsive forces to disrupt the pattern's initial symmetry, or give it a twist with spiraling forces. Click inside any cell to subdivide it into three smaller cells -- those smaller cells can even be further subdivided to add more intricate detail to your design. O P E N S Y S T E M S. Generative Design. Geometry Gym.
---