Language
Predicting children's language development. We depend on a barrage of standardized tests to assess everything from aptitude to intelligence.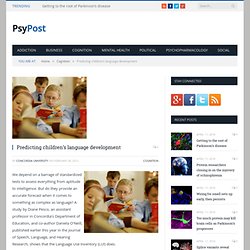 But do they provide an accurate forecast when it comes to something as complex as language? A study by Diane Pesco, an assistant professor in Concordia's Department of Education, and co-author Daniela O'Neill, published earlier this year in the Journal of Speech, Language, and Hearing Research, shows that the Language Use Inventory (LUI) does. Developed by O'Neill at the University of Waterloo, the LUI assesses the language of children 18 to 47 months old. In answering a series of questions, parents reveal how their children use language in various situations, including interacting with others, playing, and communicating about the world around them.
Steven Pinker: Language as a Window into Human Nature. Bio Steven Pinker Steven Pinker is an experimental psychologist and one of the world's foremost writers on language, mind, and human nature.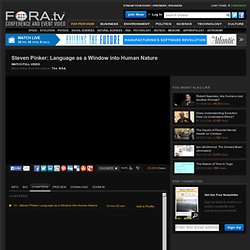 The McGurk Effect - Horizon Is Seeing Believing? Neurolinguistics: Language and biology. Neurolinguistics: Language and biology Central Nervous System Peripheral Nervous System basic cellular unit (chemical transmission, neurotransmitters dopamine, serotonin, acetylcholine)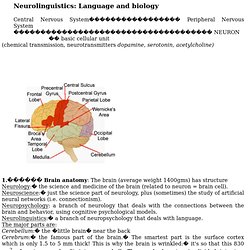 Economist.com. Linguistics Babel's children Jan 8th 2004 | LEIPZIG From The Economist print edition Languages may be more different from each other than is currently supposed.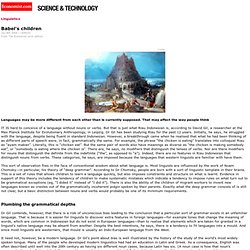 That may affect the way people think IT IS hard to conceive of a language without nouns or verbs. Gesture Recognition in Aphasia Therapy. Does Language Influence Culture? Any phonetic script can be learned in just a few hours | Fluent. If you liked my association technique mentioned below, you would also enjoy my tips on using imagination to memorize vocabulary, which are discussed in great detail with many other hacks in the Language Hacking Guide.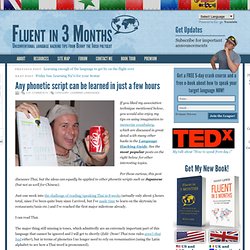 See the most popular posts on the right below for other interesting topics. For those curious, this post discusses Thai, but the ideas can equally be applied to other phonetic scripts such as Japanese (but not as well for Chinese). Just one week into the challenge of reading/speaking Thai in 8 weeks (actually only about 5 hours total, since I've been quite busy since I arrived, but I've made time to learn on the skytrain/in restaurants/taxis etc.) and I've reached the first major milestone already.
Steven Pinker chalks it up to the blank slate.
---