Photographers
1953 April 20, Carrie Mae Weems is born in Portland, Oregon She is the second child born to Carrie Polk and Myrlie Weems. 1965 Becomes interested in the arts Meets Tom Vinters and lifelong friend, Catherine Jelski. Begins participating in street theatre and dance. 1968 Assassination of Martin Luther King
Carrie Mae Weems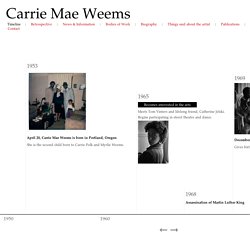 RHONA BITNER
Alfred Eisenstaedt - The Photojournalist of the Century
French photographer Robert Doisneau - sponsored by Ace Murder Mystery
Lélia Wanick Salgado was born in Vitória, E.S., Brazil, and, early in her life, settled in Paris, France. Married, she is the mother of two sons, Juliano and Rodrigo, who has Down syndrome, she is the grandmother of a boy, Flavio. LWS began her professional life at 17, as a primary school teacher and piano teacher in Brazil.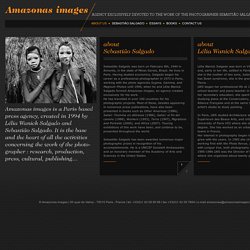 Sebastiao Salgado
PhotoJanta.com - Photography & Professional Make-up in Ireland
William Coupon
Welcome on the site of the French photographer Pascal RENOUX. Whatever the topic, portrait, nude, landscape, still life or different all are made in the same artistic spirit. I seek the beauty and the harmony first of all. I will want to also thank the models without which nothing would have been possible. Photographs presented on this site one realized with a numerical apparatus of SONY mark. Good visit.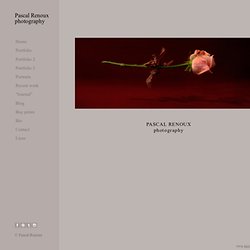 Pascal Renoux
Rapha Festive 500 / 2013 December 30th, 2013 by Stefan ©stefan rohner No Comments »
Stefan Rohner
Kim Mendoza Photography - San Francisco Bay Area Wedding & Lifestyle Photographer
helen sotiriadis, helensotiriadis.com
Matt Armendariz Photography
Maciej Duczyński - photography
Yves Samuel photographer
McGoldrick Art and Photography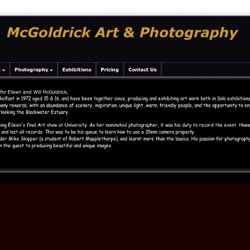 Welcome to the new website for Eileen and Will McGoldrick. Artists Will and Eileen met in Belfast in 1972 aged 15 & 16, and have been together since, producing and exhibiting art work both in Solo exhibitions and often jointly. Living on the south coast of Ireland brings many rewards, with an abundance of scenery, inspiration, unique light, warm, friendly people, and the opportunity to enjoy the spectacular views from their Georgian Town house overlooking the Blackwater Estuary. Will took up photography following Eileen's final Art show at University. As her nominated photographer, it was his duty to record the event. However, he subsequently destroyed (accidently) the film and lost all records.
Bob Carlos Clarke
Fergal-B-Photography
Rebekka Guðleifsdóttir