Programming
Off-the-Record Messaging
OTR library and toolkit This is the portable OTR Messaging Library, as well as the toolkit to help you forge messages. You need this library in order to use the other OTR software on this page. [Note that some binary packages, particularly Windows, do not have a separate library package, but just include the library and toolkit in the packages below.] The current version is 4.0.0. UPGRADING from version 3.2.x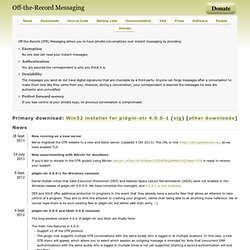 Halide
Halide is a new programming language designed to make it easier to write high-performance image processing code on modern machines. Its current front end is embedded in C++. Compiler targets include x86/SSE, ARM v7/NEON, CUDA, Native Client, and OpenCL. The following function defines and sets the schedule for a 3x3 box filter defined as a series of two 3x1 passes: Func blur_3x3(Func input) { Func blur_x, blur_y; Var x, y, xi, yi; // The algorithm - no storage or order blur_x(x, y) = (input(x-1, y) + input(x, y) + input(x+1, y))/3; blur_y(x, y) = (blur_x(x, y-1) + blur_x(x, y) + blur_x(x, y+1))/3; // The schedule - defines order, locality; implies storage blur_y.tile(x, y, xi, yi, 256, 32) .vectorize(xi, 8).parallel(y); blur_x.compute_at(blur_y, x).vectorize(x, 8); return blur_y;}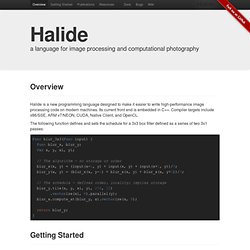 Who is the Barkeep? Barkeep is "the friendly code review system" — a fast, fun way to review code. Engineering organizations can use it to keep the quality bar high.
Barkeep - the friendly code review system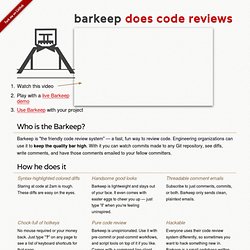 The Scala programming language is used by many companies to develop commercial software and production systems; please find below some notable examples. Your company can also benefit from using Scala, just like LinkedIn, EDFT, Twitter, Novell, the Guardian, Xebia, Xerox, FourSquare, Sony, Siemens, Thatcham, OPower, GridGain, AppJet, Reaktor and many others. Scala is being used by many more organisations and steadily moving into mainstream business critical applications.
Scala in the Enterprise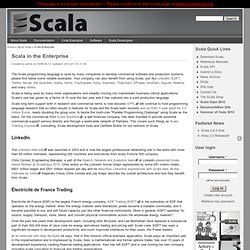 Main Page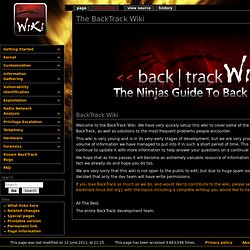 Welcome to the BackTrack Wiki. We have very quickly setup this wiki to cover some of the most common questions about BackTrack, as well as solutions to the most frequent problems people encounter. This wiki is very young and is in its very early stages of development, but we are very proud of the way it looks and the large volume of information we have managed to put into it in such a short period of time. This is only the beginning, we will continue to update it with more information to help answer your questions on a continual and very regular basis.
NPOI
This project is the .NET version of POI Java project at http://poi.apache.org/. POI is an open source project which can help you read/write xls, doc, ppt files. It has a wide application. For example, you can use it to a. generate a Excel report without Microsoft Office suite installed on your server and more efficient than call Microsoft Excel ActiveX at background; b. extract text from Office documents to help you implement full-text indexing feature (most of time this feature is used to create search engines).