Home DIY
Power up < Clean up clutter hotspots: Workstation
Wood pallets have been around for decades as mechanisms for shipping and storing larger items (among other things). Recently, however, wooden pallets have become much more than a once-and-done packaging piece. They've become a useful resource in home décor and design.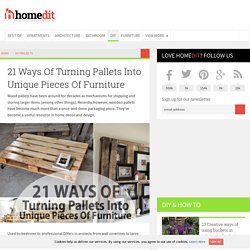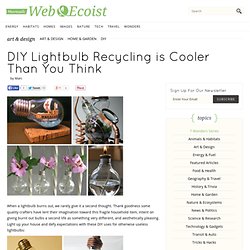 DIY Lightbulb Recycling is Cooler Than You Think
When a lightbulb burns out, we rarely give it a second thought. Thank goodness some quality crafters have lent their imagination toward this fragile household item, intent on giving burnt out bulbs a second life as something very different, and aesthetically pleasing. Light up your house and defy expectations with these DIY uses for otherwise useless lightbulbs: (Images via walyou, loganbibby)
I love projects and Pinterest so when Sherry over at Young House Love posed the 2nd Pinterest Challenge I had the perfect pins in mind. Dylan got me these great fish bowl bookends two birthdays ago and we've had little success keeping any kind of fish alive in them. (R.I.P Goldfish 1, Goldfish 2, Goldfish 3, Goldfish 4, Betta 1 and Betta 2 - you were doomed from the start without names.) One day it suddenly dawned on me that they could be terrariums! They don't have lids, so mossy dioramas were out of the question, but after a little searching I found that succulents would be perfect.Pinspiration for my project: Supplies - Glass fish bowl bookends, tiny succulents, Cactus/Succulent potting soil, decorative stones, and a spoon.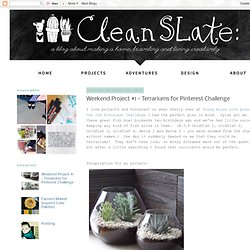 PBTeen Inspired Memo Board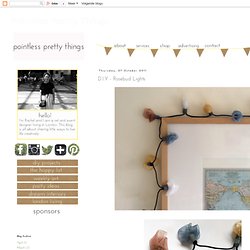 D.I.Y - Rosebud Lights
Want to know how to spruce up plain fairy lights into something a bit more pretty? Here's how I made these rosebud inspired string lights. You will need: -A set of plain (or coloured) LED fairy lights. Make sure they are definitely the LED kind as the normal bulbs will get too hot and we don't want any fires!
This amazing idea for housing kitchen herbs comes to us from Better Homes and Gardens. I thought it appropriate to share this Mason Jar Monday because it is not only a great idea for mason jars, it is also a great way to keep an herb garden during the coming cold months. From the BHG website, "Vintage mason jars are the ideal containers for a kitchen herbarium. They're inexpensive and attractive, especially on a sunny windowsill, and will provide you with a year's supply of fresh seasonings.
Mason Jar Monday « Weeping Cherries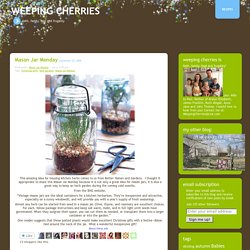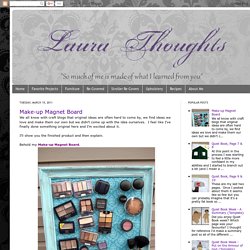 We all know with craft blogs that original ideas are often hard to come by, we find ideas we love and make them our own but we didn't come up with the idea ourselves. I feel like I've finally done something original here and I'm excited about it. I'll show you the finished product and then explain. Behold my Make-up Magnet Board.
The very last project I had to complete in the master bedroom was to come up with something to fill a blank corner wall between two sets of windows. The wall is one that you see when you walk into the room, so I wanted it to make a big visual impact. Because I felt that little space was so important in setting the tone of the room, I also wanted it to be something unique. After much consideration, I ended up with a wall of colorful, layered open frames. Bestow my little thumping heart! Every single thing I've placed in the bedroom brings me so much joy, and this wall is no exception.
Creating a Layered, Open Frame Gallery Wall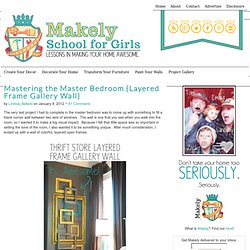 wooden magazine holder to shelf