Gift Ideas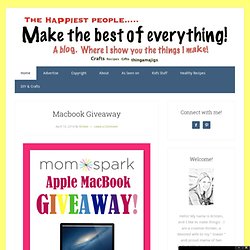 15 So…..there is a fun little story that is behind this recipe. Smoked Paprika and Cornmeal Chicken Tenders. As many of you know, I live in Iowa. There are not TOO many other bloggers in Iowa.
Anatomical Heart Necklace in antique silver on a 18 by billyblue22
This anatomically correct solid metal human heart was carved here in NYC, cast here, and plated in antiqued silver.The detail is amazing and it's not hollow. Carved details on front and back. The heart is about 1 inch long and a half of an inch wide. It's a really nice size and is big enough to read but not so huge that it defines your whole look.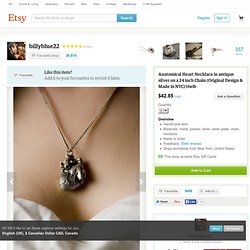 1. Choose a body for your statue from the category list on your left 2. Send your pictures 3.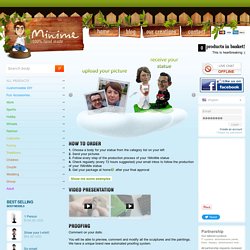 These Colors Rock! Inspired by Pacific blues, island greens, swaying hula dancers and tropical drinks, these fabulous rocking glasses are sure to bring the cool spirit of the islands to your home year round. A set of four in the sophisticated colors of cobalt, aqua, emerald and lime, makes it easy for guests to remember which is theirs, while the gentle curve of the base causes the glass to do a little hula shake back and forth as it sits on the table. Now, that's cool.
HULA GLASSES - SET OF 4 - COOL COLORS | Rocking Glasses, Wobble, Blue, Green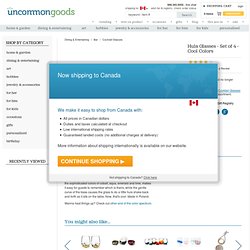 Glass From The Past Handmade in Colombia from recycled glass, these substantial stemless wine glasses will add an interesting twist to any glass of wine. Sturdy and strong, the thick glass has a slight green hue that comes from a tint originally added to lessen the sun's glare.
RECYCLED WINE GLASSES | Stemless Wine Glasses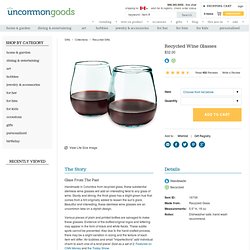 THE 7 DEADLY SINS SHOT GLASSES- SET OF 7 | Unique Shot Glass, Glass Barware, Fun Drinking Glasses, Comic Illustrations, Seven Deadly Sins, Mort Gerberg, Etch Shot Glass, Dante, Chaucer, Sinful, Cool Shot Glass, Shooter
MortGerberg Mort Gerberg is a cartoonist and author best known for his magazine cartoons, which have appeared regularly in numerous publications such as The New Yorker, Playboy, Harvard Business Review, Publishers Weekly and online on Huffington Post. He was voted as best Magazine Cartoonist of 2008 by the National Cartoonists Society, the international organization for professional cartoonists, an award he also won for 2007. He has drawn several nationally-syndicated newspaper comic strips and has written, edited and/​or illustrated 40 books for adults and children.
Soy Candles by Diamond Candles