Normalisation internationale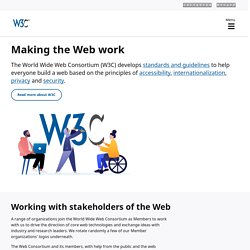 A reminder for people interested in the joint W3C/IAB "STRINT" workshop: The deadline for submitting position papers is Wednesday 15 January 2014. The workshop pages explain how to submit. The main theme of the workshop is pervasive monitoring and how (future) Internet protocols can be protected against it. See the workshop pages for additional topics and details.
Recent Happenings • November newsletter now available • Accellera acquires OCP 3.0. >>> Press release • New IP-XACT vendor extensions released. >>> Press release • Visit the new SystemC Community • Stan Krolikoski receives 2013 Leadership Award
Home - Accellera Systems Initiative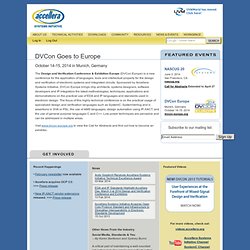 SI
Interested candidates are invited to apply for the pivotal post of Executive Director of the International Union of Pure and Applied Chemistry based in Research Triangle Park North Carolina USA. The successful candidate will be an innovative manager capable of shaping the Secretariat in support of IUPAC and the international challenges it faces as it approaches its centenary. The post profile and application details are linked here. Application shall be sent to executivedirector@iupac.org by Friday 18th April 2014. The International Union of Pure and Applied Chemistry (IUPAC) serves to advance the worldwide aspects of the chemical sciences and to contribute to the application of chemistry in the service of Humankind.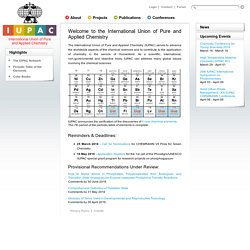 [IUPAC]IUPAC.org
Nous nous engageons à ce que notre site Web soit accessible à tous. Pour toute question ou suggestion concernant l'accessibilité du site, contactez-nous. © Tous droits réservés. Le matériel publié sur ISO.org est sujet aux mêmes conditions en matière de droits d'auteur que les publications de l'ISO et son emploi est conditionné par l'acceptation, par l'utilisateur, des conditions de l'ISO en matière de droits d'auteur régissant les publications de l'ISO. Toute utilisation du matériel concerné, y compris sa reproduction intégrale ou partielle vers un autre site Internet, requiert l'autorisation écrite de l'ISO. Toute demande à cet effet doit être adressée à copyright@iso.org.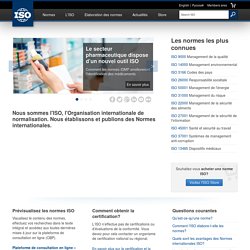 Welcome to IEC - International Electrotechnical Commission
SAE International
International Union of Pure and Applied Chemistry: Home