Si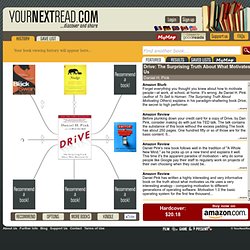 General Information: We hope you enjoy using MyMap. MyMap is still in Beta and as such please help us improve MyMap by sending YNR feedback 1. Book Connections
USA) Recommended Books for Drive: The Surprising Truth About What Motivates Us by Daniel H. Pink
General Information: We hope you enjoy using MyMap. MyMap is still in Beta and as such please help us improve MyMap by sending YNR feedback 1. Book Connections A collection of books is displayed on the outside ring of the map
USA) Recommended Books for The Art of Fielding: A Novel by Chad Harbach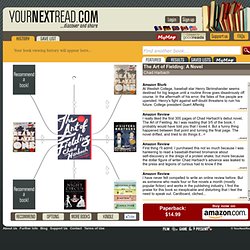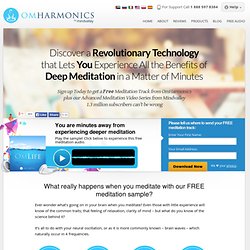 How does your brain switch between them? As you go about your day (and even as you read this) your mind is in the Beta level. These low amplitude waves with multiple and varying frequencies are often associated with active, busy, or anxious trails of thought. When people meditate they are subconsciously switching their brain waves to the higher Alpha level, giving people that sought after sensation of relaxation and peace. The difficulty for most, even seasoned meditation gurus, is getting to and staying at this higher level of brain activity.
Be Present In This Moment Affirmation "I will focus my thoughts on the present. I will not live in the past. I neither try to relive the glory that has gone nor ruminate on mistakes I have made.The past has already happened, and there is nothing I can do to change the wrongs that were done, nor is there any way to relive the triumphs gone by.I will let the future happen as it comes and focus on affecting it through the control I have on my actions today in this present moment.I will always remember this brief second is all I have.I will find my eternity in each moment." – adapted from Sid's personal affirmations, and inspired by The Greatest Salesman in The World by Og Mandino
Be Present In The Moment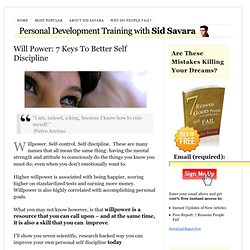 Will Power: How To Improve Your Personal Self Discipline
"I am, indeed, a king, because I know how to rule myself." Pietro Aretino Willpower. Self-control. Self discipline. These are many names that all mean the same thing: having the mental strength and attitude to consciously do the things you know you must do; even when you don't emotionally want to.
Brainwriting is Brainstorming on Steroids
Wherever you ask, when it comes to group problem-solving, brainstorming is always the default tool of choice. Brainstorming certainly gets all the fame and glory, but is it the most effective tool for groups to generate ideas? Not necessarily.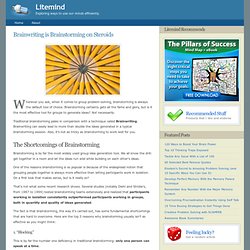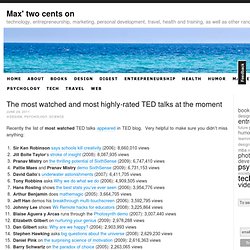 You've read several posts already. It's very flattering to know that somebody is interested in what I write over here. :) I just wanted to let you know, that you can also subscribe via email to receive blog updates. I usually post once a month or so. I'll do my best to keep them interesting.
Organization & Productivity
Procrastination/Motivation